Latin America includes 19 countries beginning with Mexico and continuing south all the way to Tierra del Fuego, which is divided by Chile and Argentina. The total population as of December 31, 2011 was roughly 579 million with the top five largest cities being Mexico City, Sao Paulo, Buenos Aires, Rio de Janeiro, and Lima.
Key Statistics for Latin America
As of December 2011, Latin America had roughly 231 million Internet users including just over 145 million Facebook subscribers. This represents a roughly 40 percent Internet penetration relative to the total regional population. Additionally, at the end of 2011, the world total number of Internet users was roughly 2.3 billion. So Latin America represented roughly 10 percent of this total.
The top countries with the highest number of users in the region include Brazil (30 percent), Mexico (16 percent), Argentina (11 percent), and Colombia (10 percent). Countries that have more than 50 percent Internet penetration relative to their total population include Argentina (67 percent), Chile (59 percent), Uruguay (56 percent), and Colombia (56 percent). Other countries which have less than a 50 percent Internet penetration relative to their total population include Brazil (39 percent), Mexico (37 percent), and Peru (34 percent).
These data are sourced from Internet World Stats Usage and Population Statistics
Growth Opportunities
There are a wide variety of articles, websites, reports, and presentations that display historical and projected trends of growth in Latin America as it relates to the following:
Real GDP
Online population growth
Internet penetration
Online advertising spending
E-commerce
Credit card penetration
Mobile phone users and penetration
Social networking site growth
Internet user penetration in Latin America, 2011-2016:
2011: 38 percent
2012: 43 percent
2013: 46 percent
2014: 49 percent
2015: 52 percent
2016: 53 percent
Online buyers in Latin America by country, September 2011 (percent of Internet users):
Argentina: 71 percent
Chile: 71 percent
Uruguay: 70 percent
Venezuela: 68 percent
Mexico: 61 percent
Costa Rica: 56 percent
Ecuador: 53 percent
Colombia: 47 percent
Peru: 47 percent
Paraguay: 42 percent
Dominican Republic: 40 percent
El Salvador: 36 percent
Guatemala: 30 percent
By 2015, Latin America is expected to boast over 450 million mobile users. Check out the MercadoLibre Android app.
See fnbox Online Adventures presentation, mobiSights recent article, and New Media Trend Watch Latin American data for sources.
Based on trends and forecasts, it is clear that the level of Internet penetration, e-commerce, and mobile devices have grown and will continue to have the potential to grow at a rapid pace.
Company Background
For those of you not familiar with MercadoLibre, Inc. (MELI), MercadoLibre provides an online commerce platform in Latin America. MercadoLibre operates in four business segments:
MercadoLibre marketplace: an Internet-based commerce platform where buyers and sellers can meet, exchange information and complete e-commerce transactions for goods and services.
MercadoPago online payments solution: an integrated online payments solution.
MercadoClics advertising services: allows businesses and users to promote their products and services on the web.
MercadoShops online store service: a software-as-a-service, fully hosted online webstore solution.
At the end of 2011 MercadoLibre operated in the following countries; Argentina, Brazil, Mexico, Uruguay, Colombia, Venezuela, Chile, Ecuador, Peru, Costa Rica, Dominican Republic, Panama, and Portugal.
For more detailed company information, please review the appropriate company filings from the Securities and Exchange Commission's website or directly from MercadoLibre.
Stock Price
As of the stock market close on August 1, 2012, MercadoLibre's stock price (65.52) has been quite volatile over the past two years.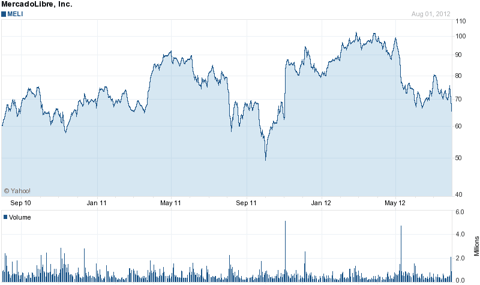 Click to enlarge
Since the closing stock price (73.88) as of the end of December 2009, MercadoLibre's stock price growth has averaged an annual 8 percent growth rate to date. By contrast, earnings growth will have averaged an annual 42 percent growth rate assuming MercadoLibre comes in-line with 2012 earnings estimates.
On the business metric side, MELI has seen a slow down over the past few quarters with respect to Brazil's revenue growth and direct contribution growth, as well as total contribution growth. Additionally, gross merchandise volume, number of items sold, and total payment volumes have slowed.
Number of confirmed registered users and total payment transactions have remained stable. Five-year growth trends remain solid as well including the recent recession. Over the past five years MercadoLibre has grown tremendously.
It appears, however, recent quarterly performance has impacted the stock price in addition to other factors.
Competitive Landscape
MercadoLibre competes with the following companies among others with respect to its four business segments:
Mas Oportunidades in Argentina
Rakuten in Brazil
B2W Inc. and other smaller Internet retailers and physical retailers
Online and offline payment methods including among others, banks and other providers of traditional payment methods
Paypal and Google Checkout and other international online payments services
DineroMail in Argentina, Chile, Colombia, and Mexico
Pagamento Digital and PagSeguro in Brazil
Western Union and money remitters
Additionally MercadoLibre discloses that other larger threats including Google, Inc. (GOOG), Yahoo! Inc. (YHOO) , Microsoft Corporation (MSFT), Facebook, Inc. (FB), eBay, Inc. (EBAY), and Amazon.com, Inc. (AMZN) could potentially enter markets to create competitive services. MercadoLibre states that barriers to entry for large, established Internet companies are relatively low, and current and new competitors can launch new sites at relatively low cost using commercially available software.
eBay
It should be noted that eBay owns roughly 18 percent of MercadoLibre. In September 2001, eBay entered into a strategic alliance with MercadoLibre agreeing to not compete with MercadoLibre and selling eBay's Brazilian subsidiary iBazar to MercadoLibre. The agreement regarding the strategic alliance with eBay expired in September 2006.
During this alliance MercadoLibre was able to gain access to certain know-how and experience from eBay as a partner to better serve the Latin American online commerce community.
Now that the agreement has passed, there is nothing barring eBay from entering the Latin American market. However, currently MercadoLibre's primary website directs anyone clicking on the United States link directly to eBay.
Amazon.com
Recent publications in May and June of this year have stated the intent of Amazon to enter the Brazilian market. So far it seems that Amazon will be attempting to build a synergy with its Kindle e-reader and a Portuguese-language catalog of digital books.
According to Alexa data, both Amazon and eBay currently outrank MercadoLibre in web traffic with respect to Brazil and Mexico significantly.
Amazon's entry into Brazil will not be without challenges. Amazon will need to abide by the regulations of Brazil as well as the tax requirements. Additionally, it will remain to be seen whether MercadoPago will be a component of purchasing Amazon's products.
Conclusions
Based upon the historical and forecasted trends for Internet growth in Latin America, it appears that there is going to continue to be robust demand for Internet products and services.
MercadoLibre has experienced a significant sell-off from the stock's highs over $100/share in late 2011 and early 2012. Pressure from a slow down in Brazil's growth and some key business metrics are cause for concern, especially at previous valuations.
The competitive threat of Amazon is nothing to balk at either. However, Amazon has much to accomplish with its endeavors and we will get more color on these events later this year. MercadoLibre is strongly diversified within Latin America. All countries maintain a variety or rules and regulations that must be adhered with.
Ultimately, I believe that the long-term prospects for MercadoLibre remain positive. At current levels, the stock trades at close to fair value relative to a prolonged growth slowdown. Assuming MercadoLibre will continue to thrive through its diversified Latin American markets in the long-term presents a buying opportunity at current levels.
Disclosure: I am long MELI.