The solar sector, since its inception, has never been free of controversy. There is always some sort of debate going on about the profitability of the market or its future potential. We have consistently believed that there is a role for solar energy in the generation of electricity, and that profits can be generated in the long-term. And as First Solar (FSLR) demonstrated on August 1, it is the company that is poised to truly succeed in the utility-scale solar market.
First Solar posted its Q2 2012 earnings after the markets closed on August 1, and the company had solid results. Non-GAAP EPS came in at $1.65, beating estimates by 75 cents (GAAP EPS was $1.27). Revenue came in at $957.332 million, beating estimates by $137.4 million. First Solar also raised its 2012 sales and EPS guidance ahead of Wall Street estimates, calling for sales of $3.6-$3.9 billion and EPS of $4.20-$4.70, versus consensus estimates of $3.48 billion in revenue and $3.95 in EPS. First Solar's provided upbeat commentary and used its earnings release to announce its next major project: the 139-megawatt Campo Verde project in California. When complete, SDG&E, a unit of Sempra Energy (SRE) will purchase power from the solar farm. As of this writing, shares of First Solar are up over 27% on the back of its earnings release, trading at just under $19. First Solar's management was confident on its conference call, and we encourage readers to examine it. Unless otherwise noted, our data regarding First Solar will come from either its conference call, earnings release, or its accompanying Q2 presentation. We will break down our thesis into 2 interweaving sections: First Solar's financial state and its position in the utility market. Our last article on First Solar focused on these 2 factors as well, but the company's Q2 results allow for fresh data to be examined.
First Solar's Financials: A Sector-Leading Balance Sheet and Near Insolvency of Competitors Will Help the Company
In terms of financial performance, First Solar is in a class of its own. Per Bloomberg data, First Solar is projected to be the only major solar company to post a profit in Q2 2012. And as we noted in our last article on the company, First Solar is set to be the only company to post a profit for all of 2012. In 2013, 2 of its competitors, SunPower (SPWR) and Trina Solar (TSL) are set to return to profitability. The first place where First Solar's financial strength can be seen is its gross margin. In Q2 2012, the company had a gross margin of 25.46%. While that was lower than its results a year ago (36.5%), it was an improvement from the 15.4% gross margin in Q1 2012. For many solar companies, simply selling panels above cost is a challenge. Suntech (STP), for example, had a gross margin of 0.586% in its last quarter, while LDK (LDK) had a gross margin of negative 65.483%. SunPower and Trina Solar, the 2 solar companies seen as returning to profitability by 2013, posted gross margins of 9.157% and 5.791%, respectively.
First Solar's balance sheet and cash generation are also the envy of the industry. Almost every solar company is mired in debt, with some companies having net debt north of $2 billion (meaning LDK Solar). First Solar, on the other hand, has net cash of $224.845 million, and reduced its debt by $345 million in Q2 from Q1 (debt was reduced by $144.797 million from Q4 2011).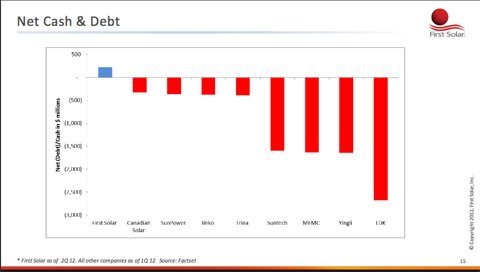 Click to enlargeInvestors should take note that the data for First Solar's competitors is as of Q1 2012. And given the fact that each of those companies is burning cash (SunPower, for example, burned over $136 million in Q1 2012), the balance sheets of First Solar's competitors are likely to be even worse in Q2. Most of those companies will report their Q2 results later this month. First Solar's financial strength does not end with a net cash position. The company not only has posted positive operating cash flow in Q2, it posted positive free cash flow as well, something that no other solar company can claim. First solar did post a slight cash burn in Q1 2012, but that was due to seasonality. First Solar also had negative operating cash flow in Q1 2011 as well.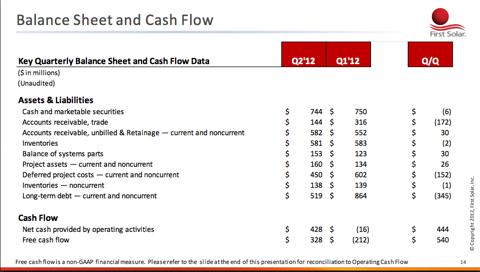 Click to enlargeFirst Solar, unlike many other companies in this sector, does not have issues with collecting cash from its customers, and it has no problem paying its suppliers. Accounts receivable (both billed and unbilled) fell by $142 million in Q2 2012, and the company's accounts payable rose by just over $18 million. In contrast, many Chinese solar companies have trouble simply collecting cash from their customers. Many Chinese companies have extended payment periods to 120-180 days. The problem is not that payment periods are extended. The problem is that when combined with the weak (and weakening) balance sheets of Chinese solar companies, cash inflows and outflows become far more important. For example, LDK stated on its Q1 2012 conference call that, "Our turnover days of our accounts receivable increased to 220 days, while our payables increased to 185 days." LDK is having trouble merely collecting cash from its customers, and the company is hardly alone in that predicament. But given its net debt, LDK stands out. Suppliers have already sued the company for failing to make payments, and customers are starting to suspend orders due to worries about the company's finances.
The debt burdens of the Chinese solar sector are simply unsustainable, and First Solar believes that there will be more bankruptcies ahead in the entire sector, both inside and outside China. A recent analysis by Maxim Group argues that the upcoming leadership transition in China will prove to be a turning point in the Chinese solar sector. Maxim notes that there is $17.5 billion of debt on the balance sheets of China's 10 largest solar companies, and that the situation in the sector is near a breaking point. Maxim Group singles out both LDK and Suntech as being particularly vulnerable. LDK has a debt-to-equity ratio of 7.4, which would be mean that LDK is insolvent by western standards. A free cash flow shortfall of $1.2 billion in 2011 and the need to invest in its business in order to remain competitive. Suntech has a debt-to-equity ratio of 2, but the company is also mired in uncertainty. Suntech has delayed its Q2 results because of fraud in connection to a $680 million financing guarantee. Suntech had depended on the sale of its stake in Global Solar Fund S.C.A. to meet the redemption of its 2013 convertible notes, but that sale has been put on hold due to this fraud investigation. Suntech itself has already admitted in its Q1 earnings release that its debt burden puts its viability as a going concern at risk.
The situation at LDK is even more dire, and serves to highlight the unique version of capitalism that is practiced in China. While the United States does have loan guarantee programs in place for the solar market (we do not intend for this article to be a debate about the economic and political issues of such loan guarantees; an in-depth discussion of those issues would require several articles, at least), it is nowhere near the level of support that China has for its market. The city of Xinyu, where LDK is based, has already begun paying down LDK's debt itself, with a debt payment of $80 million being made. Loan guarantees are one thing. But for a municipality to step in and directly pay off a company's debt is something else entirely. Somehow, we find it hard to believe that Tempe, Arizona (where First Solar is based) will ever step in to pay off First Solar's debts. LDK has $380 million in off-balance sheet debt due in 2013, and unrestricted cash of just $137 million. Maxim Group believes that LDK is nearing either failure or a recapitalization (which would almost certainly wipe out existing investors). While LDK may be in the most severe financial straits, it is hardly alone in its predicament. China's solar sector cannot operate in such conditions indefinitely. When a company posts consistently negative gross margins, the entire business model must be rethought. The Chinese solar sector will soon see bankruptcies and mergers. However, that will be beneficial in the long-term, to both China's solar sector and First Solar.
To sustainably compete in the global solar market, China needs to have less solar companies. Having just a few major players is much more beneficial than having many players who are collectively bleeding billions of dollars. As for First Solar, the benefits will be realized in a more roundabout way. Historically, First Solar's cdTe panels have won share based on their cost. The tradeoff, however, has been efficiency, for cdTe panels are simply not as efficient as traditional polysilicon panels. In Q2 2012, First Solar's efficiency was 12.6%, a 0.2% improvement from Q1 2012, and a 0.9% improvement from a year ago.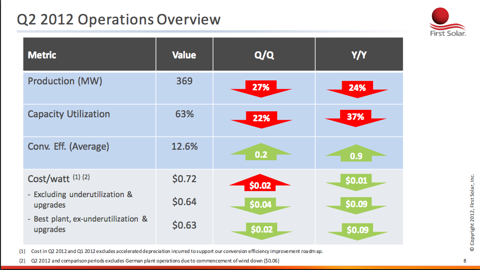 Click to enlarge
As polysilicon prices have plunged, however, First Solar's cost advantage has eroded. But if the Chinese solar sector consolidates, that will likely lead to higher prices for polysilicon, which would help restore First Solar's cost advantage, thus preserving another strength the company has.
First Solar's financial strength, which is unmatched in the industry, provides its own competitive advantage. On the company's conference call, CEO James Hughes stated that, "The robustness of the vendor, of the counterparty, the confidence that you're going to be there for the entire useful life of the facility that you're delivering, that whatever warranty you are providing you're going to be able to stand behind, that you can facilitate financing because of that robustness of the financials that stand behind the product all become very important factors [speaking as to how utilities decide who their partner will be]. The other thing that we've tried to focus people on is that as total system costs come down industry-wide, cost of capital becomes an increasing component of the total cost of electricity. And so if you're the guy with the best balance sheet, the most robust financial standing, then you get to capture the benefit of that cost of capital advantage versus competitors. That's one of the reasons we think maintaining a strong balance sheet is very important to the future of the company." When a utility chooses First Solar to build a project, they have confidence that First Solar has the financial strength to be around for the entire life of that particular project. The same cannot be said of Chinese solar companies. And when and if the sector does consolidate, First Solar will be able to recapture some of its cost advantage. We turn now to First Solar's market potential.
Utility-Scale Solar: A Different Kind of Market
First Solar has positioned itself as the leading utility-scale solar company, with projects underway in both the United States and Australia, and soon, India. First Solar has two primary advantages that it can exploit as it continues to execute its strategy of expanding into sustainable markets (that is First Solar's terminology for markets that allow electricity generated by solar technology to be competitive with traditional sources of electricity. Examples of sustainable markets include the California Texas, Saudi Arabia, and India). First Solar's two primary advantages are its relationships with utilities and the unique properties of cadmium telluride panels.
Critics of First Solar argue that it doesn't matter how good the company is doing in the utility market as of this moment. Sooner or later, the Chinese solar companies will enter the market and destroy its profitability, just as they have done in the traditional solar market by driving down panel costs to where they are now. The facts, however, tell a different story. We have consistently argued that in the utility-scale market, cost is not the sole factor that determines which company a utility will choose. It is not enough for LDK, Suntech, or Yingli (YGE), for example, to offer utilities the cheapest panels. When asked about the company's plans for its cash (the fact that analysts even mentioned the idea of returning capital to shareholders shows that First Solar is in a league of its own in terms of financial strength), CEO James Hughes responded that the company plans to retain its cash so that it can build a "bulletproof" balance sheet. He said that, "given the stress in the industry and the concern on the part of observers and customers and lenders and others, we think continuing to maintain a position where we have the best balance sheet in the business bar none is the right move. Longer term, as greater volumes of cash build up, we will look at redeployment of that cash into specific opportunities that may be available to us in some of these new markets or even in potentially our existing markets. Nothing specific that we have identified or made any sort of an investment decision on to date, and I don't think there'll be any big announcements of deployments of capital in the near term. Longer term, there are some things on the horizon we could see that potentially could be interesting. But right now, I think Mark [CFO Mark Widmar] feels and I feel and the board feels that continuing to maintain ourselves as a very, very strong and robust company from a balance sheet standpoint is our priority. With respect to project wins, if you look at it on a global basis, we win sometimes on cost, and we win sometimes on balance sheet and we win sometimes on execution capability, i.e., timing and deliverability capability. There's not one -- the business is competitive enough now that there's not one universal factor that dictates wins and losses. But you do point out an important element of the industry that we continue to focus on that we hear from customers about, which is the decisions are clearly not made on price alone. [emphasis added]" Price is not the ultimate factor in the utility-scale market. Utilities have confidence in First Solar's financial strength, and the company has a consistent track record when it comes to execution and the delivery of panels. We do not think that Chinese solar companies can become successful players in the utility market simply by offering the cheapest panels. It takes execution skill, local market awareness, and the confidence of utilities. And First Solar has all of these attributes.
Much has been made of First Solar's use of cadmium telluride panels and the associated tradeoffs between cost and efficiency. In the traditional panel market, plunging polysilicon prices have eroded the company's cost advantage. But, in the utility-scale market, First Solar's panels have a technical advantage, one that critics of the company overlook. The markets that First Solar targets are hot climates, such as those in Saudi Arabia, and that enable the company to reduce its balance of systems penalty over traditional mc-Si panels.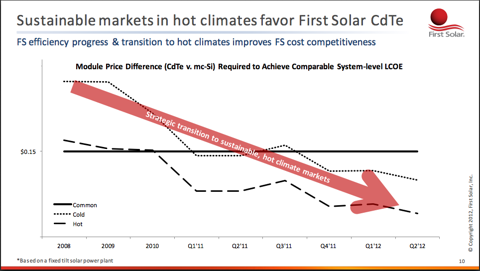 Click to enlargeFirst Solar's cdTe panels have a higher temperature coefficient, which results in higher yields. First Solar, on the conference call, provided a clear explanation of its higher temperature coefficient. Photovoltaic makers focus on "nameplate power ratings," even though investors look at total energy output instead. Every photovoltaic module is tested under and industry standard of 25 degrees Celsius. But out in the field, panels are rarely subjected to temperatures that low. In temperate climates, temperatures can rise to 65 degrees Celsius, and in hot climates, they can go as high as 85 degrees. Increasing resistive losses are inevitable when temperatures rise, but First Solar's cdTe panels have 50% less loss than traditional mc-Si panels. The new markets that First Solar is focusing on further increase its advantage, because panels spend more time operating in high temperature environments. When this is combined with increasing cdTe panel efficiencies, First Solar can maintain its cost advantage within these new markets, thus providing utilities with another incentive to choose its panels.
First Solar's pipeline has grown to 2.9 gigawatts, and the company has multiple initiatives underway to ensure that there will be more projects in the pipeline. Several countries have promise for First Solar, including Australia and India. India in particular presents a large opportunity. The recent blackouts in India, which affected over 670 million people, demonstrate the need that India has for a modern, and stable power grid. And First Solar will be able to help meet that need. The company understands that each electrical market has unique needs (another advantage of First Solar) and it hires leaders for each region with that particular factor in mind. In India, First Solar's efforts are led by Sujoy Ghosh, who has over 20 years of dealing with Indian industry as an executive at GE (GE). Already, First Solar holds 20% of the Indian solar market, and in the long run, we are confident that its share can rise.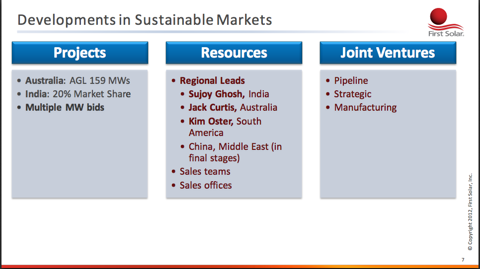 Click to enlargeOn the conference call, the company was asked if it is worried about nationalistic politics in India, given that the local solar industry has been vocal about the issue of foreign competition. CEO James Hughes responded that he is not worried. Hughes stated that while there is a local content requirement for solar panels in India, it only applies to traditional solar panels, not cdTe panels. In any case, that requirement applies only to public projects under the National Solar Mission, and First Solar believes that the real opportunity in India is in the private generation market. Hughes spent 6 days in India in the prior week, and said that while this issue was brought up during his visit, "it's just not something I lose a lot of sleep over."
We believe that First Solar is well positioned to succeed in the utility-scale market. Its financial position gives utilities confidence that it can deliver on its commitments, and First Solar has local market expertise and the track record to back that up. Readers and investors need to remember that in this market, cost is not the only factor. It is not enough to offer the cheapest panels. To succeed, a company has to offer utilities the whole package, which includes execution and support. First Solar has proven that it can do so, and we see no reason why the company cannot retain its lead in the utility-scale market.
Valuations: Swinging From Wild Optimism to Deep Pessimism
In 2008, shares of First Solar traded at over $300, a level that reflected wild optimism due to record oil prices. But now, in 2012, shares have crashed, and even with its post-earnings rally, are still sitting below $20. First Solar has a book value per share of $38.34, meaning that at $20, shares trade 0.5216x book value. At the midpoint of First Solar's 2012 EPS guidance ($4.45), and a $20 share price, First Solar is valued at just 4.494x 2012 earnings. In our view, the market is discounting First Solar's potential far too much. Investors may have had unrealistic expectations when the stock traded at $300, but at under $20, the pendulum has swung the other way. And with nearly 47% of First Solar's float sold short, the stage is set for a short squeeze.
Conclusions
There will be a place for solar energy when it comes to future electricity production. And we expect First Solar to remain at the forefront of the solar industry. The company will be the only one in this industry to turn a profit this quarter, and its financial strength is unrivaled. The company has net cash on the balance sheet and is actually able to bring cash in the door, collect from its customers, and pay its suppliers. The same cannot be said for many of First Solar's peers. And the company's strategy of going after sustainable markets will pay off, in our view. First Solar has a variety of advantages in the utility-scale market, and they are advantages that cannot simply be erased by cost. For a company to succeed in striking deals with utilities, it is not enough to have the cheapest panels. First Solar has the confidence of utilities, and a proven track record of execution. And its cdTe panels actually have an advantage in hot climates, which will make up the majority of the markets that First Solar is targeting. We are confident in First Solar's long-term potential, and think that even with this rally, there is more room to run. First Solar has shown that it is in a class of its own in this industry, and as its peers report their Q2 results later this month, we expect that to become even clearer.
Disclosure: I am long FSLR.