Chuy's is a small (36 restaurants) chain based in TX. They focus on freshness, have a funky style and strive to deliver high value. For example they receive on average $12.99 per customer and offer big plates with home made sauces.
The lead bankers are Jefferies and Baird with KeyBanc, Raymond James and Stephens as co-managers.
The IPO of 5.8M shares was priced at $13 on July 23rd and has traded up to a current share price of about $18. NASDAQ: CHUY.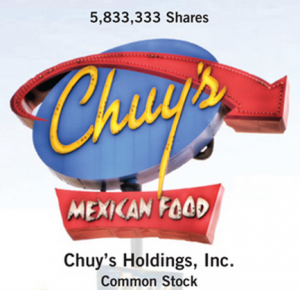 Click to enlarge
The company is expanding now in the Southeast where there is plenty of demand but not nearly as much supply as in Texas.
Chuy's aspiration is to have restaurants that are unique and not "chainy" but heavily hand designed and crafted. Management works to maintain an irreverent style that stays true to their hippie roots. They still celebrate Elvis's birthday across the restaurants. If any readers in NYC have had occasion to visit Tortilla Flats in the West Village the Chuy's ambiance is similar to this.
Their long-term growth plan calls for opening 7-8 restaurants this year and to add 50-55 over the next 5 years.
Some comparable companies include Bravo Brio (BBRG) which went public in October 2010 at $14 and Chipotle (CMG) which has been a strong long-term performer.
For 2011 revenues were $130M across 31 units. Same store sales growth has tended to be 5-8% better than industry averages. EBITDA margin has been consistent around 20%.
Cost of sales has been very steady at 27%. Because they use a broad array of ingredients the company has little to no concentration in commodity mix - like milk and coffee has for Starbucks.
Substantial tax credits and loss carry forwards supply additional investment capital through 2014 when they roll off.
Besides being an obvious play in retail and food/hospitality the company does connect into some more interesting trends like organic, local, more authentic consumer preferences.
In conclusion this is definitely a solid deal that offers good growth. This feels more like a BBRG than a CMG but it's too early to tell. We suspect the stock will find a trading range and reward a strategy that varies position sizes regularly.
Disclosure: I have no positions in any stocks mentioned, and no plans to initiate any positions within the next 72 hours.