It's an understatement to say that Bristol-Myers Squibb (NYSE:BMY) is having a "rough" day. Shares are down close to 8% as of this writing, as the firm announced yesterday that it has suspended its trial of a Hepatitis C drug. To add insult to injury, an executive was charged today with insider trading.
(click images to enlarge)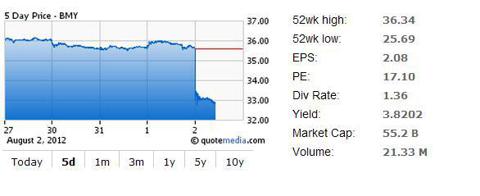 Click to enlarge
(Source: Seeking Alpha)
And surprisingly, not much has been written about this news. That shows two things: a) Maybe investors are not so crazy about this stock in general, or b) This could result in a great bargain for the ones who are watching closely.
This article presents a few reasons why investors need to have BMY on their watchlist, and be ready to pull the trigger at an appropriate time.
Please note that BMY does not clearly stand out in many of these categories. Its sales have slowed down considerably, but putting everything together, one can see it's not as depressing as it sounds.
Also, European names have been kept out of this analysis since many investors are concerned about putting their money there right now.
The Impact: Let us start with the expected impact of the halted trial on BMY. With baby boomers (approximately 76 million) getting older, the prevalence of the Hepatitis C viral disease is expected to increase. This would result in an even bigger market for Hepatitis C drugs. With this setback, Gilead Sciences (NASDAQ:GILD) is now the front runner in this segment. Its stock is promptly up 8%, the same number by which BMY is down.
Current Yield: The sharp drop in share price has pushed the current yield on BMY well past the 4% mark. It stands at 4.15% currently, which is much higher than close competitors like Merck (NYSE:MRK), and Pfizer (NYSE:PFE). Only Eli Lilly (NYSE:LLY) yields more right now.
Dividend Stability: BMY's dividend growth has slowed down a lot recently, and the firm has been increasing dividend by only $0.01 for each of the past three years. But it's not all bad news when you look at the competitor stocks. Merck, for example, did not raise its dividend for eight years till the latest increase in 2011. Pfizer, on the other hand, had to cut its dividend by half in 2009, though it has been increasing dividends since.
BMY is in a unique group, along with Abbott Laboratories (NYSE:ABT), as the only major drug companies that meet both of these conditions: 1) Did not cut dividends during the 2008/09 crisis, and 2) Have increased dividends each year since, though BMY's increase has been very small. ABT is the place to be for dividend growth lovers, but the upcoming business split has investors divided!
Valuation: This steep fall makes BMY's stock price cheaper compared to its close competitors. BMY's P/E stands at 15 right now, while MRK and ABT's PE exceeds 20. Only LLY appears cheaper.
Most Stable: Apart from days like today, where a stock specific news has driven BMY down violently, it is the most stable of the big five names in terms of its beta, with a value of 0.22. LLY is the closest, with a beta of 0.37. The other big names like MRK, PFE, and ABT have double the volatility of BMY. With the market being as volatile as it is these days, a low beta stock is a welcome addition to any portfolio.
Pipeline: Now that we have looked at the fundamentals and valuation, let us turn our attention to future growth. BMY is often regarded as one of the best innovators in the field, and its pipeline looks impressive. While no one can say with confidence right now which of these trials will prove to be the next blockbuster or just a bust, the fact that there is a huge lineup speaks to the company's focus on growing its products, and with that, its revenues. Check this link to read more about BMY's partnerships, acquisitions and approvals.
Conclusion: Not to make light of the plug being pulled out of this latest trial, but these things happen very frequently in the pharma sector. Smaller stocks even go up 100% or plunge 50% on FDA-related news. But a stock like BMY falling 8%, or close to $4 billion of its market cap, on a single trial being cut off seems like an overreaction. The company does have other drugs and some cash/equivalents to fund those investments and dividends as shown below.

Click to enlarge
(Source: Ycharts.com)
Disclosure: I have no positions in any stocks mentioned, but may initiate a long position in BMY over the next 72 hours. I recently sold MRK after it breached $44.