The impressive year-end results from CAE Inc. (CGT) Wednesday gave the company a boost, with several analysts subsequently increasing their earnings estimates for the world's largest manufacturer of full flight simulators.
"We continue to believe CAE is well positioned to take advantage of strong industry fundamentals and demand for pilot training services," said Chris Murray, CIBC World Markets analyst, in a note to clients. He raised his price target on the stock to C$17.50 from C$17. He also noted CAE tripled its quarterly dividend C$0.03 a share, and said it has the capacity to raise it to C$0.05 a share next year.
Mr. Murray said he expects the company to sell 39 simulators this year, up from 37 last year, and the "conservative" guidance it gave Wednesday of 34.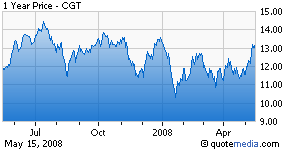 Likewise, Benoit Poirier, Desjardins Securities analyst, said he expects the company to sell about 40 this year and raised his price target to C$17, from C$15.75, accordingly.
However, Ben Cherniavsky, Raymond James analyst, was a little more cautious, maintaining his C$13.50 price target, but lowering his rating on the stock from an "outperform" to a "market perform."
In an note to clients he said:
We recommend that patient growth investors willing to look further out on the investment horizon should hang on to these shares as a core holding. In the near-term however, we believe that upside to the stock will be limited and that buying should be deferred until valuation and/or visibility improves.