This is part 2 of a multi-part series on the Spanish (NYSEARCA:EWP) stock market (part 1 can be found here). After having done a series on Portuguese stocks, it's now the time to do the same on Spanish stocks. The logic is, again, the same: as Baron Rothschild once said, "The time to buy is when there's blood in the streets". The blood is certainly flowing in the European periphery.
In looking at the stocks, I'll try to gauge the sensitivity to internal demand, some factors important to their industries, the multiples they trade at and how the local stocks compare to U.S. listed alternatives in the same sectors. Obviously to trade some of these stocks, investors would need an account with a full-service broker.
I will cover the stocks that are members of the Spanish Ibex 35 Index. This index has the following 35 constituents and in this article I'll cover those bolded:
Abertis
Abengoa
ACS
Acerinox
Amadeus
Acciona (OTCPK:ACXIF)
Banco Bilbao Vizcaya Argentaria (NYSE:BBVA)
Bankia (OTCPK:BNKXF)
Bankinter (OTCPK:BKNIY)
Bolsas Y Mercados (OTCPK:BOLYY)
Caixabank
DIA
Endesa
Enagas
Fomento Construcciones
Ferrovial
Gamesa
Gas Natural
Grifolsa
INTL. CONS. AIR GRP
Iberdrola
Indra
Inditex
Mapfre
ArcellorMittal
OHL
Banco Popular
Red Electrica
Repsol
Banco Sabadell
Banco Santander
Sacyr Avllehermoso
Telefonica
Mediaset Espana
Tecnicas Reunidas
Acciona
Acciona is a conglomerate, with its main activity being infrastructure construction (53% of revenues). Acciona also builds and operates renewable energy sites, such as wind farms, with the activity accounting for 25% of revenues. The rest is distributed across logistical and other services.
65% of Acciona's business is directed at the Spanish market, so Acciona is more exposed to the internal demand dynamics than most of the Spanish stocks we've been covering here.
Taking into account its earnings report for 2011 (pdf), these are the multiples that Acciona trades at today (all values are in euros):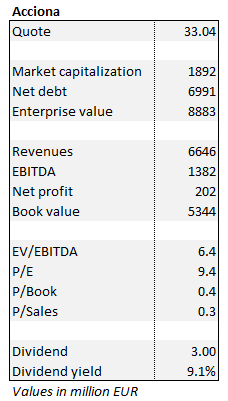 While Acciona certainly has been punished by the market, it still doesn't look to be trading at incredibly distressed levels. Indeed, ACS, Abengoa and the Portuguese Mota Engil all look slightly more attractive given the compromise between business exposure to local markets and valuation.
In terms of U.S. comparisons, it's again hard to find equivalent companies. In the construction sector, perhaps Sterling Construction (NASDAQ:STRL) fits, with Sterling trading at a forward 2013 P/E of 14.8 times (it's presently producing losses), an EV/EBITDA of 3.7, and a price/book of 0.80. Sterling is slightly more expensive on a P/E basis and cheaper on an EV/EBITDA basis. I won't mention Shaw Group (NYSE:SHAW) as curiously, while writing these articles it got bought out! That might be a good omen for some of these more diversified companies such as ACS and Abengoa, not so much for Acciona.
BBVA
BBVA is a large Spanish bank. BBVA attributes 58% of its 2011 net income to its Mexico operations, 45% to Spain, 34% to Eurasia and 33% to South America. This adds up to more than 100%, because of unallocated overhead and the U.S. operations producing losses. Spain is providing a downdraft at this point.
Taking into account its earnings report for 2011, these are the multiples that BBVA trades at today (all values are in euros):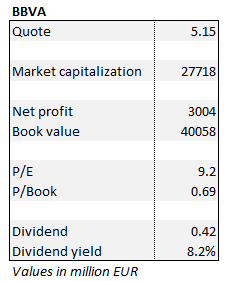 Taking into account where both Portuguese and U.S banks trade, namely Citigroup (NYSE:C) and Bank of America (NYSE:BAC), which trade at 0.36 and 0.44 price/book value ratios, it would seem that BBVA, being exposed to the Spanish situation, is not trading at distressed enough levels.
Bankia
Bankia is a Spanish bank where the State has already intervened. It's basically too confusing to even find the annual report and guess what's going on with the stock. One thing is clear, the market capitalization is still at the very least 1.4 billion Euros, and that makes no sense. So it makes little sense to buy Bankia.
Bankinter
Bankinter is another Spanish bank. Contrary to many other stocks covered, Bankinter is exposed essentially to Spain's internal market, and is being punished because of it.
Taking into account its earnings report for 2011 (pdf), these are the multiples that Bankinter trades at today (all values are in euros):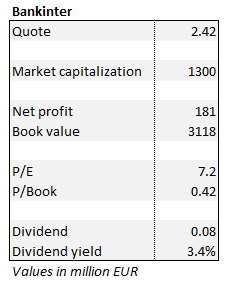 Although 2011's earnings still seemed normal, this is a Spanish bank, under the effects of the Spanish economy. Bankinter reported a 77% drop in earnings on 2012's first half. I wouldn't count on the dividend lasting long.
Still, Bankinter trades more in line with Portuguese or U.S. Banks in terms of book value.
Bolsas Y Mercados
Bolsas Y Mercados runs financial markets in Spain. BME runs markets for stocks, corporate debt, public debt and derivatives. It also has business in the compensation of trades, market information diffusion, among other minor areas.
BME has exposure to the Spanish economy in as much as it might affect the level of market activity in those markets that BME runs. Sometimes after a huge plunge in market values, there's a period of lack of activity which could be detrimental to BME. It might also happen, however, that increased volatility can generate more volume. Also of note, BME estimates 60% of its business is conducted with foreign investors acting in the Spanish markets.
Taking into account its earnings report for 2011 (pdf), these are the multiples that BME trades at today (all values are in euros):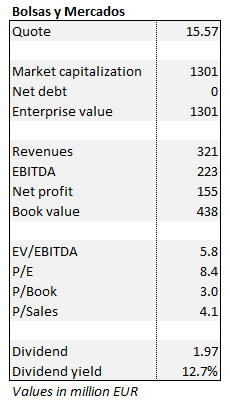 BME is comparable to NYSE Euronext (NYSE:NYX) or Nasdaq OMX Group (NASDAQ:NDAQ). Indeed, over time it wouldn't be surprising for BME to be acquired by those exchange groups or others, as there has been a considerable trend towards consolidation in the sector. Both NYSE and Nasdaq trade more expensively than BME, with P/E's of 12.3 for NYSE and 11.1 for Nasdaq. Both also carry a dividend yield that's quite a bit lower than BME's huge 12.7%, with NYSE being around 4.6% and Nasdaq, 2.2%.
Given all these figures and risks, it would seem that BME might be a good acquisition on weakness.
Conclusion at this point
At his point, we found the following attractive equities:
2 construction and engineering companies, Abengoa and ACS, which given their geographical diversification might already be cheap enough to warrant inspection. Still, construction isn't usually the kind of sector that attracts great attention;
Amadeus might also be interesting because of its long term prospects;
Bolsas Y Mercados, can be interesting on weakness due to the possible consolidation in the sector, where it would be a natural target, while trading at reasonable multiples and carrying a large dividend yield.
(to be continued)
Disclosure: I have no positions in any stocks mentioned, and no plans to initiate any positions within the next 72 hours.