Masco (NYSE:MAS) is a very interesting stock that I would have normally characterized as speculative only a few weeks ago. Why? Because MAS has strong ties to the housing sector and all companies associated with such a sector are tarred with the prospect of further declines. However, the time has come to seriously consider stocks that are involved in the housing sector of the economy. Let's dive in to this fascinating investment opportunity.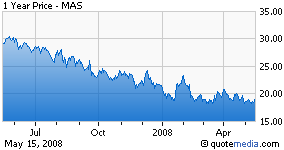 According to Roy Wenzlick, noted real estate researcher, the U.S. real estate market is supposed to experience a bottom in 2008. While anyone can make predictions of the future, Wenzlick has had a stellar record since 1936. Wenzlick was able to call the bottom of the real estate markets in 1954, 1972 and 1990. Critics of Wenzlick would cite the fact that the new index of real estate prices, known as the S&P Case/Shiller Index would not confirm Wenzlick's predictive ability; however, the Wenzlick prediction is based on quality research and accurate data.
Where does Masco (MAS) fit into this possible bottom in the real estate market? According to Yahoo! Finance, MAS manufactures, distributes, and installs home improvement and building products in North America and internationally. It operates in five segments: Cabinets and Related Products, Plumbing Products, Installation and Other Services, Decorative Architectural Products, and Other Specialty Products. This company benefits strongly from a rise in home sales and struggles when sales decline.
Considering this is probably the worst real estate decline since the Great Depression, I sought out the period when MAS had its worst performance financially. I have decided to use price to cash flow as the measurement by which I determine the mean for this stock. The mean price is where the stock is likely to return to, at minimum, over time.
When I reviewed Valueline Investment Survey from the period of April 18, 1981 to April 4, 2008, I found that the worst decline of cash flow was 1988 at the peak to 1991 at the bottom. At the peak cash flow, MAS was generating $2.65 per share. At the bottom, MAS had a cash flow of $0.98. This was a decline of 63% over a four-year period. By calculating a decline of 63% from the most recent peak in cash flow back in 2006 at $2.97, we arrive at an estimated cash flow of $1.10.
Using the Standard and Poor's Stock Report, I ran the numbers for the average cash flow for MAS over the last 10 years. The figure that I arrived at is 11.5 times average cash flow, which is 0.5 short of Valueline's average cash flow over the last 27 years at 12 times cash flow. What this ratio indicates is that whenever the stock is trading below the average price to cash flow then the stock is probably undervalued on a relative basis. Based last years cash flow figures, according to S&P, MAS is trading below the average cash flow at $19.67. Using the Valueline cashflow figures for 2007, MAS is trading below the average cash flow at $27.83.
I believe that the Valueline figure is more accurate and MAS is trading at a discount of 30%. Why do I believe the Valueline numbers? Because Valueline has an incredible ability to generate accurate future estimates. As an example, back in April 18, 1997, Valueline predicted that MAS would generate future cash flow for 1996, 1997, and 1998 of $2.45, $2.80 and $3.15.
What did MAS actually do? For the years of:
1996 estimate: $2.45; 1996 actual: $2.44
1997 estimate:$2.80; 1997 actual:$3.05
1998 estimate: $3.15; 1998 actual: $3.60
*(Figures are pre-split numbers)
Valueline estimates that MAS is going to generate cash flow of $1.70 in 2009 and $2.25 in 2010. Using these numbers and calculating in the historical mean of 11.5 times cash flow, we come up with an estimated stock price of $19.55 and $25.88 for 2009 and 2010 respectively. This stock is currently selling at a discount relative to 2007 price to cash flow by 30%. This stock is at the mean based on 2009 and trading 24% below the mean based on 2010 estimated cash flow.
Of particular concern, this stock is projected to fall to $12.64 if it duplicated the declines of the 1988 to 1991 period. Also, the stock is selling at a relatively high price to earnings ratio (P/E). Historically this stock has averaged a P/E of 17.8 when it has hit its low. Finally, a book value of $11.26 is where the stock could trade at on the extreme.
Despite the risks associated with this stock, I consider it a great opportunity to buy at the current price. However, if I were to buy this stock now, I would put down half of the intended amount down now and invest the second half later if the stock falls down to the $11.26 level.
Disclosure: none