The previous months have been a challenging time for mining stock investors, at least for these who invest in the junior sector. Since the credit crisis stroke, junior stocks suffered a great deal.
In retrospect, there are some reasons behind this underperformance of junior mining stocks, as they had attributes which most investors were avoiding since early August 2007: big appetite for capital, high beta, comparably low trading volume, very long development time and high dependency on investors' ability to take risks. The far more important question for now is, will the junior sector recover and is the story still the same? The answer is: yes, but the game will be different this time.
We can already see some kind of bottom building process in the junior sector. I frequently monitor the ratio between the TSX Venture Index (mostly junior mining stocks) and gold. While the junior sector vs gold is trading relatively lower then when the present bull market started back in 2001, I also see some bottoming out and more importantly a rising trend. The dust is settling and the juniors prepare themselves to shine in the near future.
click to enlarge images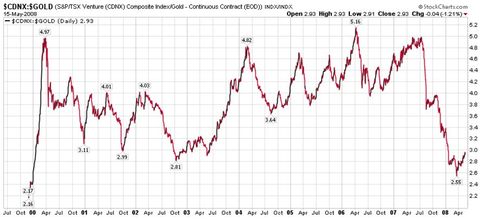 As shown in the graph, the junior mining stocks are now outperforming gold. The bottom has very likely been reached.
Does this mean you have to buy right now? If you're a long term orientated investor with enough patience, then yes. Patience will be the key for the next months. Commodity cycles are long term cycles due to the long development times on the company levels. Don't expect fast money to be made in the current environment. The junior market in general is in recovering mode, which is a good sign after the blood bath we experienced in the last months. I expect the real recovery with substantial gains will happen in the next months. I can't tell you when, but you can get a good idea if you monitor the credit spreads (e.g. US treasuries vs corporate bonds).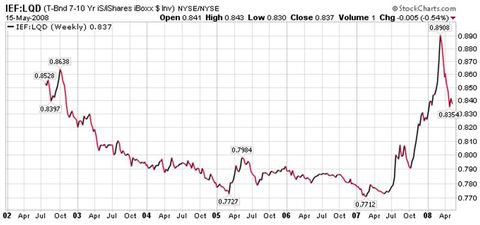 This indicator tells you how much risk bond investors are willing to take. High spreads mean that investors are very risk averse and go for safety (such as physical gold or cash) – stocks and especially junior mining stocks have a negative correlation to credit spreads. The ratio is now declining or in other words, bond investors are willing to take more risk. This ratio is a leading indicator and shows that the markets are recovering. The ratio is still too high to trigger a rush into the junior mining sector, but once the trigger level is reached, you can expect a very fast and very powerful surge.
I mentioned before, the game will be different this time. While we have seen more or less broad sector buying in the past without much differentiation between the quality of different companies. This time, investors will be more choosy and only invest money into junior stocks with 'real flesh on the bone'.
So where should you invest your money? I like companies doing business in politically stable regions (avoid places such as Ecuador, Congo or Venezuela; even though the potential profit looks appealing - it only causes headaches right now). Near term growth is a key (production and resource basis) and management should have a proven track record. I prefer junior mining stocks – since they offer the biggest recovery potential – which have near term growth potential, superb management and are undervalued to peers. This offers you a win-win situation – upside on the peer group and upside on the sector.
I like Central Sun Mining (AMEX: SMC), which is the new name of the former Glencairn Gold since it was restructured and refinanced. The company has a new, experienced and successful team. Central Sun Mining has a market cap of $130 million and is located in Nicaragua with one operating mine with approx. 50'000 ounces production p.a. and one mine which is right now being converted from heap leaching to conventional milling. The company expects to produce approx. 125'000 ounces of gold from two operating mines in 2009 with cash costs of $380 per ounce. While I see some significant production growth, I also expect the company to be able to boost the existing resources of approx. 1.7 million ounces of gold. Cash is no problem since they had $ 12.2 million at hand as of March 31, 2008 with only 60 million shares outstanding.
Besides very robust projects, they have an excellent management team with an impressive track record and strong institutional shareholders such as Yamana Gold (NYSE:AUY), QVT Financial (NY based hedge fund) or Sprott Asset Management. In my view, Central Sun Mining is trading with a 50% discount to comparable peers. Taking into consideration that the entire junior sector is trading at a fairly large discount to gold or big caps this looks like a very nice investment.
I expect the junior market to take off by August. Gold is now entering a seasonally weak period and there is still some profit taking going on from short term orientated investors who went into gold because of the momentum. The broad investment community still has to figure out that we are in a secular bull market in commodities for the next 10 to 15 years and junior mining stocks are definitely one of the best buying opportunities right now.
Disclosure: The author is co-fund manager at Precious Capital Global Mining & Metals Fund. The fund has a position in Central Sun Mining.