Del Frisco's Restaurant Group LLC (DFRG) enjoyed a relatively tepid welcome to the market as it underwent its initial public offering on July 27. The upscale restaurant company operates under the brands of Del Frisco's Double Eagle Steak House, Sullivan's Steakhouse, and Del Frisco's Grille. The company priced 5.8 million shares at $13/share resulting in a capital raise of $75.4 million. This fell below the expected 7 million shares expected to be sold in a range between $14 to $16. On its first public trading day, Del Frisco's edged down over 6% to $12.20 at one point in the session. Yet over the course of three market days, the company's trading range has narrowed. By the end of July 31, shares once again ended at its IPO price of $13/share.
The IPO market has been watching several restaurant companies go public over the last few weeks. On May 11, Ignite Restaurant Group (IRG) went public raising $83.8 million. The company is best known for its brand name franchises found in Joe's Crab Shack and Brick House Tavern + Tap. Following the Facebook (FB) IPO freeze in which no public offerings took place for several weeks, Chuy's Holding's (CHUY) followed up with an IPO on July 24. Chuy's raised $75.8 million in the public offering for the small Mexican food chain. Despite the fact that Chipotle Mexican Grill (CMG) had just tumbled a week prior, Chuy's has since managed to advance 36% over its IPO price.
Yet Del Frisco's Restaurant Group differs from these recent IPOs in that the company addresses a lacking niche market found in upscale restaurants. Lately, upscale restaurants have been finding eager buyers willing to take them private. In late 2011, Tilman J. Fertitta provided a cash tender offer for Morton's Restaurant Group. Fertitta also bought up McCormick & Schmick's Seafood Restaurants via Landry's Inc around the same time period. Centerbridge Partners also recently took upscale franchise P.F. Chang's private in a deal worth $1.09 billion.
As a result of these buyouts, the public market for upscale restaurant chains has severely shrunken. Though best correlated with Ruth's Hospitality as a fellow steakhouse franchise owner, the following upscale restaurant chains offer Del Frisco's some additional measure of comparison. All values were taken as of July 31, 2012 and are reflective of the fiscal year ending December 2011.
| Name | Revenues | Operating Margin | Total Assets | Total Debt | Net Income |
| --- | --- | --- | --- | --- | --- |
| Del Frisco's Restaurant Group | $201.6 million | 9.6% | $234.2 million | $138.4 million | $8.98 million |
| Ruth's Hospitality (NASDAQ:RUTH) | $369.6 million | 6.5% | $240.2 million | 116.7 million | $16.7 million |
| Kona Grill (NASDAQ:KONA) | $93.7 million | 2.5% | $41.3 million | $23.7 million | $2.02 million |
| The Cheesecake Factory (NASDAQ:CAKE) | $1.76 billion | 7.6% | $1.02 billion | $479.8 million | 95.7 million |
Del Frisco's appears to hold up quite well against a more direct competitor found in Ruth's Hospitality. Del Frisco's has a solid operating margin now backed with fresh capital from the IPO. Yet whatever advantage the company has is sure to be a moot point. Upscale dining franchises as a whole are likely to enjoy more prosperous times in light of shifting demographics. The aging baby boomer generation is beginning to retire, and is thereby leading to a greater involvement in upscale dining. This trend is likely to allow for additional expansion across strategic areas and to lift up all those who are involved.
Nevertheless, as an investment itself, Del Frisco's offers little upside to its investors apart from the stability of an established chain. According to the company's amended S-1 filing, revenue increased from $165.6 million in 2010 to $201.6 million in 2011. Yet despite this significant increase, much of the profit was lost to a correlated rise in operating costs. Operating income over the same time period cautiously increased from $20.7 million in 2010 to $21.8 million in 2011. Supporting the stability of this trend, we also see that operating income in 2009 was also $21.8 million. It would appear that the company has effectively been able to pass rising costs onto its consumers.
Having said this, however, it's important to remember that stability does have its place in an established portfolio. The company offers steady earnings found typical in the business of dining out. Del Frisco's has positioned itself across the nation in strategic locations and is therefore more diversified and cushioned from geographic risks. This can be illustrated in a map of the company's locations as seen below. Investors looking for a stable play in the upscale restaurant business need to look no further than this newcomer to the market.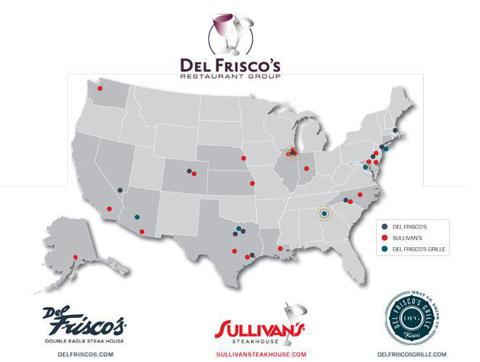 Disclosure: I have no positions in any stocks mentioned, and no plans to initiate any positions within the next 72 hours.
Disclaimer: Please see my standard disclaimer statement found here.