Market Recap: The market had a rough day after the market was "shocked" by the fact that ECB president Mario Draghi and his cohorts did nothing. They did not change their rate, and they announced no new plans. They continue to move toward a two-pronged bond buying program, but talk and speculation was not enough for the market. The lack of catalyst reversed last week's fortunes for another day. The market eased off the early losses most likely due to short covering and a decent slate of jobs data. Initial jobless claims came in at 365K, which was below expectations but did rise week-over-week. Additionally, we saw Challenger Job Cuts drop 45% month-over-month, so that was also a good point. We had three decent jobs data points headed into NFP tomorrow, so perhaps the announcement will not be as bad as some are expecting.
Moving into tomorrow, it's all about Non-Farm Payrolls. The expectations are pretty low for tomorrow, so it would not be shocking to see a bit of a surprise. At the same time, a miss could continue some "risk-off" trading. Data points this week have been better for joblessness, but it's a crap shoot as to what will happen tomorrow.

Two Trades
Two trades we are watching right now are short PNC Financial (NYSE:PNC) as well as a bear call spread in Adobe (NASDAQ:ADBE). We believe this market is fairly weak right now, and we should see tech and financials move lower. PNC looks pretty weak today after breaking below its 200-day MA. The company looks to be continuing a trend of downward movement after weak earnings, and they are in a downward moving triangle right now. The company looks like it will continue lower, market permitting. Adobe has not been strong for some time, and we do not see a lot of upside. We have a 12-month price target at $34 and a Hold rating. We believe that the 33 line is not obtainable without a very solid earnings report, and with growth slowing, that will be hard to do. The company continues to make lower lows and lower highs right now.
Trade #1: PNC, Short
Trade #2: ADBE, 33/34 Bear Call Spread, Jul21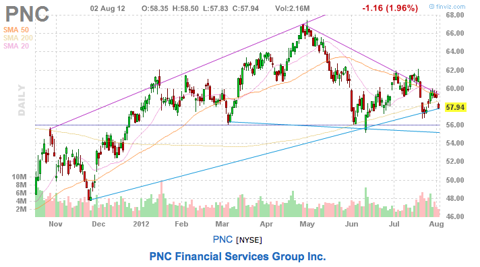 Tomorrow's Outlook:
NFP! The ECB failed. The Fed failed. Now it's up to joblessness to get something going for this market ... uh oh! Overall, we do not have extremely high expectations for jobs data. The data this week was intriguing, and we may be setting up for an exciting beat tomorrow. At the same time, the market has a lot of headwinds right now with slow growth, high unemployment, and a lack of confidence. It seems earnings have really taken a backseat, but we have some interesting earnings from Kraft (KFT), CBS (NYSE:CBS), AIG (NYSE:AIG), and Procter & Gamble (NYSE:PG). PG is a stock that is one of the best bellwethers, and their report will be interesting to see.
Our Moves:
We had a pretty good day as we took gains in an Apple (NASDAQ:AAPL) bull put spread, Agilent (NYSE:A) short, and netted a gain on Under Armour (NYSE:UA) short. We had to take a slight loss on our Southern (NYSE:SO) long as well as a more significant loss on our Nike (NYSE:NKE) bull put spread. We added the two positions above.
We had a pretty quiet day in the market, but we did take the rest of our long in Dominos Pizza (NYSE:DPZ) off the table for a 1.5% gain. We also were able to get a 3% average gain for Basic Energy (NYSE:BAS) from our Goldman Portfolio. We did stop out of Monster (NASDAQ:MNST) calls for a small loss. We added the above short in UA, added more to our Nike bull put spread, added the above bull put spread in True Religion (NASDAQ:TRLG), and added a bull put spread in Apple to Options Portfolio.
We have the following positions:
In our Short-Term Equity Portfolio we are long Biogen Idec (NASDAQ:BIIB), Dollar Tree (NASDAQ:DLTR), Wolverine Worldwide (NYSE:WWW). We are short Pall (NYSE:PLL), Mosaic (NYSE:MOS), PNC.
In our Options Portfolio, we are long Apple, United States Oil (NYSEARCA:USO), Monsanto (NYSE:MON), Dollar General (NYSE:DG), Home Depot (NYSE:HD). We are short Tiffany (NYSE:TIF) and Adobe.
In our Earnings Alpha Portfolio, we are long VeriSign (NASDAQ:VRSN), Seagate Tech (NASDAQ:STX), Apple, Disney (NYSE:DIS) and American Eagle Outfitters (NYSE:AEO). We have a reverse iron butterfly in F5 (NASDAQ:FFIV). We have reverse iron condors in Coinstar (NASDAQ:CSTR) and Facebook (NASDAQ:FB).
In our Goldman Sachs Up/Down Paper Portfolio, we are long Qualcomm (NASDAQ:QCOM) and Noble (NYSE:NE).
Chart courtesy of finviz.com.
Disclosure: I have no positions in any stocks mentioned, and no plans to initiate any positions within the next 72 hours.