Green Mountain Coffee Roasters (GMCR)' stock price is up 25% after reporting earnings. Net sales fell short of analyst estimates, while EPS beat analyst estimates of $0.5/share. The shares were up because of an increase of 9% in net income (non-GAAP basis). A drop in gross margins was due to less demand for K-cup and under utilization of production space, high inventory and cuts in the future guidance, which are all causes for concern. Therefore, we do not recommend a long position in the stock.
Business Overview:
Green Mountain Coffee Roasters operates in the Beverage Industry, and is known for its specialty coffee and Keurig coffee makers. It operates in three business units: specialty coffee, GMCR Canada and Keurig coffee makers. The company has 27 brands, including Timothy's World, Green Mountain, Tully's Coffee, Diedrich Coffee and Van Houtte, and more than 200 different varieties of coffee. In February, the company added the new KeurigVue brewing systems to its existing K-cup brewers. The company also sells accessories related to brewing systems. GMCR sells to/through supermarkets, grocers, business offices, licensed partners, restaurants, and direct to customers through their website.
Q3 FY2012 Performance:
| | | | |
| --- | --- | --- | --- |
| | Q32012 results | Analyst estimates | %age increase from Q32011 |
| Net sales | $869 million | $873 million | 21% |
| EPS | $0.52 | $0.5/share | 6% |
The EPS guidance range was $0.48-$0.53/share. The revenue guidance range was $861 million-$897 million.
The company cut its fiscal year 2012 targets, the second time since May that such an action has been taken.
16% of total sales were from sales of brewers and related accessories, and 73% from the sale of single serve packs. Single serve packs saw an increase of 31% compared to the same quarter last year. 28 percentage points of this increase were due to a larger sales volume, while the remaining was due to higher prices (charged because of higher costs). Other products and royalties decreased compared to last year due to the sale of Filterfresh.
Lower than planned levels of production, due to lower K-cup demand and larger obsolescence of single serve packs, hurt gross margins, which decreased by almost 2 percentage points.
On the balance sheet front, the debt-to-equity ratio has been decreasing favorably.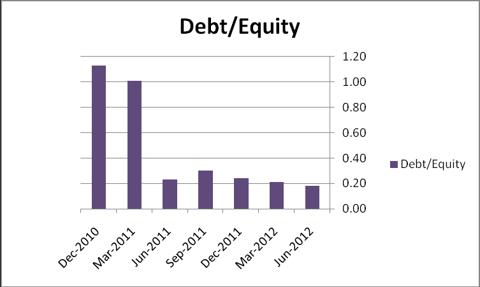 Click to enlarge
Inventory turnover has reduced. The company's average inventory days came out to be 102 in Q32012, compared to 72 last year. The company explains in its release that it needs to build up inventory in the last two quarters of the calendar year, in anticipation of the holiday sales. However, we think that a 42% increase in average inventory days is too high to be entirely explained by a build-up due to holidays.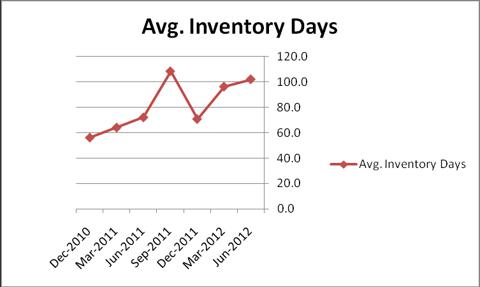 Click to enlarge
The CEO of GMCR said that going forward, he expects sales to grow by 15%-20% annually, and earnings to experience mid-teens growth.
Future Guidance:
| | | |
| --- | --- | --- |
| | Company guidance | Analyst estimates |
| 4Q sales | $889-925 million | $938 million |
| 4Q EPS | $0.45-0.5 | $0.58 |
| FY2012 sales | $3.79-3.84 billion | $3.85 billion |
| FY2012 EPS | $2.21 - $2.26 | $2.33 |
| FY2013 sales | 15-20% above FY 2012 | $4.55 billion |
| FY2013 EPS | $2.55-2.65 | $2.82 |
Green Mountain's guidance for 2012 earnings is $2.21-$2.26 per share. This is down from $2.4-$2.50/share issued in Q22012. The revenue guidance for FY2012 is also down to $3.79-$3.84 billion, as compared to $3.84-$3.97 billion that was issued in Q22012. The company has trimmed its CAPEX guidance for 2012 from $525-$575 million (issued in Q2) to $475-$525 million in Q3.
U.S. coffee C Futures - Sep 12 (KCU2) indicates that coffee prices have started falling recently in late July. Coffee prices have dropped 25% YTD. If the prices continue to decline in view of healthy supply, the company might benefit from buying coffee at lower prices compared to, before, and vice versa. This could lead to better than expected or lower than expected earnings, based on the supply side situation for coffee. Below is a graph showing the future's price performance.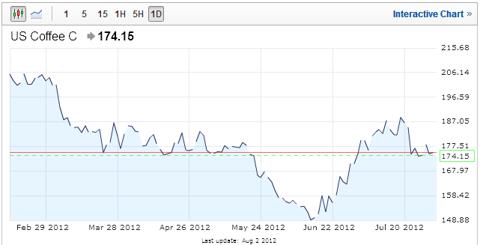 Click to enlarge
Furthermore, Starbucks' (SBUX) earnings had suffered from low customer traffic in June in the U.S., and a weak international economic situation, especially in Europe. Starbucks cut its Q4 outlook, which could impact GMCR as well, as the two have been working as partners. Starbucks uses Starbucks-branded Vue coffee packs on GMCR's Keurig brewing machines. Moreover, Starbucks is now introducing its own single serve brewer.
Valuation
Shares were down 1.91% on August 1 in intraday trading, but in after-hours trading, the stock first dropped by more than 15% immediately after its earnings report was issued, only to rise by 25% later on. Shares are down 50% YTD. The 52-week high value is $115, while the short ratio is 5.2.
The Board of Directors authorized a stock buyback worth $500 million for the next two years. But the cash flow from operations has been negative in 2010 and 2011. CFO for 2012 is $493 million so far. Free cash flow is expected to be only $100-150 million for 2013. Given this cash situation, buy buck on such a scale seems unlikely.
GMCR's P/E is 8x, Peet's Coffee & Tea's (PEET) is 36x and for SBUX it is 22x.
The next 5-year growth rate is 32%, while it was 96% for the last 5 years, as GMCR was expanding. For PEET, it is 23%, and for SBUX it is 19%.
Given the massive drop in stock price because of accounting-related concerns, and the slowdown of sales after the company's hyper-growth phase, we would advise investors to stay away from GMCR. However, we would be bullish only when demand for GMCR's products picks up (gross margin does not drop further), the inventory buildup gets reduced by holiday sales, and the company stops slashing its future guidance and meets analyst estimates in the last quarter for FY2012.
Disclosure: I have no positions in any stocks mentioned, and no plans to initiate any positions within the next 72 hours.