High-growth companies tend to allocate their retained earnings toward future growth. Some companies, however, allocate a share of their surplus income toward dividends. Companies with high earnings-per-share (EPS) growth and low payout ratios have the capacity to boost dividends significantly. This way, dividend growth companies can increase investors' income progressively over time. Furthermore, stocks with high dividend growth over time have proven to outperform benchmark indices over the long-term horizon.
Looking for potential candidates with the capacity to boost dividends significantly in the future, we zoomed in on dividend-paying stocks that have projected annual EPS growth in excess of 25% over the next five years. The stocks were selected based on their comparably high dividend yields, attractive valuation, and low payout ratios. We selected four dividend stocks with an average dividend yield of 2.9% and an average payout ratio of 30%.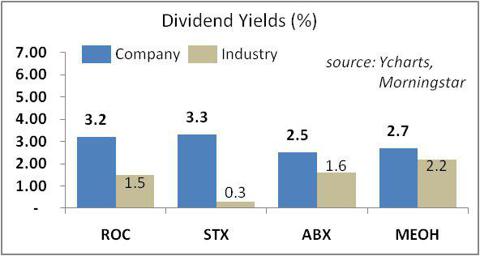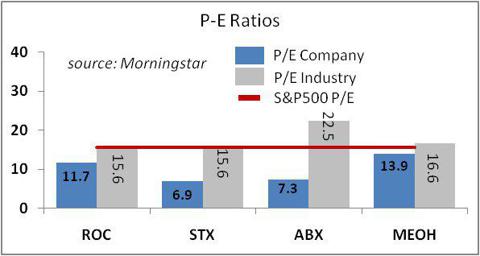 Rockwood Holdings, Inc. (NYSE:ROC) is one of the companies with the highest forecasted EPS growth rate for the next five years. The company's EPS grew on average 35.4% per year over the past five years. Analysts forecast that its EPS growth will average 26% per year for the next five years. Although the company has just started paying a dividend, it looks certainly capable of increasing dividends in the future. The company's dividend yield is currently 3.2% on a low payout ratio of 36%. Its peer PolyOne Corporation (NYSE:POL) has a lower yield of 1.3%, while competitor Huntsman Corporation (NYSE:HUN) pays the same yield as Rockwood Holdings. The cyclical recovery in the world economy is likely to resume after the current soft patch. This will improve the demand for specialty chemicals and compounds. As a producer of lithium-based compounds for use in the lithium-ion batteries, the company is benefiting from the explosive growth in mobile devices, including smartphones and tablets. The stock is attractive based on relative valuation, as it is trading below its own historical ratios. Trading at $43.77 a share, the shares are still down nearly 28% over the past year. Billionaires James Dinan and Jim Simons are bullish about the stock.
Seagate Technology Plc. (NASDAQ:STX) is another high EPS growth dividend stock. The company is a hard drive maker that accounts for 42% of the market by shipments. Its EPS contracted over the past five years, while dividends grew at an average rate of nearly 18% per year over the same period. The company has just hiked its dividend by 28% for a forward dividend yield of 4.4%. The payout ratio, even accounting for the latest dividend hike, is low at 29%. There could be more room for further dividend boosts in the future, as analysts forecast the company's EPS will expand at an average rate of 31.5% per year for the next five years. The company's key competitor Western Digital (NYSE:WDC) does not pay any dividends. Some are concerned that the PC and notebook sales decline due to tablet expansion will hurt the demand for hard drives. However, the company is positioning itself in the high-margin enterprise market, with a focus on potential acquisitions of solid-state drive makers. The stock is trading at $29.34 a share, up a staggering 110% over the past year. Analysts think that Seagate will buy its shares back at below $30. Despite the run up in prices, the stock is trading with valuations well below its industry average and its own historical metrics. Guru fund managers David Einhorn and John Thaler (JAT Capital Management) have hundreds of millions invested in the company.
Barrick Gold Corporation (NYSE:ABX) is a gold and copper producer with a total market cap of $33 billion. Over the past five years, the company saw a robust 26% per year growth in its EPS, while its dividends increased at an average annual rate of 19%. EPS growth is forecast to average a higher 28% per year for the next five years. Barrick Gold currently pays a dividend yield of 2.5% on a low payout ratio of 20%. Its peers Newmont Mining Corp. (NYSE:NEM) and AngloGold Ashanti Ltd. (NYSE:AU) pay yields of 3.1% and 1.2%, respectively. The correlation between gold prices and gold producer stocks has been inconsistent. Gold prices seem to have found a short-term bottom near the current levels. An additional round of quantitative easing could help propel the prices of bullion to higher levels. While the shares of Barrick Gold are trading off their 52-week low, at $32.91 per share, they are likely bottoming out at current price levels. Barring precipitous drops in gold prices, Barrick Gold seems to be a good value play at current price levels based on appealing valuation. Billionaires Jim Simons, John Paulson, David Einhorn, and D. E. Shaw hold large positions in the stock.
Methanex Corporation (NASDAQ:MEOH) produces and sells methanol, which is used in industrial applications, including energy. This $2.6 billion Canadian company saw its EPS contract at 14% per year over the past five years. Still, its dividends increased 6.2% per year over the same period. Further dividend increases could be in the cards in the future if the company lives up to analysts' expectations to grow EPS at an average annual rate of 46% per year for the next five years. According to the company's President and CEO, "industry demand growth is expected to significantly exceed new capacity additions over the next few years and (Methanex) has a number of growth projects in place to capitalize on the positive industry conditions." The company's capacity expansions through new plants in New Zealand and Louisiana bode well for absorption of the strong future demand.
Methanex pays a dividend yield of 2.7% on a low payout ratio of 36%. Its peers Celanese Corporation (NYSE:CE) and Eastman Chemical Co. (NYSE:EMN) pay dividend yields of 0.6% and 2.0%, respectively. The stock is trading on the forward P/E and price-to-book ratios below its respective industry. The shares are changing hands at $27.64 a share, down nearly 7% over the past year. Fund manager John Burbank (Passport Capital) initiated a new position in the stock in the first quarter. Billionaire Steven Cohen is also bullish about the stock.
Disclosure: I have no positions in any stocks mentioned, and no plans to initiate any positions within the next 72 hours.