Market sentiment can be a powerful tool when making investment decisions, especially when sentiment crystallizes and the majority becomes certain of a particular outcome. When the crowd becomes absolutely certain, typically the opposite will happen. With that in mind let's take a look. Here is an updated list of the indicators I watch to judge overall market sentiment.
Put Call Ratio:
The put/call ratio measures the ratio at which options players are buying puts (bearish bets) compared to calls (bullish bets). In my experience, once options speculators have bought enough puts or calls to move the three day moving average past the one standard deviation mark, the reading should be considered extreme. This usually results in a reversal.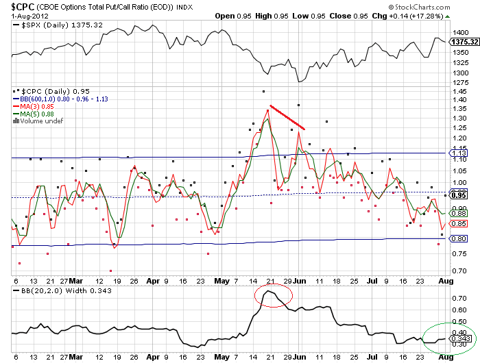 Source: Chart created at stockcharts.com
Notes: We can see that exact behavior at the June 4 lows. Once speculators bought enough puts to cause a lopsided extreme reading, the market began rallying. Another way to think of it; it's very difficult for the market to continue falling when investors are very well hedged with options. Now we have a nearly opposite reading: the three day moving average has dropped to nearly 1 standard deviation. While I wouldn't call this reading particularly extreme, it certainly isn't a bullish reading. The last two times a reading of this nature was recorded the market experienced a correction in short order.
Grade: I would grade this is as bearish.
Investors Intelligence:
Investors Intelligence is a service that surveys professional newsletter writers. While they tend to perform a little bit better than individuals, they too are subjected to peer pressure and crowd psychology. A crowd is a crowd regardless of how smart they are.
Source: Courtesy of schaeffersresearch.com
Notes: When the S&P 100 approached the highs, the percentage of bulls skyrocketed while bears went into hiding. Note that at the peak percentage of bulls ticked down slightly. This is common because at the peak many stocks are already declining, however the averages can still make new highs due to index weightings. The big blue chip names that have the highest index weighting are still receiving bids as they are viewed as "safer." Currently the percentage of bulls has dropped, while percentage of bears has ticked up. Bulls still outnumber bears, but not by a particularly wide margin.
Grade: While this could be an indication of a top, a top will only occur once, while false tops will occur many times. Therefore the best interpretation of this chart is neutral.
The American Association of Individual Investors:
The AAII is a service that polls individual investors. This polling service tends to be a bit more sensitive than the Investors Intelligence survey, though it works much the same way.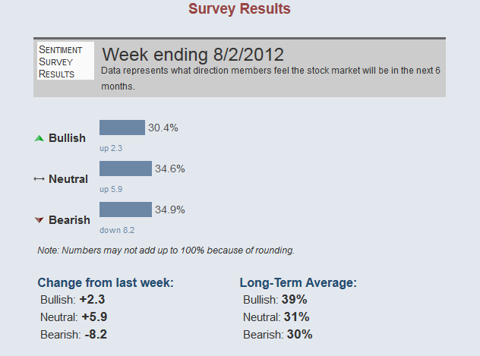 Source: Courtesy of www.aaii.com/
Notes: Despite the rise in stocks since the June 4 lows it seems individuals are not biting. In the past three weeks there's been a heavily skewed bull-bear spread, with bears outnumbering bulls by a wide margin. In the past this has almost always led to positive stock market returns. This week's survey showed that the gap has closed a bit.
Grade: The spread between bulls and bears has certainly shrank, but the best interpretation is that the AAII survey is recovering from a bearish extreme, and has room to run further. Therefore I grade this chart bullish.
CFTC Commitment of Traders:
Every week the CFTC releases the aggregate futures positions of commercial hedgers and large speculators. These two are summed and the difference of this sum and all open positions is assumed to be small speculators.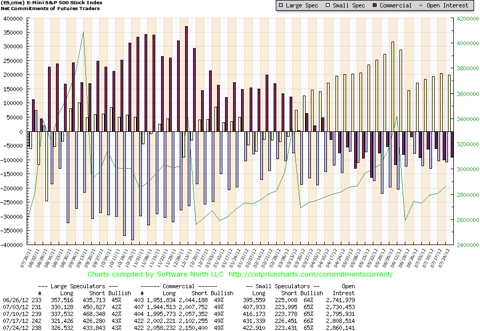 Source: Chart courtesy of www.cotpricecharts.com
Notes: Both commercial traders and large speculators are net short, while small speculators are net long.
Grade: Assuming that small speculators are the "dumb money," and professional hedgers and large speculators are the "smart money," and based on the fact that small specs are long and large specs are short, I grade this chart bearish.
National Association of Active Investment Managers:
The NAAIM polls active investment managers. While they are typically much more involved in the market, a crowd is a crowd. The bigger the crowd, the dumber it gets.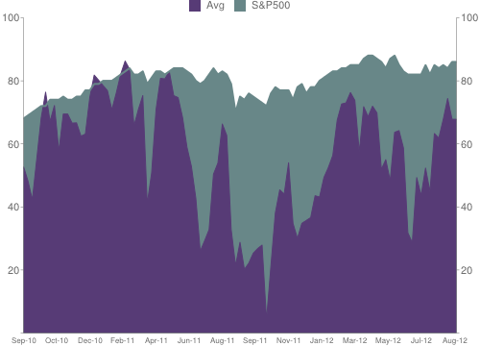 Source: Chart courtesy of www.naaim.org
Notes: We can see the same pattern even though these are "professionals," meaning they are selling at bottoms and caught long near tops.
Grade: One of the easier charts to grade, investment managers are very bullish (bearish for prices going forward). This also means that in the short term there is less money immediately available to push prices higher. I grade this chart bearish.
Short Interest:
ETFs have become a very popular way for individuals and institutions alike to quickly get exposure to risk assets. Their overall popularity has skyrocketed, so it pays to pay attention to short interest in these popular index ETFs.
Short Interest, SPY:

Short Interest, DIA:

Short Interest, QQQ:
Source: Courtesy of schaeffersresearch.com
Notes: Short interest in these ETFs has plunged to multi-year lows. Furthermore, in this last decline short interested did not tick up at all and instead fell. Overconfidence in the Bernanke put?
Grade: It would appear that ETF investors are not betting on any kind of decline, and are un-hedged. I grade short interest bearish.
Summary:
Overall we've looked at option speculators, newsletter writers, individuals, futures players, money managers, and ETF investors. This should provide a pretty well rounded view of market sentiment.
Grades:
Bullish:1/6
Neutral: 1/6
Bearish: 4/6
It's strange to see such a huge difference between individuals and professionals/institutions. The AAII results show that individuals are very bearish, but most of the other measures of sentiment disagree. This could be the net result of algorithmic trading, the Facebook debacle, the recent Knight trading snafu, etc. all taking a toll on the individual investor's psyche. That said, my primary interpretation is that while sentiment has not crystallized among all groups of market participants, overall sentiment is too positive, thus bearish for stock prices going forward.
Disclosure: I have no positions in any stocks mentioned, and no plans to initiate any positions within the next 72 hours.