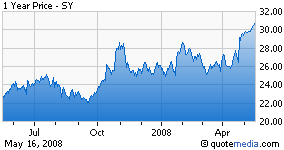 Sybase, Inc. (SY) provides enterprise and mobile software solutions for information management, development, and integration worldwide. Its Infrastructure Platform Group segment offers Adaptive Server Enterprise, a relational data management platform for mission-critical transactions.
The company pulled a "beat and raise" for its first quarter as strong mobile messaging contributed to a 60% rise in profits (see earnings call transcript). Earnings per share came in at 35 cents, much better than the 28 cents that analysts expected. Revenue rose 13%, to $260.1 million, from $230 million last year.
Sybase also raised its guidance for the year, and now expects to report profit between $1.51 and $1.56 per share, or adjusted earnings between $1.94 and $1.99 per share. Revenue will likely be "toward the high end" of its previous forecast, between $1.08 billion and $1.09 billion, the company said.
We think the company is being conservative with its guidance. Due to the strength in its messaging segment, earnings could be well over $2 per share. If so the stock has much more to go on the upside. Over the past month, already three of the four covering analysts have raised their estimates. The stock is already trading at a new 52-week high just above $30 and we believe this could be a $35 stock in a year.
Disclosure: None