Warren Buffett's Berkshire Hathaway issued its latest 13F for the quarter ended March 31, 2008.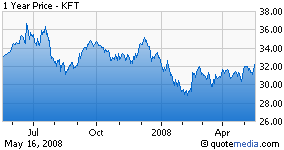 Buffett raised his stake in Kraft Foods (KFT) from 132,393,800 shares to 138,272,500 shares, Ingersoll-Rand Co. Ltd. (IR) from 636,600 shares to 936,600 shares and Unitedhealth Group, Inc. (UNH) from 6,000,000 shares to 6,400,000 shares, among others.
Buffett lowered his stake in Iron Mountain Inc. (IRM) from 4,663,900 shares to 3,372,200 shares, among others.