One stock that I have been following for a while now is Tootsie Roll Industries (NYSE:TR). Everyone knows this company. Who has not unwrapped the distinctive brown and white wrapper to unveil that nice chewy chocolate treat? Did you know that this company is also behind such favorites as Sugar Daddy, Sugar Babies, Tootsie Pops, Andes Mints (all of the above are trademarked names), as well as many other treats? Tootsie Roll racked up sales of $493 million in 2007 selling these delicious, sugary treats.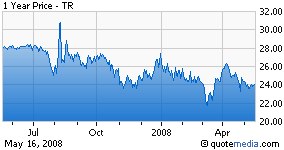 On April 23, Tootsie Roll reported first quarter net income of $6.45 million, down from $9.81 million a year earlier, a 34% drop. Product sales declined 3% to $90.3 million from $92.9 million a year earlier. The company sights lower sales volume and higher input costs. In fact, Cost of Goods Sold at the end of 1st quarter 2008 was around 67% of sales while COGS at the end of 1st quarter 2007 was about 64% of sales. The issue: Tootsie Roll will continue to suffer from higher commodity costs in the short-term.
As stated above, I think it is easy to see why there has been a drop off and then stagnation in the stock price. Most of the trouble comes from the quick rise in commodity prices over the past few years. The prices for refined corn products such as corn syrup have been higher as a large amount of corn and corn-refining capacity has been redirected to ethanol production. Sugar, milk, and vegetable oil, all major inputs, have also seen prices rise. Although TR has been able to raise prices on their products when possible, they have not been in step with input costs and therefore, margins have suffered. In fact, Profit Margins were 10.39% vs. 7.1%, from 1st quarter 2007 to 1st quarter 2008, a pretty hefty drop. Return on Equity [ROE] has also fallen quarter over quarter, from 1.61% in 1st quarter 2007 to 1.1% in 1st quarter 2008, although I really only look at ROE on a year over year basis. Return on Invested Capital [ROIC] also fell over the same period; from 1.42% to .96%. On a year-over-year basis, ROIC was 9.9% in 2006 vs. 7.5% in 2007 and ROE was 11.7% in 2006 vs. 8.7% in 2007.
In general, Profit Margins have shown a steady decline over the past several years. In 2002, TR profit margin was 16.88% and at year-end 2007, TR had a profit margin of 10.48%. But we must compare this to its two closest competitors, Wrigley and Hershey. Hershey had profit margins of 10.7% at year-end 2002 and 5.8% at year-end 2007, not impressive. Wrigley's profit margin has also dropped over the same period; from 14.4% in 2002 to 12.4% at year-end 2007.
So, what do I like about Tootsie Roll? First of all, even though profit margins have decreased from 2005 through 2007, the company still enjoys double-digit margins. In fact, average profit margins for TR are higher than those of two of its closest competitors, Hershey (HSY) and Wm. Wrigley (WWY). Looking at the 5-year average ending 2007 profit margins, TR stands at 14.7%, HSY at 11%, and WWY at 13.2%. In fact, TR had nearly double the profit margin of HSY for year ending 2007, as shown above.
Second, this company is virtually debt free. Beside $7.5 million in an Industrial Development Bond, this company has no LT debt. This puts TR in the position of being able to lever up its Balance Sheet and use the debt to invest in expanding operations overseas and growing its brand name in foreign markets, one thing that the company has not spent much on doing. In fact, 2007 International sales accounted for only 9.5% of total sales and in 2006 International sales accounted for 9.2%. Clearly, a joint venture with a foreign firm, or Tootsie Roll itself ramping up international sales would be a big plus for the company's future revenue.
Third, the company is still being managed by Melvin and Ellen Gordon. Melvin has been Chairman since 1962. The company is run conservatively, consistently investing its capital (obviously not internationally) and consistently paying both a cash and stock dividend (3% stock dividend last quarter). There is no excess with management and no frivolous use of shareholder money. Also, management owns 48% of the company so they have high level of vested interest in running a great company that, I believe looks to maximize shareholder value.
However, substantial risks are involved in owning this stock. The first, as stated several times in this article, is the continued rise in commodity prices. Cost of Sales have been increasing year over year since 2002, the year I started my analysis with, rising from 55.3% of sales in 2002 to over 67% of sales in 2007, and increasing over into 1st quarter 2008. Also, although I do like management that owns 48% of the stock, the Gordon's do own 70% of the voting stock. This makes life a bit difficult for those who would like to enact some sort of change in the company, and in fact, the Gordon's might be quite happy with how the company is situated right now. They may not do anything in the future to grow the business, either domestically or internationally. With the situation that they are in they may decide to continue to pay themselves a nice salary and bonus, and just go on selling the treats as they always have done so in the past. Lastly, there seems to be no clear succession plan, or at least not one that the company is willing to tell the shareholders.
Let me summarize the strengths of Tootsie Roll. First, you have an extremely strong brand name in Tootsie Roll. These include Sugar Daddies, Tootsie Pops, Andes Mints, and the list goes on. One thing the company does like to do is to make strategic acquisitions to add to their growing list of strong brands, as they did when they acquired Andes Mints in 2000 and Concord Confections, maker of Dubble Bubble, in 2004.
Tootsie Roll has a very small debt load. As mentioned earlier, the debt consists of a $7.5 million Industrial Bond due 2027. This gives Tootsie Roll a Debt-to-Equity Ratio of .012. Tootsie Roll could change it Capital Structure to take advantage of more long-term debt. As I explained above, any debt issued could be used to fund International growth and to develop it brand name in foreign markets.
Also, I like the fact Tootsie Roll has paid cash dividends for sixty-five consecutive years and a stock dividend for forty-three consecutive years.
Lastly, let us not overlook the fact that this is one of the few small, independent confectionery companies traded publicly. After the announced acquisition of William Wrigley last month by Mars, Tootsie Roll might be (speculative) a takeover target for a larger company looking to purchase a strong brand name candy company. If the price is right, this might be the perfect ending for the Gordon's long tenure at the top of Tootsie Roll. Let's face it, they are not getting any younger and a takeover is the perfect way to solve the succession plan problem.
Having modeled a Discounted Cash Flow analysis of Tootsie Roll, using updated 1st quarter numbers and managements forward estimates and assuming that 2008 and 2009 North American sales are flat, and with an increase in Cost of Goods Sold, which will take into account the higher input costs, I have calculated a fair value of $30.79 per share. This uses a conservative Terminal growth rate of 3%. The cash flows are discounted by the firms Unlevered Cost of Capital (Rue), which I have calculated to be 8.5%. This discount rate was used because I use the Adjusted Present Value [APV] approach to valuation.
However, comparing the firms Weighted Average Cost of Capital [WACC] to the firms Return on Equity [ROE] for the year ended 2007, Tootsie Roll had an ROE of 8.75% vs. a WACC of 8.42%. Although the spread is not wide, their ROE was higher than the cost of capital.
Tootsie Roll currently trades at $23.94 per share, about a 22.25% discount from my calculated fair value.
If corn, soybean oil, energy, and other input prices retreat in the near future, Tootsie Roll will be situated well in their industry.
I still believe in the strong management team, and I still enjoy the stock and cash dividends that Tootsie Roll pays out.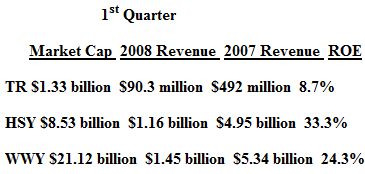 Disclosure: Author has a long position in TR