American Capital Agency (AGNC) offers dividend investors a 14.3% annual yield. On August 2nd, the mortgage real estate investment trust (mREIT) provided their 2nd quarter financial data. I continue to own American Capital Agency shares based upon the company's track record and a mREIT peer review. In this article I will highlight 5 stocks with high yields. Income investors should consider a mREIT investment for a 12.4% plus dividend yield.

Click to enlarge
American Capital Agency, since its initial public offering (NYSEARCA:IPO), has provided a 27.2% annualized total return. This return assumes dividends are not reinvested in additional American Capital Agency shares.
American Capital Agency 2nd Quarterly Earnings
American Capital Agency earned $1.58 comprehensive income per share. The company has $1.61 per share in estimated undistributed taxable income. The undistributed taxable income can be used during a turbulent quarter. The Government Sponsored Entity (GSE) Mortgage Backed Security (MBS) yields record lows or close to record lows.
American Capital Agency 2nd Quarterly Dividend
American Capital Agency paid a $1.25 per share dividend. This equates to a $5.00 annual dividend. The Treasury Bond market interest rates remain at low yields:

The 10 Year Bond vs. the 2 Year Bond is a 1.27% difference. GSE MBS will provide higher yields if the 10 Year Treasury Bond yield increase. Since the Federal Reserve Chairman's Mr. Bernanke has not announced another round of Quantitative Easing, the long term rates remain at depressed yields.
American Capital Agency 2nd Quarterly Constant Prepayment Rate (CPR)
The 2nd quarter experienced a 10% actual portfolio CPR. Management forecasts a 12% CPR per quarter. The 10% is beneficial for the common shareholder.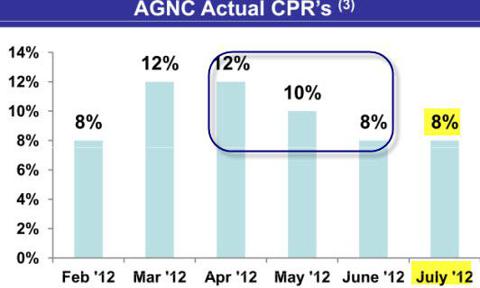 Click to enlarge
The 3rd quarter has started on a CPR positive note. The 8% CPR has continued through July. This directly impacts yields, earnings, and return of equity. The less than expected prepayments is and will be accretive to earnings for the 3rd quarter.
Portfolio Composition
American Capital Agency's GSE MBS portfolio is comprised of 69% Home Affordable Refinance Program (HARP) or lower loan balance securities. These securities have historically proven to possess a low CPR. Gary Kain, CEO of American Capital Agency, has focused upon GSE MBS asset selection with the highest likelihood of a net low CPR.
American Capital Agency 2nd Book Value per Share Valuation
The book value per share moved up slightly to $29.41. The stock has really taken off and has the highest book value per share valuation. The stock is trading at a 19% premium to book value per share. The key strategy is to buy the right mREIT at a price close to book value.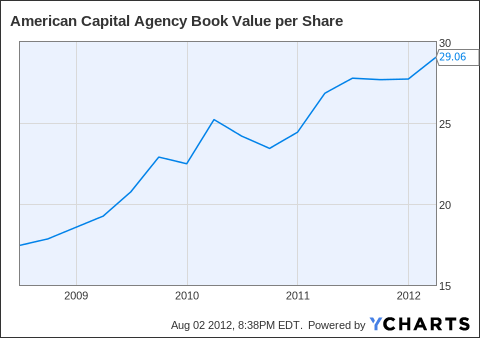 AGNC Book Value per Share data by YCharts
June 30th Book Value per Share Valuations
Annaly's (NLY) book value decreased this quarter. The leverage was increased slightly to 6.0x. Annaly is an agency mREIT with a long, successful track record. They are largest market cap mREIT.

Click to enlarge
CYS Investments (CYS) and Hatteras (HTS) are both agency mREITs. I believe both are good value at a 5% premium to book value. There are undiscovered mREITs with lower price to book valuations, but CYS Investments and Hatteras have been around for a few years now.
American Capital Mortgage (MTGE) is co managed by Gary Kain. Mr. Kain invests the GSE MBS. American Capital Mortgage will report their 2nd quarter book value and financial data early next week. As a hybrid mREIT, American Capital Mortgage can buy GSE MBS and non agency MBS.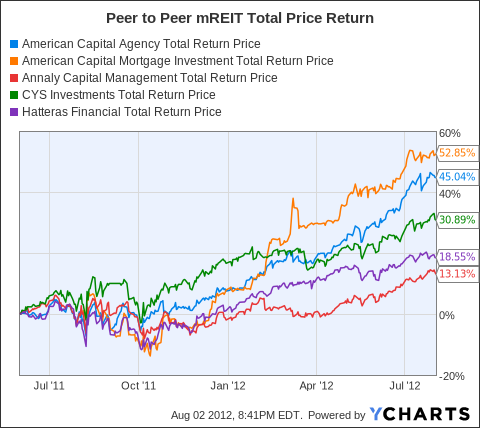 AGNC Total Return Price data by YCharts
Summary
Investors should establish entry prices close to book values per share. There are opportunities within the sector. Newly issued offerings can potentially provide higher net yields in dividends and capital share appreciation. American Capital Agency has a proven track record of delivering 14% plus annual dividends.
I personally am more concerned about deflationary pressures than inflationary pressures. As Europe and the U.S. struggle with austerity measures, the economies will not grow. Japan has been in this situation for a number of years now. mREITs offer 5 stocks with 12.4% and up yields for income hungry investors.