As many have realized, the quest for yield has driven prices of dividend paying companies higher, and the real estate investment trust market has been no exception. REITs have attracted, and continue to attract, investor capital due to their payouts and dividend yields.
REITs have shown themselves to be resilient to market cycles and while they were punished due to their financial nature in 2007-2009, they have bounced back well. REITs have shown the ability to finance operations in difficult times and attract cheap capital in good times. Over the last few years, REITs have reduced leverage and positioned themselves to move forward both conservatively and profitably.
As a result, the FTSE NAREIT All Equity REITs index has returned 17.40% year-to-date. Returns to the sectors/subsectors year-to-date have been as follow (all data from NAREIT):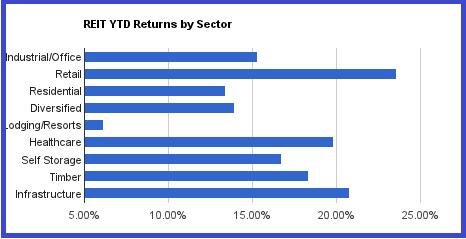 Of the primary sectors, retail and healthcare have dominated returns.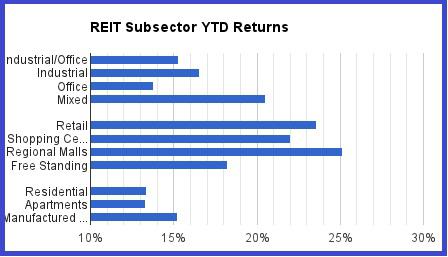 Looking at sub-sectors, retail returns continue to be driven by regional malls and office/industrial by mixed use properties.
July returns were: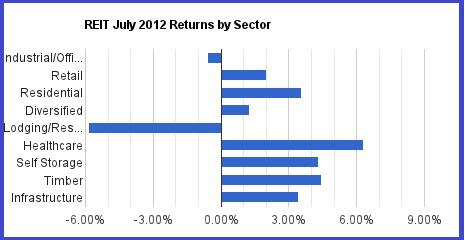 For the month, healthcare continues to dominate returns, while both residential and self storage REITs have turned in strong returns as well (which is why they appeared overvalued and have lower dividend yields). Industrial/office and lodging lagged during the month turning in negative returns. While the lodging sector does not surprise me, I have been expecting the office/industrial sector to outperform as the economy stabilizes and corporate profits lead to business expansion.
On a sub-sector basis for the month of July, the industrial sector lost a little over 2%, a very poor showing. I have been expecting the shopping center sub-sector to begin to outperform its mall peers and it looks like it is beginning to happen (also note the sector underperformance of freestanding as this sector has become stretched in terms of valuation). While residential continues to perform well (against my expectations given their valuation and lower yields), manufactured housing has been driving returns.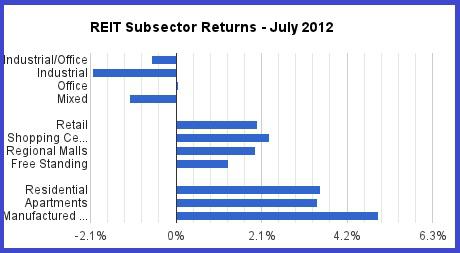 The return table is as follows:
Click to enlarge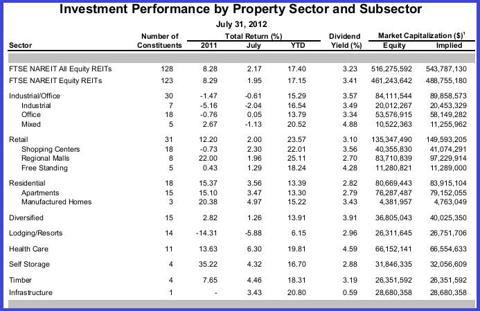 Bottom Line: I expect that REIT returns will continue to outperform the broader market as investors continue to seek out income-producing investments. This capital attraction has stretched valuations across many sectors, notably apartments, freestanding retail and self storage. Finding value across the REIT sector should attract investors to the office/industrial sector, shopping centers, healthcare and manufactured housing.
I have been recommending Avalon Bay (NYSE:AVB) and buying Mack-Cali (NYSE:CLI) and/or Duke Realty (NYSE:DRE), an outright long in the industrial sector, advocating Monmouth Real Estate Investment (NYSE:MNR) and DCT Industrial Trust (NYSE:DCT) and selling Simon Property Group (NYSE:SPG) and buying Kimco (NYSE:KIM) or Retail Opportunity (NASDAQ:ROIC).
| | | | |
| --- | --- | --- | --- |
| REIT | YTD Ret | July Ret | 3Mo Ret |
| Avalon Bay | 14.11% | 3.97% | -1.45% |
| Mack-Cali | 5.43% | -6.30% | -5.76% |
| Duke Realty | 22.82% | -1.23% | -2.34% |
| Monmouth | 25.03% | -4.95% | 11.82% |
| DCT Industrial | 25.00% | 0.48% | 4.68% |
| Simon Property | 25.98% | 3.55% | 2.92% |
| Kimco | 24.32% | 5.10% | 1.21% |
| Retail Opportunity | 4.39% | 0.41% | 1.07% |
As the above table shows, my apartment to office swap has been terrible and has to be removed as office continues to underperform and business expansion has not been happening. My outright longs in Monmouth and DCT have been working, although July was a difficult month for both. My mall to shopping center swap is beginning to work, well the Kimco side is, and should continue to work. ROIC will have to be revisited.
I am completely unsatisfied with the results of these trade ideas and will begin work on new ideas or names where necessary.
Disclosure: I have no positions in any stocks mentioned, and no plans to initiate any positions within the next 72 hours.
Additional disclosure: This article is for informational purposes only, it is not a recommendation to buy or sell any security and is strictly the opinion of Rubicon Associates LLC. Every investor is strongly encouraged to do their own research prior to investing.