We previously analyzed CenturyLink, Inc. (NYSE:CTL) versus Frontier Communications Corporation (NYSE:FTR) and Windstream Corporation (NASDAQ:WIN), two other rural telecommunications firms and we concluded that CenturyLink offered the best risk-reward scenario of the three rural telecoms. We followed up our first research report with another report that researched and analyzed CenturyLink's steady business performance, strong generation of free cash flows and growth potential from Savvis. In this report, we will focus primarily on Frontier.
Frontier is typically the first rural telecom company to report quarterly earnings and it continued to do so. On July 31st, Frontier reported adjusted EPS of $.08/share, which actually beat the $.05/share analyst consensus. This helped the stock gain nearly 7.3% between the day's session and the after-hours session. We were surprised by FTR beating expectations. We weren't surprised by FTR's continued declines in revenue, operating income, EPS and free cash flows on a year-over-year basis.
The 7.6% year-over-year decline in wireline access lines for Q2 2012 was actually an improvement in the 7.9% achieved in Q1 2012. Wireline access was only partially offset by a 2.5% increase in video subscribers and a 2.45% increase in the number of Broadband Internet customers served. But the real concern for this tepid growth in video and internet subscribers is it was slower that the 2.8% achieved in Q1 by video and 2.6% by Broadband Internet. The most pronounced declines came from the following business drivers:

Click to enlarge
Source: Frontier's Q1 Press Release
We were stunned that Frontier actually added 402 employees to its payrolls versus the prior-year period even though revenues were dropping. We see ourselves as friends of labor, but we can't see how a company would add 2.7% more employees when its revenue declined by 4.8% in the quarter versus the prior-year period? Granted, it was an improvement from the 5.85% decline in the prior period, but we were under the impression that less revenue means staff levels are frozen or reduced by attrition.
The legacy Verizon (NYSE:VZ) residential assets continue to performing worse than the legacy Frontier assets. We can see why Frontier had to cut dividends in Q1 by 46.67%. Frontier had also cut its dividend in 2010 by 25% after it closed its purchase of wireline properties that Verizon had assumed upon its 2000 merger with GTE. Frontier also acquired Verizon West Virginia, Inc as part of the 2010 purchase. The good news was that this was a legacy Verizon operation and former Regional Bell Operating Company instead of a legacy GTE operation. The bad news is that West Virginia is facing tough macroeconomic headwinds due to the Obama Administration's war on coal.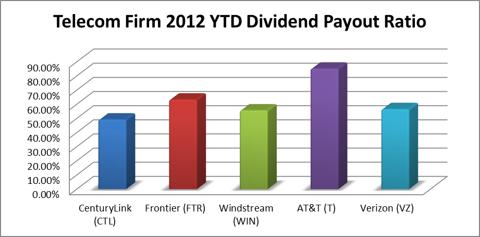 Click to enlarge
Source: most recent earnings reports issued by these Telecom firms.
Frontier had a bit of good news during the period with regards to cash flows. The company saw an increase in its free cash flow for Q2 2012 versus Q1. Granted this was due primarily to reduced capital expenditures and because we gave FTR credit for transferring cash from its escrow account to fund CapEx. On a year-over-year basis for the first half of 2012, the company reduced its total CapEx by $51M, but its operating cash flows declined by $106M. Because the company was paying almost 100% of its 2011 free cash flows as dividends and because it had $600M+ in long-term debt due in 2013, it cut the dividend by 46.67% for 2012 versus 2011 levels. Even after cutting its dividend and even after reducing its CapEx, Frontier still had a higher dividend payment ratio YTD versus our favorite rural telecom CenturyLink.
We tip our hat to Frontier for reducing its revenue declines and improving its cash flow generation. However, we have determined that our thesis as to why we prefer CenturyLink for our portfolio book is still intact from the last quarter based on our recent analysis of Frontier. We are intrigued by Frontier, Windstream and CenturyLink to transform each company's respective business away from the declining core rural telephone businesses. We like the high dividend yields each company pays as well, which effectively pays us to wait by retiring their old existing asset base and redeploying a portion of it towards higher value adding assets. We also like that these companies resell satellite TV services from DirecTV and Dish Network.
In conclusion, while we would like to pick up nearly 3% additional dividend yield by switching out of CenturyLink and into Windstream or Frontier, our favorite company amongst the rural telecom trifecta is CenturyLink for the following reasons:
Though CTL's dividend yield is the lowest in the rural telecom peer group, it is still ~7%. Part of the reason is because it has a lower dividend payout ratio relative to its peers. CTL paid out 49.2% of its YTD free cash flows from operations versus 63.2% for FTR and 55.7% for WIN. Also, FTR cut quarterly dividends by 46.67%, from $.1875/share to $.10/share.
CTL's dividend yield is also higher than AT&T (NYSE:T) and Verizon even though CTL had a smaller payout from Q1 2012 versus those two firms. We take note of the fact that the majority of Verizon's dividend was a special dividend to Vodafone (NASDAQ:VOD) because Vodafone owns 45% of Verizon Wireless.

Click to enlarge
Source: Bloomberg Finance LP, All Amounts in $M except ratios
CenturyLink is an investment grade company whereas Frontier and Windstream are high yield companies. That probably explains why CenturyLink's weighted average interest expense of 6.1% is lower than Frontier's 8.2% and Windstream's 6.8%
We have taken note of Frontier's wireless communications reseller agreement with AT&T. Last year, Frontier announced an agreement with AT&T Wireless to resell AT&T Wireless smartphones and wireless service. This is similar to CenturyLink's deal with Verizon Wireless last year to offer Verizon Wireless equipment and service plans to its residential and small business customers.
There is just one problem with Frontier's agreement with AT&T to market AT&T Wireless products and services. We wouldn't know about it by visiting Frontier's website and we couldn't find anything about it in its annual report. We noted that it will be rolling it out in 2012, however we think the company could communicate this effort better. At CenturyLink's website, we can see its Verizon Wireless partnership placed at eye level right in the center column. When we scroll down, we can see another link for it as well.
We believe that these reasons explain why CenturyLink has generated a positive total return for 2012 while its rural telecom peers have seen negative returns.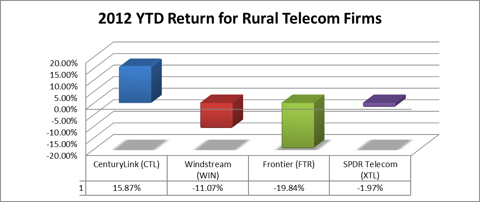 Click to enlarge
Source: Bloomberg LP
Disclosure: I am long CTL.
Additional disclosure: Saibus Research has not received compensation directly or indirectly for expressing the recommendation in this report. Under no circumstances must this report be considered an offer to buy, sell, subscribe for or trade securities or other instruments.