Shares of Coach (COH) have plummeted by almost 20% on Tuesday due to its lackluster quarterly earnings release. The disappointment has sent the stock's P/E valuation to its 52-week low at just 12.8x (see below). I believe the current stock price of $50.30 is extremely attractive relative to the company's solid fundamentals. In this article, I will illustrate the rationales supporting my view on the stock.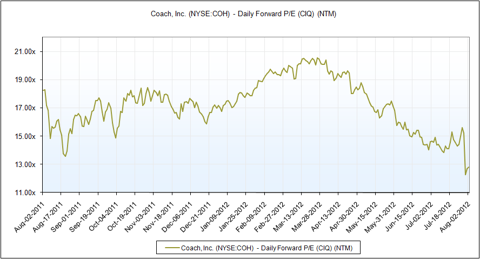 The value analysis includes 2 set of comparable peers. The first contains major players in the global luxury fashion-retail sector, and the second set includes COH's major competitors in the fashion-accessory retail market. The stock valuation is determined by equally weighting the values calculated by four peer average multiples - EV/Sales, EV/EBITDA, P/S, and P/E.
The following discussion is based on the table below:

Compared with its peers in the luxury sector, COH has an in-line growth potential as its 2-year CAGR consensus estimates for revenue, EBITDA, and EPS are fairly comparable to the peer averages.
In terms of profitability, COH has done a much better job as all of its margin and capital return metrics are substantially higher relative to the group averages. Its LTM FCF margin is also the highest in the group, and the firm carries the lowest debt level. Both of the quick and current ratios are also higher than peer averages.
As such, the stock should reasonably deserve a premium valuation to account for its financial excellence, strong retail network and brand equity in emerging markets. Nevertheless, the current stock price of $50.30 only implies a 13.1% valuation discount, suggesting the market has likely over discounted the negativity from the earning release (see below).

The following discussion is based on the table below:

If compared with its fashion-accessory peers, the numbers tell the same story. Although COH's growth prospects are likely much slower as both Michael Kors (KORS) and Fifth & Pacific Co. (FNP) are still in a high-growth stage, its robust profitability significantly outperforms the two peers. In addition, the firm's healthy liquidity condition is also above the peer average. The same stock price at $50.30 suggests a whopping 43.7% valuation discount relative to the average multiples of KORS and FNP, further confirming the valuations are very cheap (see below).

Bottom line, I believe the market has overreacted to the news. Investors should also note that the dividend yield has increased to 2.4% following the drop. Therefore, in light of the dirt cheap valuations, I strongly encourage investors picking up the shares at the current price.
P/E table is sourced from Capital IQ, all comparable analysis and valuation tables are created by author, and all financial data is sourced from Capital IQ and Morningstar.
Disclosure: I am long COH.