Barron's cover story this week takes a sensationally bullish stance on Oracle (NASDAQ:ORCL) and its controversial CEO Larry Ellison.
Oracle bears seem to think Ellison is pre-occupied with yacht racing. It may be true that he loves boating, but with 42 acquisitions worth more than $30B in less than four years, it's hard to fault Ellison for giving Oracle less than his full attention. Coupled with its formidable $22B in annual revenue, margins have climbed to 42% from 36% five years ago.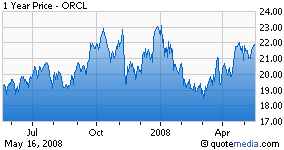 Its aggressive buying spree has made Oracle number-one in non-mainframe databases and middleware -- leaving only enterprise applications in which it trails rival SAP (NYSE:SAP). "Our goal is to be No. 1 in every segment in which we participate," Ellison says. "We are growing faster than [SAP], and I think we can catch them," which he plans to accomplish by buying smaller, industry-specific software developers.
"The name of the game is scale," Ellison says, explaining his aggressiveness. Software developers with annual sales of $250M-$1B average operating margins of 10%. $1B-5B average 16%. The four biggest -- Oracle, SAP, IBM (NYSE:IBM) and Microsoft (NASDAQ:MSFT) average 30%.

Oracle has a great record of maintaining customer bases, both organic and acquired. Maintenance revenues are growing at a 24%/year clip, and Oracle's maintenance-renewal rate is 90%, despite its refusal to reduce fees to snag customers.
Barron's says Oracle should easily maintain 20%+ annual earnings growth. Analysts think shares ($21) are worth $24-30. Ellison agrees: "I think we do deserve a premium multiple. The market gets it right over a long period."
========================
Larry Dignan worries Oracle's acquisition of Bea Systems (BEAS) may be its last logical move. Further significant deals, he notes, will likely be viewed with skepticism.

Rick Sherman notes summer's-end is typically a good time to buy into enterprise software developers.

MGI Research thinks bullishness on software stocks is premature. "There appears to be more room for downside surprises as government and corporate buyers tighten their belts and push out their IT expenditures into 2009," it says.