American Capital Agency Corp. (NASDAQ:AGNC) reported earnings after the market closed on Thursday August 2, 2012. It put in another great quarter. It added another $0.35 to net book value. This brings the net book value up from $29.06 to $29.41. This will bring the share price of $35.04 at the close on Thursday August 2, 2012 slightly more in line with the net book value. Plus, AGNC will pay its $1.25 quarterly dividend (14.27% annually). The last one was paid on June 19, 2012. The next one will be paid approximately three months later in September.
AGNC had $1.58 comprehensive income per common share. It has $1.62 estimated taxable income per common share. It had $1.61 estimated undistributed taxable income per common share as of June 30, 2012. AGNC had 1.65% annualized net interest rate spread for Q2. It had 10% portfolio CPR for Q2, and for July it had 8% portfolio CPR (constant prepayment rate). It ended the quarter with $78B in its investment portfolio at 7.6 times leverage. It raised $322 million in Q2 via $155 million from an at the market common stock offering and $167 million from a preferred stock offering. All told, Q2 was an excellent performance.
The Fed has been helping AGNC too. A big problem for mortgage REITs can come when interest rates rise. Then bundles of fixed rate mortgages will lose their value as borrowing costs become higher. Dr. Bernanke has just announced that this will not happen for another 2-3 years. This should mean you will be safe investing in mortgage REITs at least until mid 2014. He has also extended Operation Twist until the end of 2012. This should help keep rates low. It should help support the value of houses. You might think lower mortgage rates would be bad, but in the overall picture Operation Twist is actually good. It will mean there will be more people who want to buy homes. It will mean there will be more qualified buyers. This will help keep home prices from falling. It will keep the default rates low. It will keep the overall mortgage rate picture stable.
Further, several Fed sources have indicated that any Fed asset purchases (future QE) will include MBS to help the housing sector. This will prevent the value of the MBS from going down. It should also help to keep interest rates low. This surety lends stability to AGNC's holdings. It makes AGNC's leverage position (7.6 times at the end of June 2012) more secure. With the current 30 year fixed rate at 3.44%, it seems unlikely that Fed buying of MBS will push the mortgage rate much lower. Hence, the CPRs would likely not be significantly affected.
AGNC invests in residential mortgage pass-through securities and collateralized mortgage obligations for which the principal and interest payments are guaranteed by a US government agency or a US government sponsored entity such as Fannie Mae (OTCQB:FNMA) or GNMA. The company funds its investments primarily through short term borrowings structured as repurchase agreements. There is still the risk of defaults, haircuts, etc. but thus far the federal government has made good on all guarantees. There is also the issue of the possible insolvencies of FNMA and GNMA. If you invest in AGNC, you will want to watch for news of these entities. The federal government has been putting off dealing with this issue for some time. Eventually it will decide to do so.
To decrease the probability of prepayments AGNC's portfolio as of March 31, 2012 was comprised of 58% HARP or lower loan balance securities. Still, given the current rate levels, prepayments on generic mortgages will probably exceed their recent highs. The chart below shows AGNC's recent Constant Prepayment Rates by month.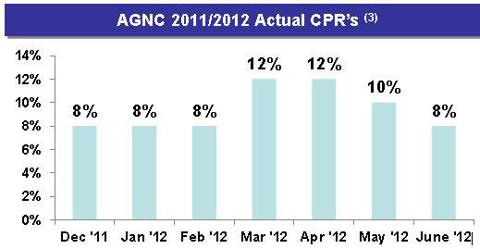 The CPR for July 2012 was 8%. Combined with the 8% result from June 2012, this indicates that AGNC is finding great stability in CPR. The CPR may have risen in Q2 2012 over Q1 2012, but it is not on track to keep rising so far in Q3 2012. I apologize for not having the most up to date data yet. The tables below show the CPR data for the two biggest categories of AGNC's portfolio as of March 31, 2012.

The 30 year loan portfolio seems to have excellent CPRs. Still, other CPRs do seem to be rising. If they keep it up, that will mean lower profits for AGNC. I think the Fed's recent actions are most likely to maintain the status quo. Plus AGNC's exposure to HARP II eligible loans is very low. These are the most likely to have high prepayment rates as more people avail themselves of HARP II (started March 17, 2012).
In sum, AGNC still seems like a great investment. It has a declared quarterly dividend for Q2 2012 of $1.25 ($5 annualized or 14.27%). It had a net gain in book value of $0.35 to $29.41 at the end of Q2 2012. AGNC's total economic return on common equity for Q2 2012 was 22% annualized. Most people would take this any day. I should also mention that AGNC uses swaps and other hedges extensively to mitigate the book value risk to its portfolio.
The two year AGNC chart below provides some technical direction for a trade.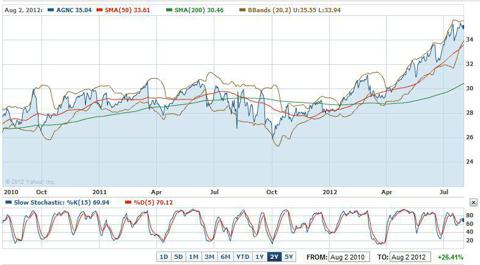 The slow stochastic sub chart is near overbought levels. The price line is significantly above both its 200-day SMA and its 50-day SMA. AGNC is in a strong uptrend, but it is overextended. It is due to move back toward its net book value of $29.41. However, its P/E of 5.24 does indicate that the stock price deserves to trade above its net book value. If you desire to buy this great dividend payer, you may wish to average in, or you may wish to delay your purchase until AGNC's price moves back to its 50-day SMA.
If you like this REIT, you might also like a few other big dividend paying REITs such as American Capital Mortgage Investment Corp. (NASDAQ:MTGE) -- 14.70%, Two Harbors Investment Corp. (NYSE:TWO) -- 13.90%, and New York Mortgage Trust Inc. (NASDAQ:NYMT) -- 15.90%. Please do further research on these before buying them.
Note: Some of the fundamental fiscal data above is from Yahoo Finance.
Good Luck Trading.
Disclosure: I have no positions in any stocks mentioned, but may initiate a long position in AGNC over the next 72 hours.