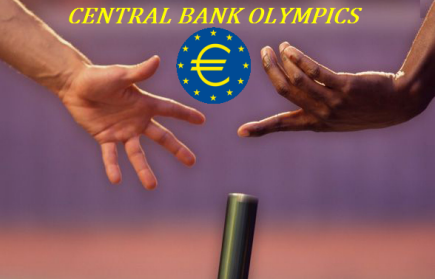 European Central Bank chief Mario Draghi could not back up his bold statements from last week with specific action. He could only say the ECB "may" through its mandate buy eurozone bonds. Basically this means he backed the Germans into a corner and they didn't blink. His credibility has taken a major hit and Spanish bond yields once again headed for 7%. For markets it's been two days and back to back central bank disappointments with the ECB taking a large toll on bulls. And to top things off, Friday is the Employment Report which is sure to cause volatility in either direction.
In more pedestrian news, Jobless Claims rose (365K vs 370K expected & prior revised higher to 357K); Factory Orders fell (-.5% vs .7% expected & prior .7%); and, Bloomberg's Consumer Comfort Index fell again (-39.7 vs prior -38.5).
Last night China signaled it would elevate to stabilize (weird choice of words) economic growth which is noted in this press release from Xinhua News Agency. Stocks there fell.
Stock markets took the news from the ECB hard. A late day rally (see SPY 2:15 PM Buy Program Express) lifted stocks off their lows led mostly by technology (XLK) and more Apple (AAPL) split chatter. Do you really think equity markets overall can be durably supported by one stock and infinite central bank QE?
Bonds (IEF) were somewhat stronger in price; the dollar (UUP) was higher; gold (GLD) lower; and, commodities (DBC) weaker.
Volume was the highest of the week thus far and breadth per the WSJ was negative.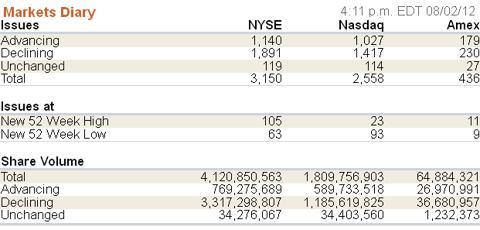 Click to enlarge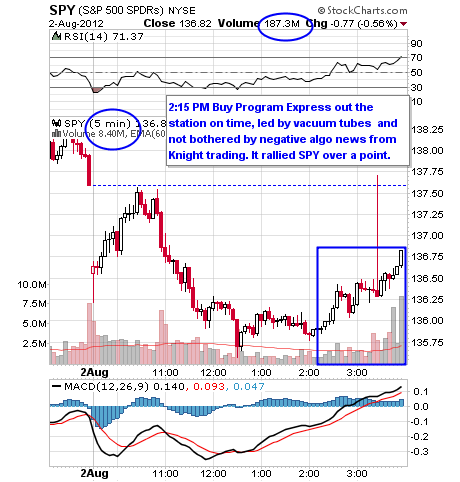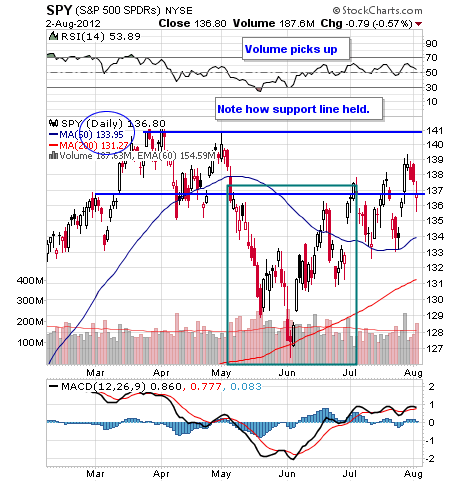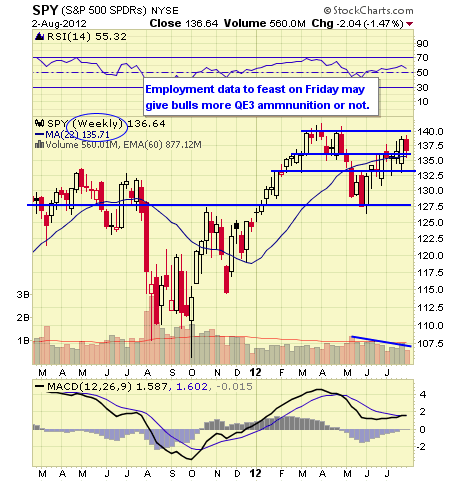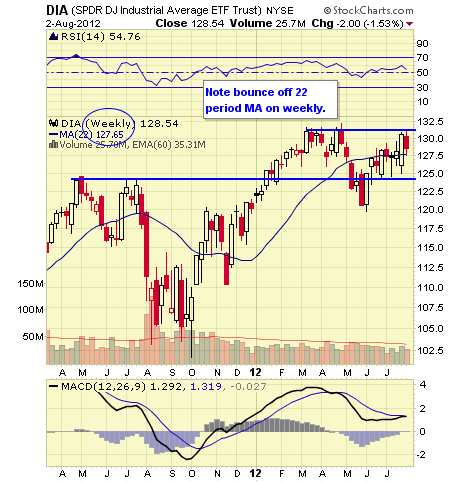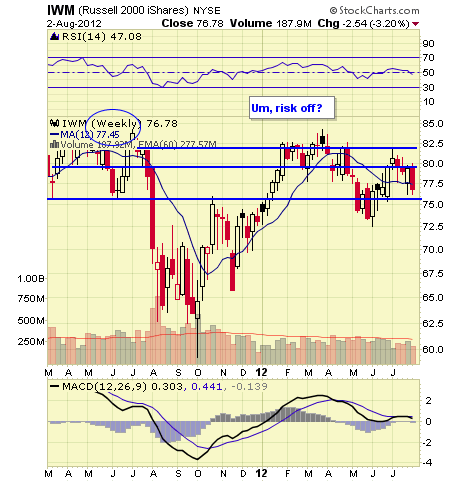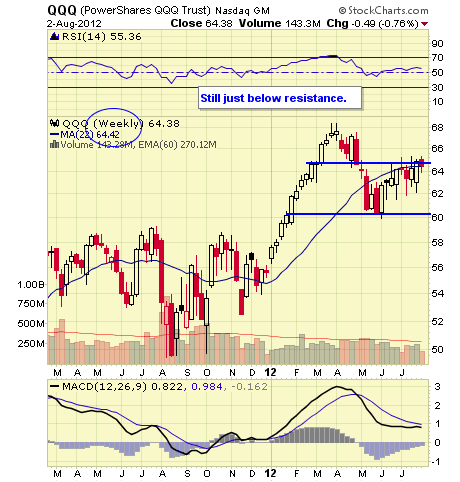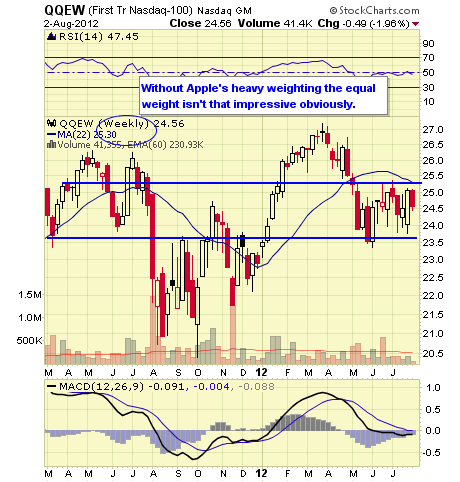 Continue to U.S. Sector, Stocks & Bond ETFs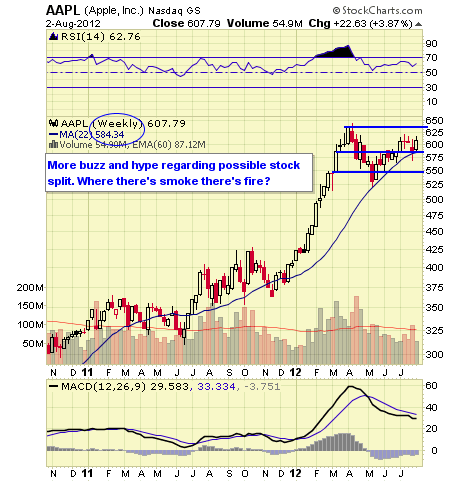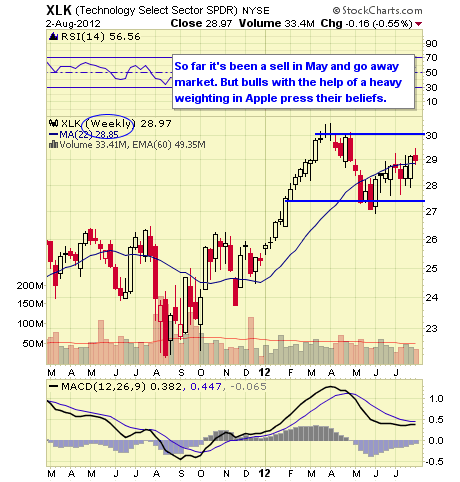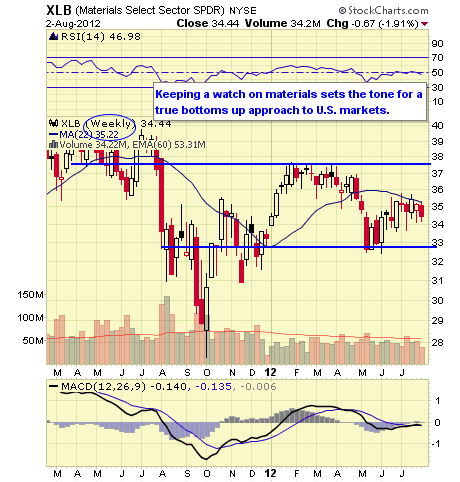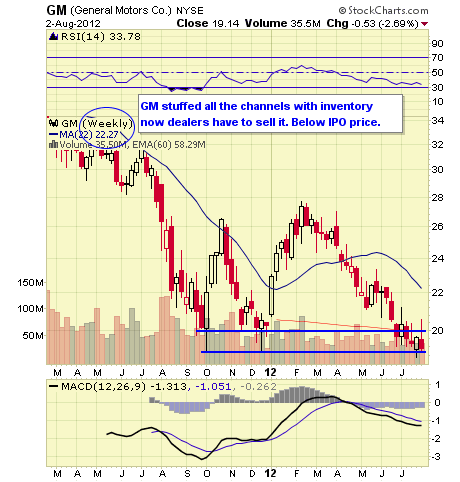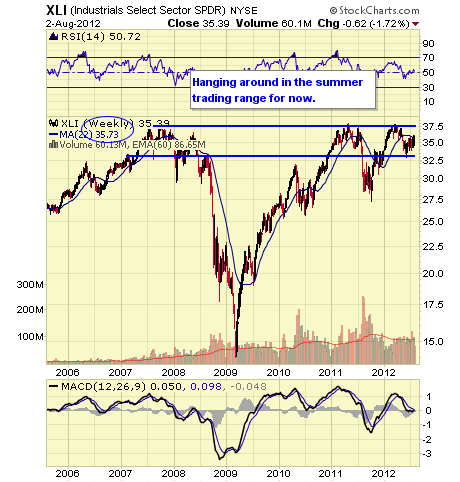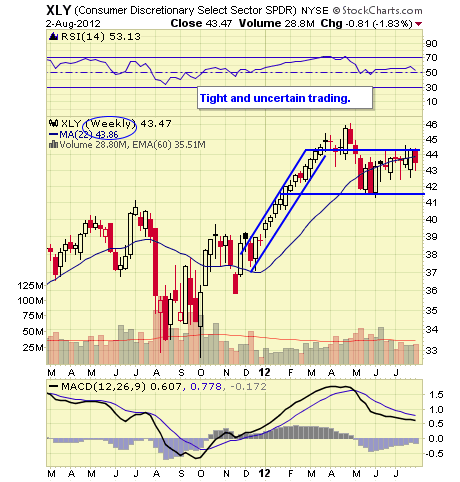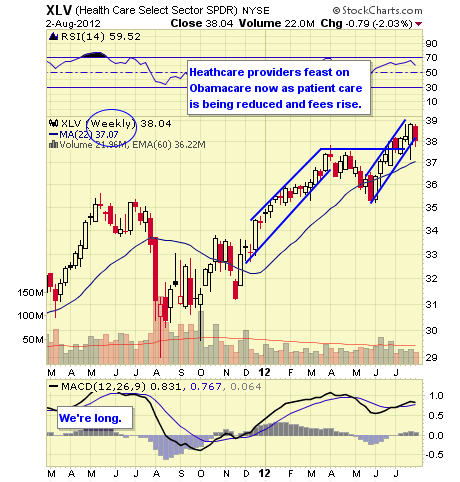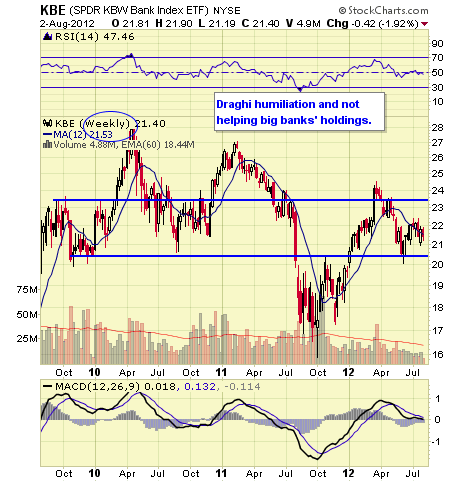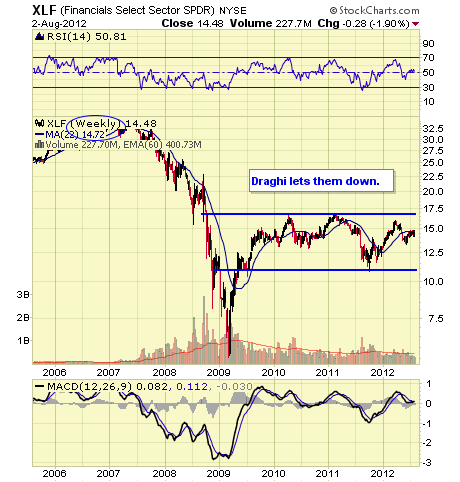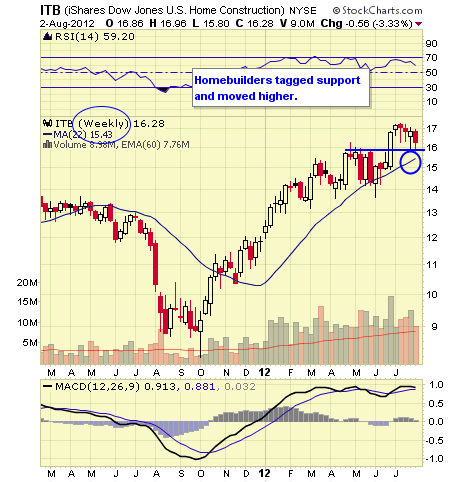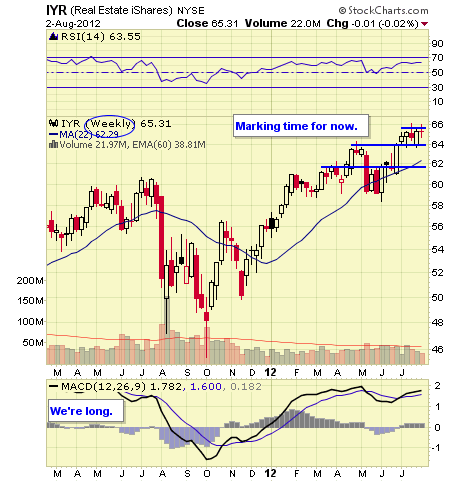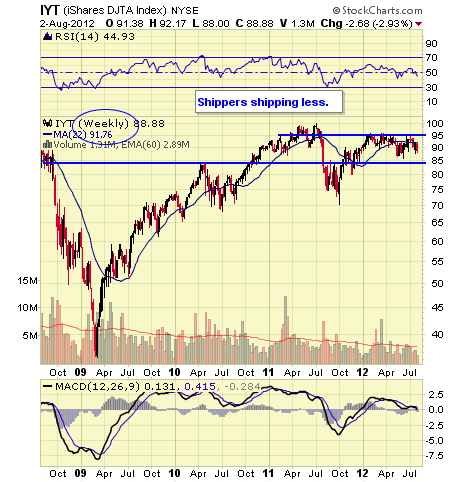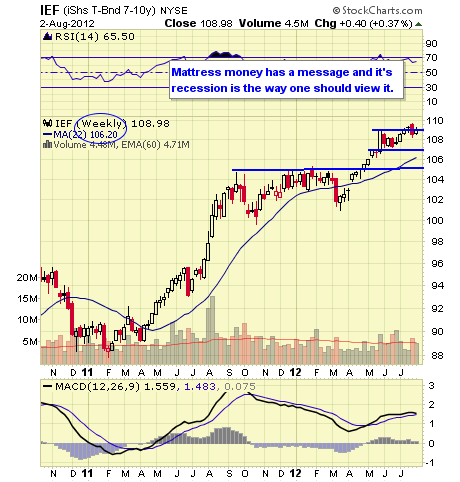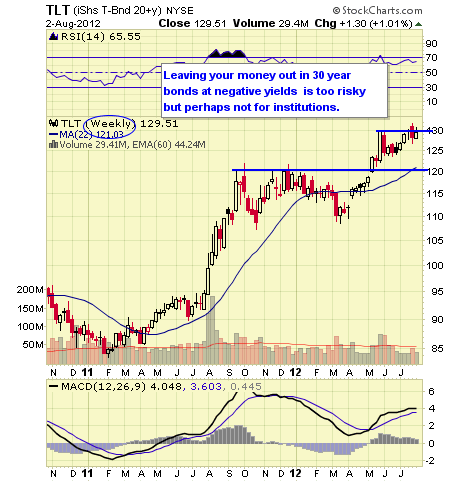 Continue to Currency & Commodity Market ETFs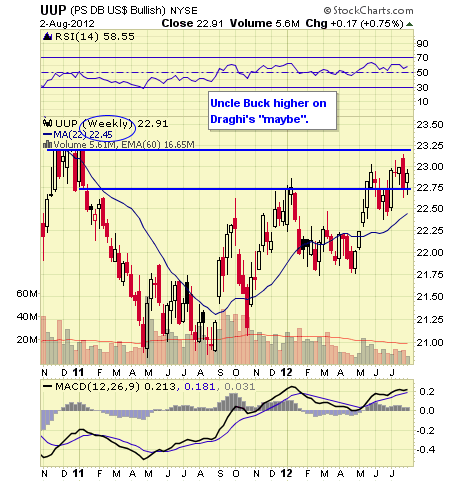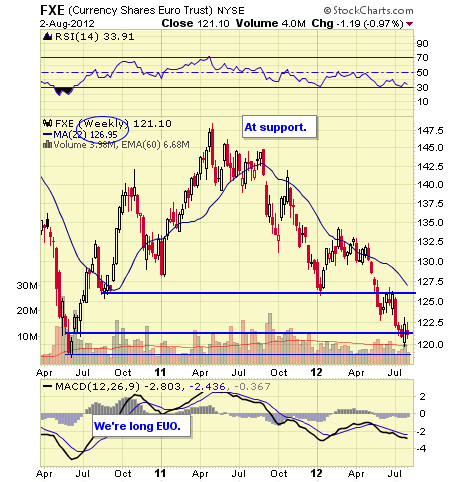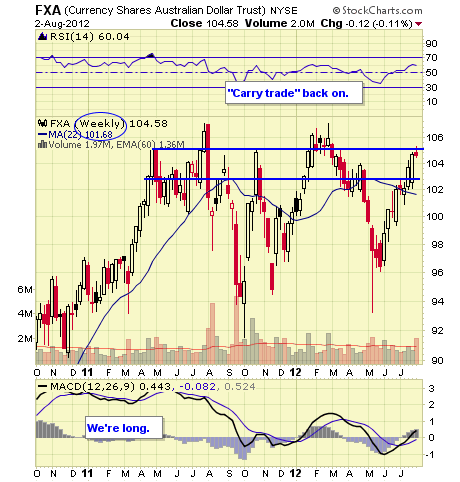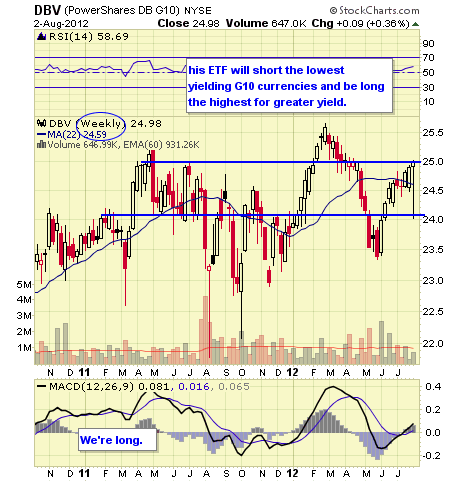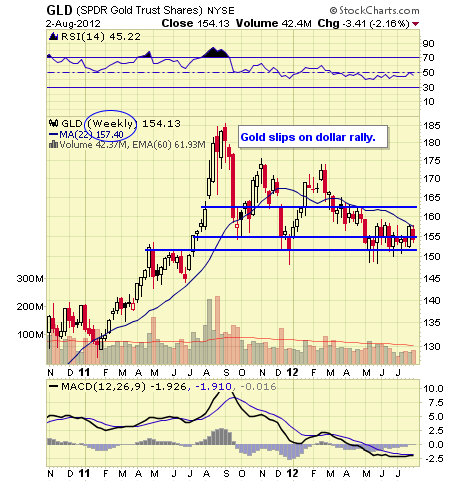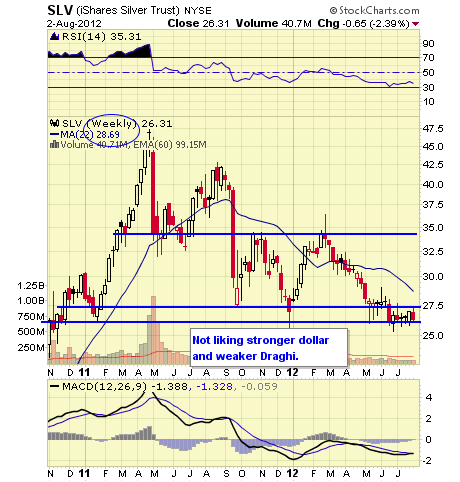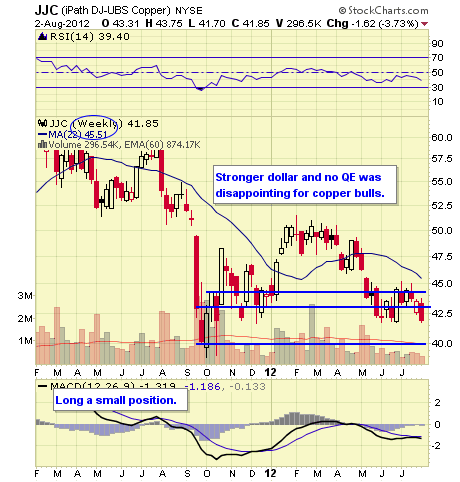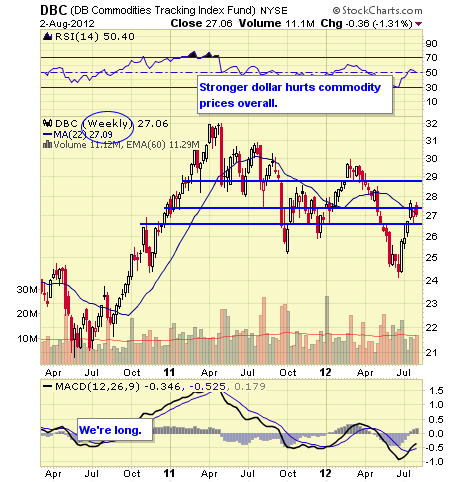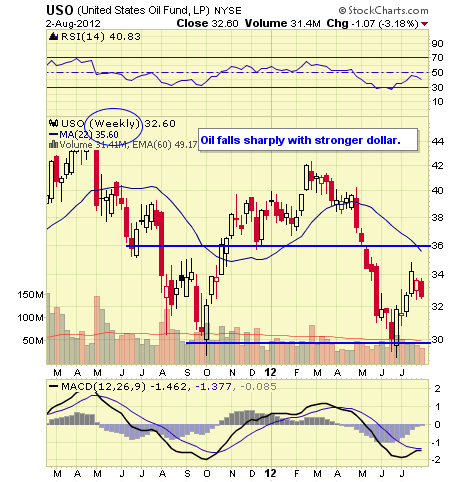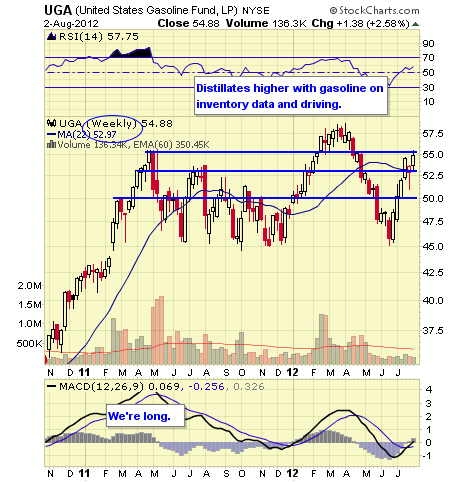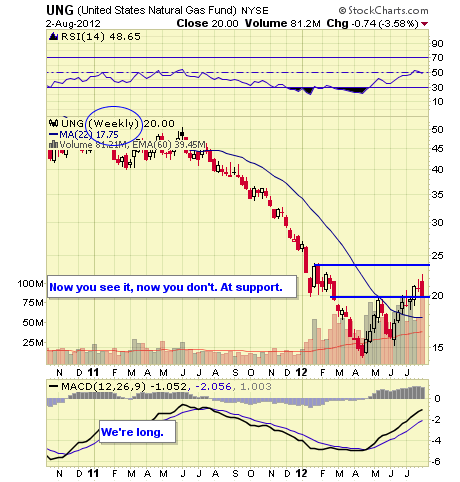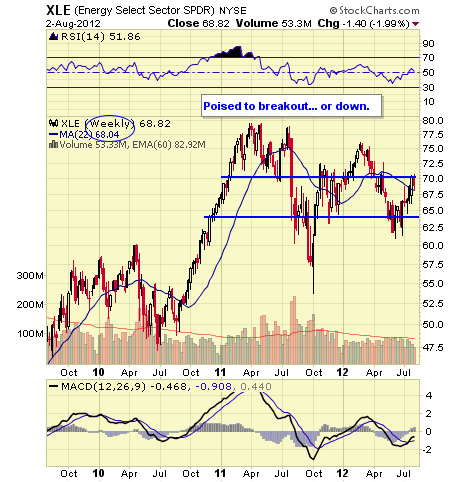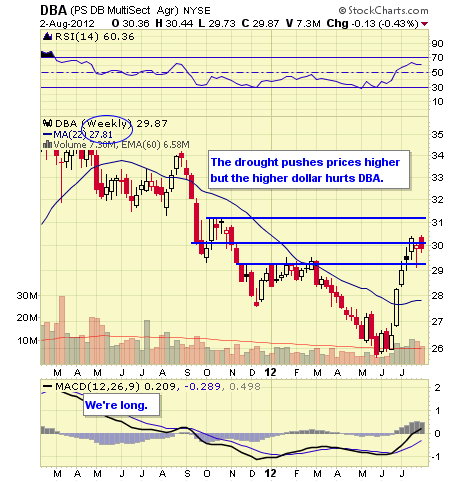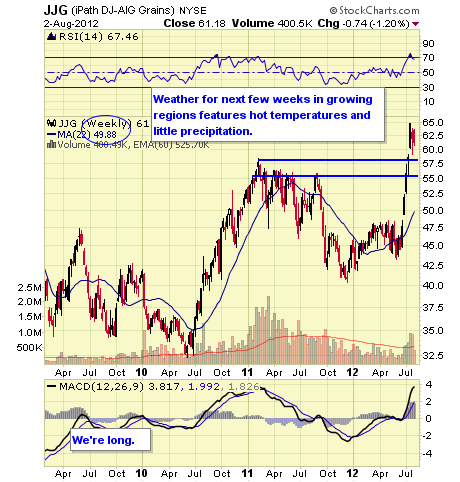 Continue to Overseas Sectors & ETFs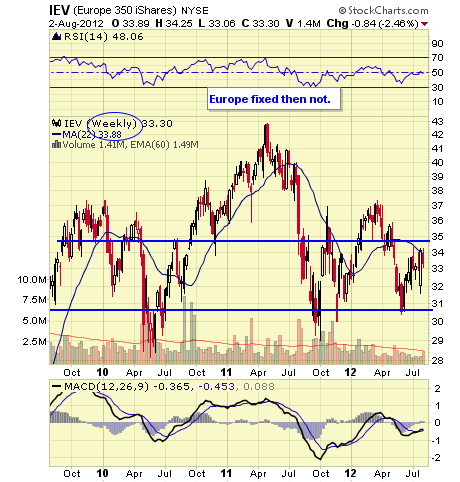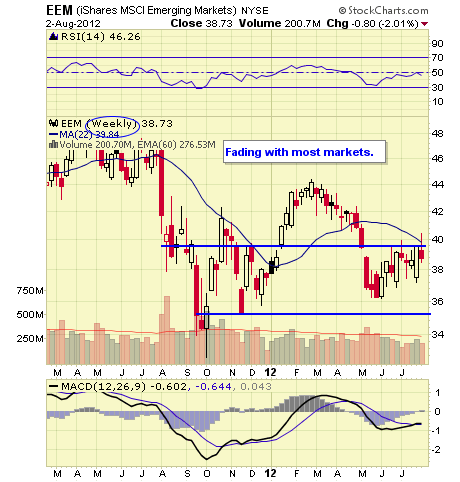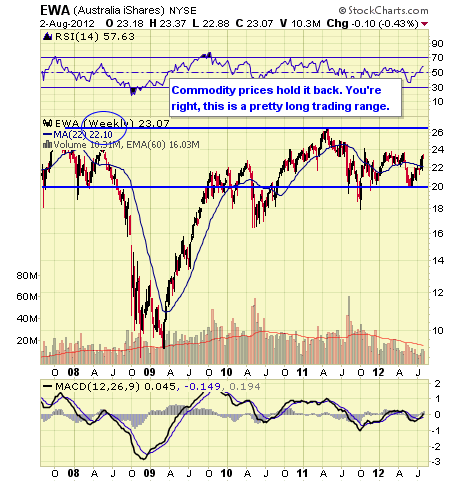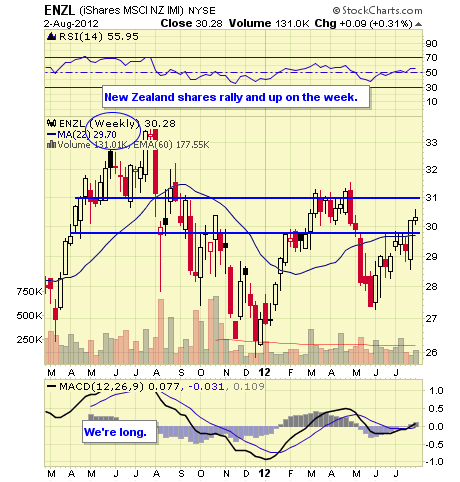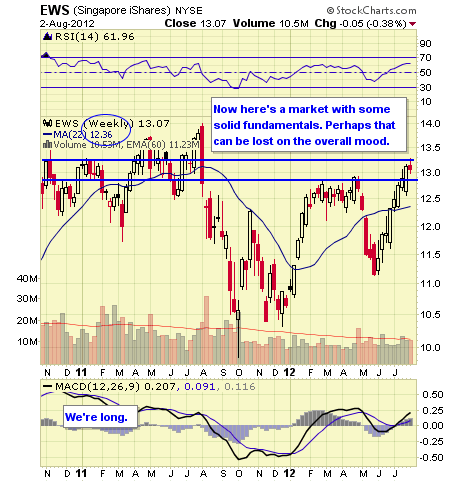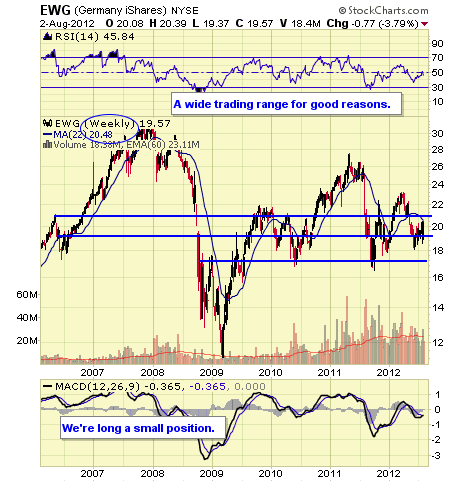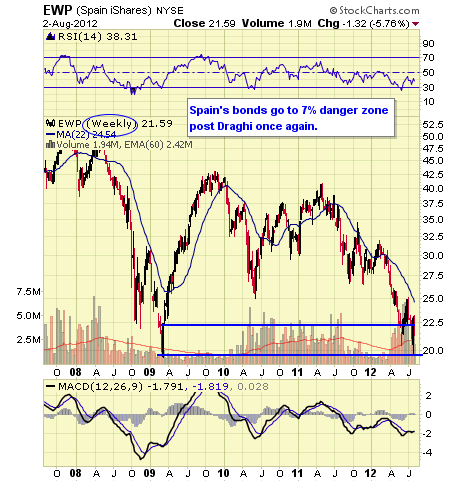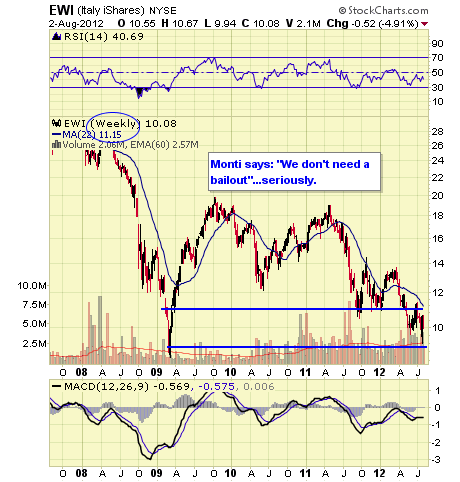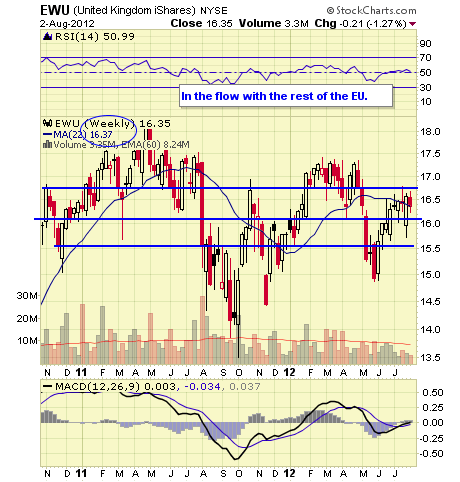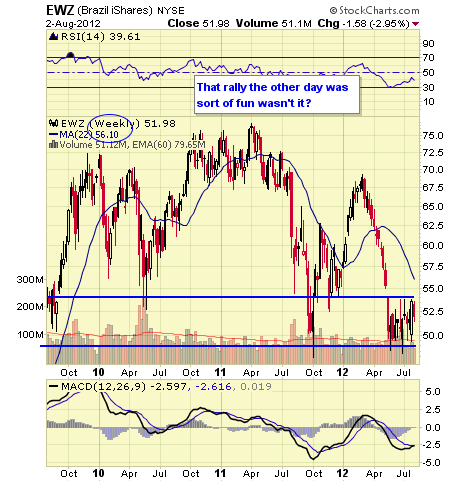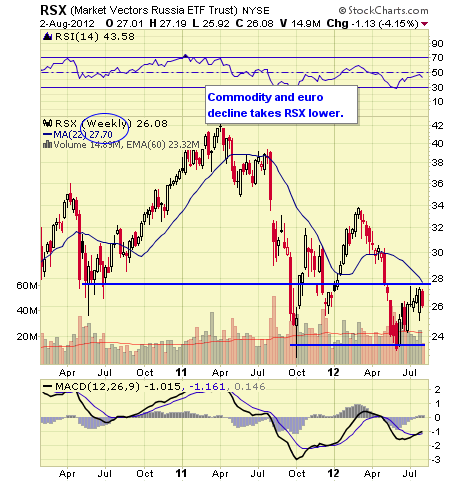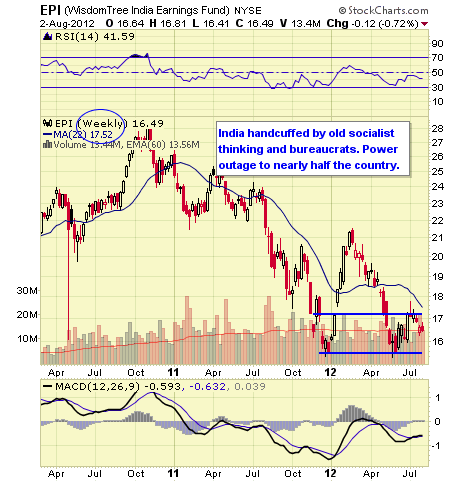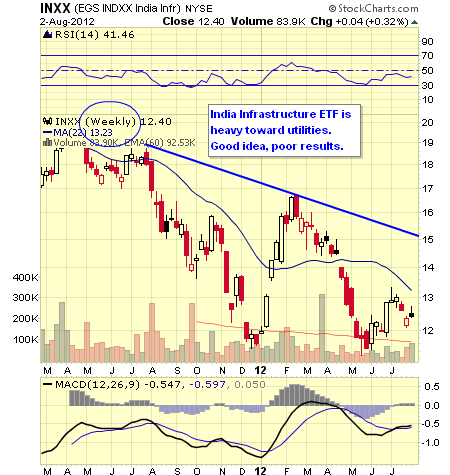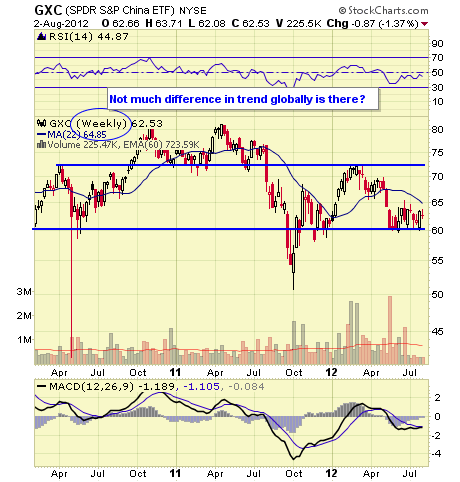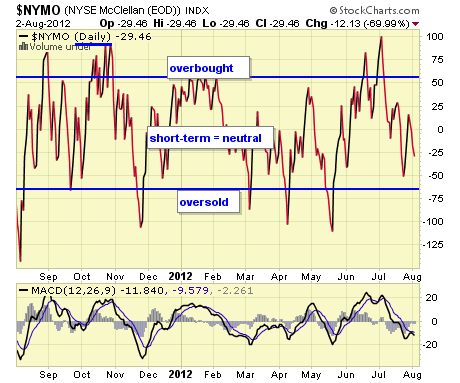 The NYMO is a market breadth indicator that is based on the difference between the number of advancing and declining issues on the NYSE. When readings are +60/-60 markets are extended short-term.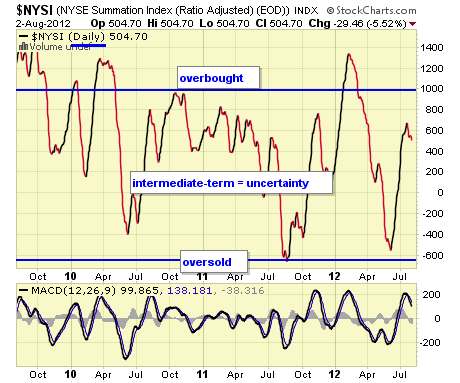 The McClellan Summation Index is a long-term version of the McClellan Oscillator. It is a market breadth indicator, and interpretation is similar to that of the McClellan Oscillator, except that it is more suited to major trends. I believe readings of +1000/-1000 reveal markets as much extended.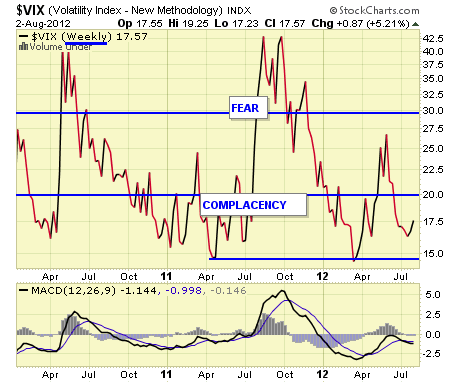 The VIX is a widely used measure of market risk and is often referred to as the "investor fear gauge". Our own interpretation is highlighted in the chart above. The VIX measures the level of put option activity over a 30-day period. Greater buying of put options (protection) causes the index to rise.
The VIX actually fell Thursday with markets selling-off which is strange given the environment. Draghi disappointed and I'm actually getting hip with typing his name now-encouraging? Hardly.
So there will be more tension before the Employment Report Friday morning. This has been a fun-filled week if you like volatile uncertainty. I've been posting a little less given the news driven events.
It might surprise some but it's important to remember the Fed can act unilaterally on QE between meetings. Launching QE3 for example on a Sunday evening could stir the animal spirits.
Disclaimer: The ETF Digest maintains active ETF trading portfolio and a wide selection of ETFs away from portfolios in an independent listing. Current "trading" positions in active portfolios if any are embedded within charts: Lazy & Hedged Lazy Portfolios maintain the follow positions: VT, MGV, BND, BSV, VGT, VWO, VNO, IAU, DJCI, DJP, VMBS, VIG, ILF, EWA, IEV, EWC, EWJ, EWG, & EWU.
The charts and comments are only the author's view of market activity and aren't recommendations to buy or sell any security. Market sectors and related ETFs are selected based on his opinion as to their importance in providing the viewer a comprehensive summary of market conditions for the featured period. Chart annotations aren't predictive of any future market action rather they only demonstrate the author's opinion as to a range of possibilities going forward. More detailed information, including actionable alerts, are available to subscribers at www.etfdigest.com.
Disclosure: I have no positions in any stocks mentioned, and no plans to initiate any positions within the next 72 hours.