After doing an interview with Alexza's (NASDAQ:ALXA) Chief Executive Officer, Thomas B. King, I was looking forward to hearing the analysts' opinions regarding Alexza, which has a PDUFA date of December 21, 2012 for Adasuve, an acute treatment of agitation associated with schizophrenia or bipolar I disorder in adults.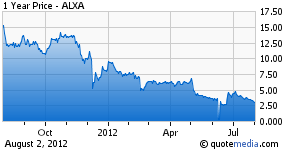 Alexza is expected to be the next PDUFA run-up biotech as we get closer to December. Recently, Blackrock Inc., a well known institutional fund, has shown a strong support in Alexza by acquiring 10% of Alexza's shares for its Blackrock Small Cap Growth fund.
I had the honor of holding an interview with Stephen Brozak, president and managing partner of WBB Securities. The Wall Street Journal named Mr. Brozak "Best on the Street" as a Medical Equipment and Supplies financial analyst in its 19th Annual Best on the Street Survey. In 2010, he was named one of the Top Analysts in the Healthcare Sector for the United States by the Financial Times and StarMine. Mr. Brozak has been in the securities industry for 22 years. He has held positions in sales, management, investment banking, and research analysis.
Ben Yoffe: Mr. Brozak, what are your expectations regarding the upcoming PDUFA date of December 21, 2012 for Adasuve?
Brozak: Given the nature of the FDA subject items related to manufacturing, I would assume that a positive response should be expected on the PDUFA date.
Yoffe: How many sales from Adasuve, if approved, do you expect to see in the U.S.?
Brozak: We would look at an initial sales target into the $250MM area in the US. This number should become higher with familiarity and acceptance of Adasuve by the clinical community. In addition, there are other products currently on the market, but we believe given the major advantage that Adasuve offers it will be the proverbial "game changer."
Yoffe: What is the potential market for Adasuve in Europe?
Brozak: The initial sales target will be lower initially than the US sales target given the fractured nature of the European sales market. With Alexza's strong partnership with Grupo Ferrer, we would expect sales to grow at a faster rate.
Yoffe: Are there any other significant products in Alexza's clinical-stage pipeline?
Brozak: The advantage that Alexza offers is by definition a "Platform" technology. Many drugs in commercial use today lend themselves ideally to development by Alexza.
Yoffe: What is the financial picture for Alexza?
Brozak: The wherewithal that Alexza's management has shown in partnering and obtaining funding prior to approval give Alexza a sound financial footing through approval. Very few CEOs we have followed have had the ability to deal with regulatory, commercial, & capital market issues. We believe that ALXA enjoys the leadership of a CEO that excels in all three areas for a company of any size in healthcare.
Yoffe: In closing, what is your rate and your price target for ALXA?
Brozak: We have a $6.00 price target with a Strong Buy rating. At a reasonable current warrant dilution, the $6 price target would give ALXA a $100MM valuation or less than half of where we see sale in the US on Adasuve.
Disclosure: I am long ALXA.