I've been meaning to write about Darling International (NYSE:DAR) for a while. Since I picked it up in March, it's been one of my better performers. Here's the business summary from Yahoo Finance:
Darling International, Inc. provides rendering, recycling, and recovery solutions to the food industry worldwide. It operates in two segments, Rendering and Restaurant Services. The Rendering segment engages in the collection and processing of animal by-products, including hides, from butcher shops, grocery stores, food service industry, and meat and poultry processors. It converts these products principally into useable oils and proteins utilized by the agricultural, leather, and oleo-chemical industries. The Restaurant Services segment involves in the collection of used cooking oils from food service establishments and recycling them into similar products, such as high-energy animal feed ingredients and industrial oils. It also provides grease trap collection services and sells equipment to restaurants. Darling International sells its products through commodities brokers and company agents, as well as directly to customers. The company was founded in 1882. It was formerly known as Darling-Delaware Company, Inc. and changed its name to Darling International, Inc. in 1993. The company is headquartered in Irving, Texas.
Besides being in the recycling business which is clearly environmentally positive and something that Americans don't do enough of, Darling's two end products: protein meal for feedstock and industrial oils (including biodiesel) puts it at the rare intersection between today's two hottest sectors: energy and agricultural products. What's more, I can't find any serious competitors in this sector. There is a Chinese company Gushan Environmental Energy Ltd. (NYSE:GU) operating in the same space, but obviously the two companies are geographically distinct. Darling has 24 plants and 19 transfer stations - a considerable amount of infrastructure, and simultaneously a significant barrier to entry for any likely competitor.
The stock is trading at a trailing P/E of 26 and a forward P/E of 16, which is not unreasonable given its profit growth in recent years. However, I can see two negatives:
First, the bulk of revenue growth was probably from the increase in the price of end products rather than increased volume (just by eyeballing the numbers). Although I expect the trend of higher prices for its end products to continue, it does subject the company's revenue to the volatility of commodity prices. I would like to see the company having a clear strategy to expand its collection base either organically or through acquisitions, or an expansion into foreign markets.
The second negative lies in the fact that the CEO has just sold a chunk of his holdings.
All things considered however, I still see the positives outweigh the negatives, such that DAR is likely to be one of my core holdings for a while.
DAR looks strong technically, going the proverbial lower left to upper right. Excursions below the 50-day moving average have been good places for accumulation. We just had a small bounce from there, and if the CEO's sale of stock precipitates more selling I might add to my position.
click to enlarge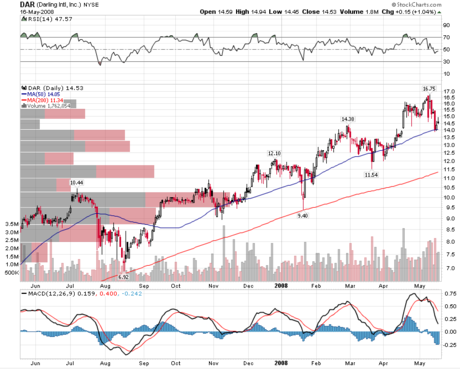 Disclosure: The author owns DAR.