Brown Shoe Company (NYSE: BWS)
will report full 1Q08 results next Wednesday before the market opens. Management will host a conference call later that morning at 9:00 am EST (Dial-in:
866-308-5110,

Pwd:

46813068). The Street anticipates sales of $574M and earnings of $0.07 per share, according to Yahoo Finance.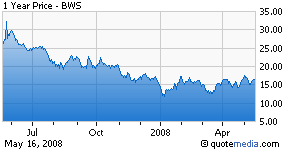 Is there a trade to be made in advance of next week's announcement? There isn't a clear-cut answer, but let's walk through the relevant issues.
Based on consensus estimates, it looks like the Street is assuming that 1Q08 results will come in toward the low-end of
guidance
, which calls for sales of $575-$585M, comps between -3% and -5%, and an EPS range of $0.07-$0.11. Considering that rivals
Collective Brands (NYSE:
PSS
) and
DSW (NYSE:
DSW
) both reported comps in the negative mid single-digit range, we believe that the sales estimates are probably reasonable, if not a bit aggressive. Management's previous earnings forecasts have also been generally reliable, aided by a resilient multi-channel approach (retail/wholesale/e-commerce operations spanning a wide range of price points), a shift away for lower margin private label wholesale products, and superior inventory management practices. If earnings were to miss, we do no believe they would come in below the low-end of the guidance range by more than a penny or two.
A quarterly earnings miss would probably trigger a modest pull-back in the stock price, but the impact would be much more severe if the company made any downward revisions to its annual guidance range. However, management set relatively conservative full-year targets (sales of $2.50-$2.55B (y/y growth of 6%-8%) , comps of 0% to -2%, and EPS of $1.52-$1.62) that took the challenging consumer environment into consideration. Besides, 1Q is typically one of the softest earnings quarters for a footwear retailer, and given the relatively wide ranges, it is probably too early in the year to make material changes to the full-year the guidance.
A less likely (but still possible) scenario that investors should be aware of is a short squeeze. Footwear has been one of the most beleaguered sectors in retailing over the past year, as shown by the one-year charts of
Brown Shoe
and its competitors,
Collective Brands
,
Shoe Carnival
(NASDAQ:
SCVL
), and
DSW
. With a still tumultuous economy, a lack of strong fashion trends to drive customers to the stores, and
higher overseas production costs
, institutional short interest remains exceptionally high (13.5% of the float at the end of April). However, with extremely low expectations for quarterly results, retailers only need a modestly positive earnings surprise to trigger short squeezes (such as Collective Brands earlier this week). While we believe that this is a less likely scenario when Brown Shoe reports, investors should at least be aware of the possibility.
Investment recommendation:
In our opinion, Brown Shoe represents an excellent long-term investment. The company has a strong presence across multiple channels and price points, making operations more consistent than its peers. There are ample sales growth opportunities through new brand extensions and joint ventures in China and Japan. Despite increased production costs, the company should bolster margins over the coming years through more efficient operations, higher-margin wholesale sales, and continued inventory practitces. At just 10x times the mid-point of management's fiscal 2009 earnings outlook ($1.57), we believe the stock is a relative bargain to an expected low-teen earnings growth rate.
That being said, we would be inclined to wait until after Wednesday's release before building or adding to positions. While retailers have come back into favor a bit recently, we believe the likelihood of a lackluster quarterly report outweighs the chances of a positive earnings surprise. Shorting is an option, but we are concerned about the heavy short interest that is already out there. Sit tight for now, and more attractive buying opportunities should present themselves in the coming weeks.
Disclosure: Author has no positions