The Walt Disney Company (NYSE:DIS) offers a good long-term stock holding for portfolios, and the company offers investors value for money and performance during bull and bear markets. It is a stock which is attractive to young and old investors alike, especially for dividend growth investors seeking income returns in addition to capital growth.
Overview
The Walt Disney Company is an entertainment company that conducts operations in media networks, studio entertainment, theme parks and resorts, consumer products, and interactive media. The company produces motion pictures, television programs, and musical recordings, as well as books and magazines.
Performance
The company has in the last ten years been paying an increasing dividend which can be viewed here. Dividends jumped from $0.05 per share in 1998 to $0.20 per share in 1999, $0.27 in 2005, $0.35 in 2007, $0.40 in 2010 and $0.60 per share in December 2011.
More notable is the company's ability to perform consistently, and its resilience to lean times or periods of slow economic growth. The stock was trading at a high of $32.59 in September 2008, and dropped by 53% to a low of $15.22 six months later. It recovered this value by March 2010, continuing to pay increasing dividends, and trading higher to $42.45 per share in May 2011. The effect of overall market contagion stemming from the European financial crisis saw the stock drop 33% to $28.52 per share by Oct 2011, but it has recovered growing steadily by 75% t0 $49.94 at close of trading on 30 July 2012 (just shy of its 52 week/all time high of $50.54 per share). Its 5 year share performance is shown below: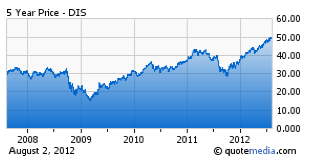 Two key strengths are relevant to Disney stock; the diversification across multiple income revenue streams, and how the economic cycle affects returns in bull and bear markets.
First is the diversification of revenue streams across the company, which are enhanced when they interlink with each other. Its TV shows and movies generate additional after market sales in DVDs and consumer merchandise. The more successful movies and shows are reflected in new rides and displays at Disney theme parks. Its movies and shows are broadcast on the Disney channel and through other licensing arrangements across 167 countries world wide, and advertising revenue on the channels contributes to the company's overall financial health. Its latest quarterly performance report can be accessed here.
Secondly, Disney is a company that is uniquely postured to perform in bull and bear markets, during lean economic periods as well as boom times. When the economy is strong and there is an abundance of disposable income, all revenue streams will perform strongly (with the exception of losses from the occasional movie flop). During lean times though, the company will still perform but may draw its revenue more predominately through cable TV and movie sales, as parents tighten spending on recreational purchases. Even during lean times though the theme parks will continue to perform, as many parents will still take their kids for that once-in-a-lifetime experience (as I did with my kids this year).
Summary
While the stock appears expensive trading near all time highs, its increasing capital growth is justified given the company's ability to perform. For parents wanting to invest for the future for their children, the company is one they can easily explain the benefits of to their children as they grow up over the years. The continuing dividend growth makes the company attractive to younger investors who are trying to source suitable stocks with long term performance history and accessible entry level pricing per share. And for older investors who have followed the company's development over the years, it offers a suitable blue chip stock for capital and dividend growth.
Disclosure: I have no positions in any stocks mentioned, and no plans to initiate any positions within the next 72 hours.
Additional disclosure: This advice is general advice only. You should seek independant financial advice prior to making any investments of your own.