On Thursday, August 2, American Capital Agency Corp. (NASDAQ:AGNC) reported earnings for the second quarter of 2012. The mortgage REIT reported comprehensive income of $480 million, or $1.58 per share, and a net loss of $261 million, or $0.88 per share. American Capital Agency also reported that its net book value per share totaled $29.41 at the end of the second quarter, an increase of $0.35 from the end of Q1.
American Capital Agency buys mortgages that are backed by federal agencies, and which come with an implied government backing, but no guarantee. Other well-known agency mREITs include Annaly Capital Management (NYSE:NLY), which is the largest publicly mortgage REIT, and Hatteras Financial (NYSE:HTS). Index funds for mREITs include the iShares FTSE NAREIT Mortgage REITs Index ETF (NYSEARCA:REM) and the Market Vectors Mortgage REIT Income ETF (NYSEARCA:MORT), though these ETFs also hold REITs that invest in non-agency backed securities, as well as some commercial mortgage paper.
At the start of 2012, AGNC lowered its dividend from $1.40 to $1.25 per share, after maintaining the prior payout for 10 quarters. Shortly after AGNC went ex-dividend during Q1, the company instituted a large secondary offering that it used to acquire more agency RMBSs. Since then, the value of most RMBS paper has appreciated and provided income, and AGNC shares have performed exceedingly well. Shares have appreciated by 24.79%, or $6.96, since the start of 2012, and provided an additional $2.50 in dividends.
See a recent performance chart for AGNC:
Click to enlarge

Click to enlarge
American Capital Agency reported that its average asset yield decreased 59 bps to 2.73%, from 3.32% in Q1. The REIT's annualized weighted average portfolio yield was 2.91%, compared to 3.14% in Q1, and its average asset yield was 2.81, a 25 basis point decline from 3.06% in Q1.
The company noted that the decline in average asset yield was due to a combination of the increase in forecasted prepayment speeds and a decline in the average coupon on AGNC's portfolio. American Capital Agency also reported that its cost of funds increased during the quarter primarily due to a higher ratio of interest rate swaps to repurchase agreements and other debt outstanding.
AGNC's average spread for the second quarter was 1.65%, a decrease of 66 bps from 2.31% in Q1. The company noted that if it excluded the impact of "catch-up" premium amortization charges due to changes in projected CPR estimates, the spread was 1.83% for the current quarter, a 30 bps decrease from 2.13% in the first quarter. At the end of Q2, AGNC's average net interest rate spread was 1.62%, a decrease of 45 bps from 2.07% at the end of Q1.
Below is a chart showing AGNC's average asset yield, cost of funds and net spread through the last five quarters: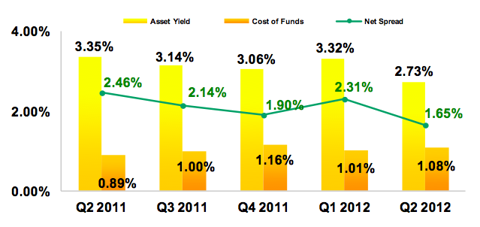 Click to enlarge
American Capital Agency also reported that its leverage ratio was 7.6x at the end of Q2, down from 8.4x at the end of the first quarter, and that its average leverage for the quarter was 7.5x. This is the lowest leverage rate that AGNC has reported in the last year. See a quarterly leverage comparison chart, below: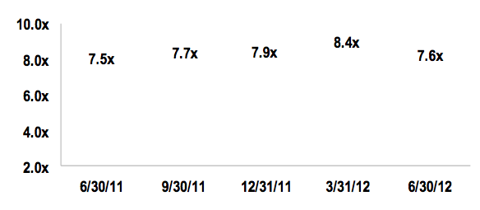 Click to enlarge
The company also reported that its constant prepayment rate during the second quarter was 10%, unchanged from the first quarter. AGNC noted that it "repositioned the portfolio during the quarter into lower coupon MBS and lower loan balance and HARP securities, which are less susceptible to prepayment risk, reducing the impact of the decline in long-term interest rates on the Company's prepayment forecast."
The most surprising part of this report appears to be the reduction in leverage, which may indicate that AGNC is taking a more conservative stance before the U.S. revisits the debt ceiling debate. Alternatively, this could mean that another secondary offering is forthcoming. If spreads stay where they are and AGNC does not increase its leverage, future dividend cuts appear possible. Nonetheless, given the relatively strong performance of AGNC's portfolio through the second quarter, it appears likely that AGNC will be able to maintain its $1.25 dividend rate in the third quarter.
Disclosure: I am long NLY.