In my previous post here, I recommended investing in gold now, with a long-term perspective. It is important for investors in gold to follow the trend of gold demand in India - the world largest consumer of gold, accounting for more than 20 percent of the world's demand. In this article, we will analyze this important gold market.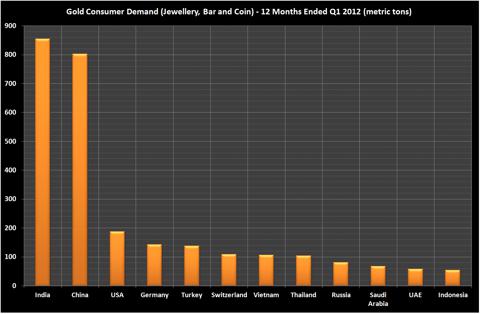 Click to enlarge
Source: World Gold Council
Quote from India's Deccan Gold Mines description:
"Over centuries and millennia, gold has become an inseparable part of the Indian society and fused into the psyche of the Indian. Having passed through fire in its process of evolution it is seen as a symbol of purity, the seed of Agni, the God of fire. Perhaps this is why it is a must at every religious function in India. Gold has acted as the common medium of exchange or the store of value across different dynasties in India spanning thousands of years and countless wars. Thus wealth could be preserved in spite of wars and political turbulence. For centuries, gold has been a prime means of saving in rural India."
Gold demand for jewellery
India's gold demand for jewellery was 152 metric tons in Q1 2012, 19% less than in the same quarter in 2011, most probably because of the much higher price of gold in 2012. The average price of gold in the first quarter of 2012 was $1,694 per ounce, 22.4% higher than the average price in the first quarter of 2011, which was $1,384 per ounce.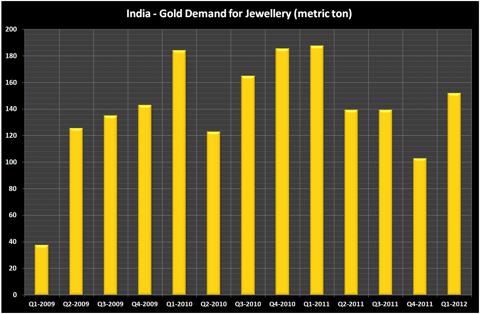 Click to enlarge
Source: World Gold Council
Furthermore, India's gold demand for investment (gold bars and coins) was much lower in the first quarter of 2012 in comparison to the same quarter in 2011. Q1 2012 demand was only 55.6 tons, 46% less than the demand in 2011, which was 103 tons.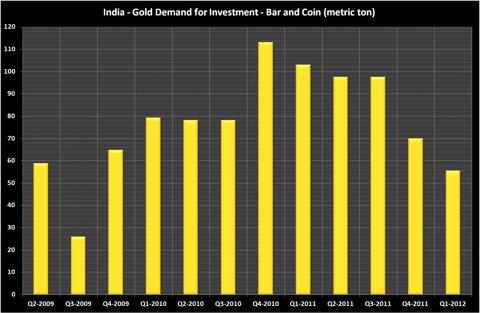 Click to enlarge
Source: World Gold Council
The World Gold Council in its report, Gold Demand Trends Q1 2012, explained that India's gold market experienced a disruptive quarter, with legal and regulatory developments, which ended in a national strike among jewelers. According to the gold council, demand in both jewellery and investment sectors was affected, as consumers and the trade sought to digest the implications of the change in the tax treatment of gold.
In an interview he gave to Bloomberg on July 16, 2012, Ajay Mitra, the managing director for Middle East and India at the World Gold Council, explained that gold demand in India is poised to fall for a second year, as consumers cut spending and hoard cash amid a slowdown in the economy. According to Ajay Mitra, consumers are trimming purchases from cars to gold, since India's economy expanded 5.3 percent in the three months through March, the slowest pace in nine years, and since inflation exceeded 7 percent for a fifth straight month in June. Poor monsoon rains will also crimp demand, Mitra said. "A bad monsoon will lead to higher inflation and higher costs for essentials, which again will leave lesser amounts of money in the hands of consumers for discretionary spending," he said. "It will cut spending again across all categories."
Conclusion
Growth in demand for gold, which is the main cause for the price rise, would not come from India in the near future, and hence should be sought in other places, like in China, where the demand for gold is increasing. Soon China is going to surpass India as the world biggest consumer of gold. Also the behavior of the Central Banks, who ever since 2010 have become net buyers of gold after many years of only net selling, increases the demand for gold and most probably will cause a rise in its price from its current level.
ETFs for gold traded on NYSEArca:
SPDR Gold Trust ETF (NYSEARCA:GLD)
Sprott Physical Gold Trust (NYSEARCA:PHYS)
ETFS Physical Swiss Gold Trust ETF (NYSEARCA:SGOL)
ETFS Physical Asian Gold Shares Trust ETF (NYSEARCA:AGOL)
iShares Gold Trust ETF (NYSEARCA:IAU)
PowerShares DB Gold ETF (NYSEARCA:DGL)
Disclosure: I have no positions in any stocks mentioned, and no plans to initiate any positions within the next 72 hours.