Sohu (NASDAQ:SOHU) is a leading Internet portal in China (similar to Yahoo (NASDAQ:YHOO)). They also havevery popular online games that helped them report huge earnings two weeks ago (see conference call transcript). Revenues surged 156% and earnings exploded by 256% last quarter. They have beat analysts estimates by an increasing percentage each of the last 4 quarters (I can't remember ever seeing that). The trend is that they have beat estimates by 15%, 19%, 25% and 48% over the last 4 quarters.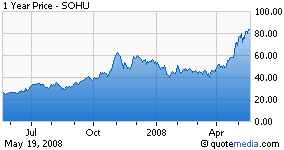 This indicates that analysts still do not have a full understanding of how fast they are growing.
SOHU is the official online sponsor of the 2008 Olympics in Beijing. This could become the next Baidu (BIDU) type stock ($90 to $300 in 6 months) - at least that is what is starting to crystallize in my head.
What I like is about SOHU is that it is still relatively small, with just a $3 billion market cap (in comparison, Baidu is $12 billion). I now think SOHU can get to $5-6 billion market cap pretty easily, especially with them on track to make $3.35 next year (PE is very cheap at just 24x earnings). Put a 45x PE on next year's earnings estimate (still way too low in my opinion) and you get $150 stock. In comparison, BIDU sells at 55x 2009 earnings and a whopping 16x revenues, so there is reason to believe that SOHU can get a much higher valuation.
I visualize Sohu galloping higher day after day as multiple growth funds continue to build a position of hundreds of thousands of shares each.
Disclosure: I like the stock and have made the Decemeber $135 calls a new POWER PLAY.