We have held a long position in Whole Foods Market (NASDAQ:WFM) since 1999. We dramatically increased our position in March 2001 when the company had suffered a 25% price decline in its stock in the wake of an earnings miss, concerns over its valuation and as the company was restructuring due to poor "di-worse-ification" investments (Wholepeople.com, Amrion etc.). Our investment in Whole Foods performed very well from 2001-2005. We saw significant headwinds from 2006-2008 when Whole Foods was dealing with a shaky performance, the controversy surrounding Whole Foods buying out Wild Oats and a volatile stock market. Even though the company was growing and its equity exceeded its bonded debt by 62% as of 2008, Whole Foods decided to shore up its capital with a $425M convertible preferred stock offering to Leonard Green & Partners on November 5, 2008. While this deal was very dilutive in that it enabled Green to convert its investment to Whole Foods Market common stock at a price of $14.50/share, we remember that even the "Masters of the Universe" at Goldman Sachs needed to sell preferred stock with warrants to Berkshire Hathaway while the crisis was in full effect in 2008. Since that time, Whole Foods has recovered its momentum and resumed its strong operating performance. What sets Whole Foods Market's performance apart from this wave of growth versus its performance from 1992-2008 is that it has substantially improved its level of annual free cash flows since FY 2009. This enabled the company to restore its dividend in 2011 and boost it by 40% this year.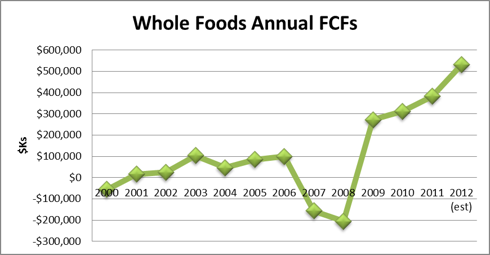 Click to enlarge
Sources: Whole Foods Annual Reports 2000-2011 and Saibus Research Forecasts
We were concerned that Whole Foods would potentially miss its estimates or issue a sour outlook. Granted it would not be the only specialty food and drink retailer to do so. Chipotle Mexican Grill (NYSE:CMG) had missed its revenue estimates by $17M (2%) and that has helped the stock drop by 27% since July 19. Starbucks (NASDAQ:SBUX) reported its EPS two days after Whole Foods and it had missed its EPS targets by $.02 and reduced its outlook. Despite the fact that Whole Foods' ability to beat and raise estimates has been nothing short of legendary since the 2009 fiscal year, we were concerned that even Whole Foods would be getting dented and dinged by the tough macroeconomic environment. We were concerned even though Whole Foods targeted high-end consumers with premium, all natural/organic foods and personal products. At the same time, we did not believe that a sale of our long-time position would be warranted because we estimated that our most likely worst-case scenario for the stock would result in a lower loss than if we were to sell our stock and pay capital gains taxes of 20.3% (15% federal, 5.3% Commonwealth of Massachusetts).
We were pleased to see Whole Foods continue its impressive and consistent streak of growth. Even though the Easter holiday took place in the later end of the second quarter versus the early part of the third quarter, Whole Foods generated same-store sales growth of 8.2% and identical store sales growth of 8%. This is impressive for a retailer because it shows that the company is generating increased sales and profits from existing stores rather than mindlessly opening up new stores like Stop and Shop in the early 2000s. With same-store sales of 6.1% and a ROIC of 148% from its oldest stores (those that are over 15 years old), we can see that Whole Foods is able to maintain customer loyalty and that translates into profits for shareholders. Over 21.6% of its store base is in this store vintage and we are pleased to see that Whole Foods is able to maintain the sales and profit performance from these older, smaller stores.
We won't pretend that this is a value stock like it was in the 1999-2001 time periods or the 2008-2009 time periods. Whole Foods is trading at 32X consensus 2013 EPS estimates. We're not surprised at its high PE ratio since it has grown its EPS at a rate of 35% for the last 3.75 years. Whole Foods' total sales growth for the quarter was 13.6%, which is actually equal to or greater than its previous sales growth figures. Because direct store expenses grew at a slower rate of 11% for the quarter versus the prior-year period, this helped propel store contribution to nearly 28% growth. EPS grew by a slower rate of nearly 26.9% due to increased lease termination expenses and a higher share count. We remember when we first invested in it that it used to guzzle capital for new stores and it had weak returns on equity. While its nominal annualized return on beginning period equity of 15.7% for FY 2012 may be pretty impressive, we also calculated its return on tangible enterprise equity by backing out liquid investment securities and intangible assets. After backing out nearly $1.4B in liquid cash, investment securities and intangible assets from the $3B in beginning period equity, we found that Whole Foods generated an annualized return on tangible enterprise equity of over 29% for FY 2012. We are also happy that Whole Foods' management has boosted its outlook for the rest of the year.
We are impressed that Whole Foods has paid down its leverage and has seen its cash and other liquid holdings grow while other grocery store chains like Kroger (NYSE:KR) and Safeway (NYSE:SWY) have large amounts of outstanding debt. Whole Foods is growing its sales and EPS due to organic growth and assertive investments in new stores while Kroger and Safeway are growing the EPS of those companies through share repurchases. Despite the fact that Whole Foods has seen its share count grow due to employee stock issuance, we wouldn't want to see it repurchase shares at these levels and that is why we were actually disappointed in its $28.6M share repurchase over the last 6 months. With the increased cash holdings and continuous free cash flow generation, Whole Foods could increase the dividend next year by the same 40% it increased it this year and even entertain the idea of a $7/share special dividend. We are not suggesting than Whole Foods utilize the same levels of leverage that Kroger and Safeway use however we believe that Whole Foods could certainly stand to increase its outstanding leverage from $19M as of July 1, 2012 to $119M by borrowing $100M in order to reload its liquidity position after paying out its cash and liquid investment securities as a special dividend. Even after the proposed pro forma special dividend, the company would have still had $59M in liquidity versus $19M in capital lease obligations and no long-term debt. The company could even replenish its liquidity balances by borrowing $100M from its $350M untapped revolving line of credit. Considering that the revolving credit line is only Libor plus 1.375%, we estimated a maximum interest expense of $2.25M by tapping the credit line for $100M. The maximum interest expense includes a .25% savings off the gross interest rate because WFM is charged 25bp for the unutilized portion of its credit line. For purposes of conservatism, we chose not to include WFM's $104M of restricted cash in our scenario.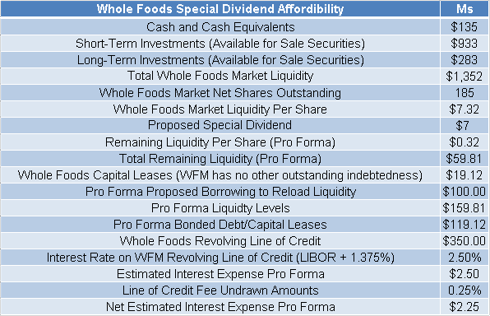 Click to enlargeSource: WFM Q3 Earnings Release, WSJ Money Rates Data and Saibus Research Estimates
In conclusion, we can see why Whole Foods is the most valuable retail grocery store by market capitalization. Despite being outsold by Kroger and Safeway, Whole Foods is able to realize value for its shareholders due to its strong growth, improvements in operating cash flows and more disciplined pace for store expansion versus its earlier years. We even expect Whole Foods Market to generate more net income in its current year than Safeway, even though Safeway's revenue is 3.5X greater than Whole Foods' revenue. Whole Foods is a more valuable company than Kroger and Safeway because Whole Foods generates a significantly higher profit margin. We believe that the reason Whole Foods is able to realize greater growth and greater efficiency is because of the culture of accountability instilled at the stores. At Whole Foods, in order to maintain employment, you have to be formally voted onto a team in order to not only maintain your job, but also be eligible for the standard employee benefit package. We find that Whole Foods Market has more harmonious relations with its front-line store-level employees because of the company's culture. This results in more motivated team members and enables the company to enjoy higher profit margins due to better operational execution and reduced shrink margins.
Click to enlarge
Source: Whole Foods, Kroger and Safeway Most Recent Earnings Releases
Disclosure: I am long WFM.
Additional disclosure: Saibus Research has not received compensation directly or indirectly for expressing the recommendation in this report. Under no circumstances must this report be considered an offer to buy, sell, subscribe for or trade securities or other instruments.