Spain's largest telco, Telefonica (NYSE:TEF), has seen its share price collapse over the past year, plunging by 51% to wipe over $80 billion off its market value. This has seen a profusion of analysts and market pundits push it to the front of the bargain bin amid claims that it now represents compelling value for investors. Yet in my last article 'Telefonica: A Compelling Investment Or Value Trap?' I concluded that the company was a 'value trap'. Since that article there have been further developments concerning Telefonica, and I believe now is time to review the company to determine whether the outlook has changed. In an attempt to get a deeper feel for the company, I have written this article in conjunction with fellow Seeking Alpha contributor Mike Terry, who has written a second part to this article investigating Telefonica's debt structure.
Second quarter financial results were an improvement
Despite the difficult operating environment, Telefonica's second quarter results were surprisingly better than the previous quarter. But on deeper inspection many of the issues and risks that I identified previously are continuing to affect the company's performance.
In comparison to the first quarter, Telefonica's second quarter revenue remained steady at $20 billion, while operating income before depreciation and amortization (OIBDA) increased by 5% to $6.9 billion. The company also saw its OIBDA margin increase by around 2% to 37%, but even more pleasing for investors was that net income grew by 77% to $1.7 billion.
However, it is the company's troublesome balance sheet that continues to concern me. For the second quarter it weakened significantly, with cash and cash equivalents dropping by 30% to $5.2 billion and short-term debt rising by 12% to $16 billion. Although on a more positive note, long-term debt remained steady at $73.4 billion.
Still highly leveraged
The first and probably the most significant of Telefonica's problems is its debt profile and since my last article there hasn't been any improvement. By the end of the second quarter the company's total debt had increased by 2% to $89 billion, with net debt also rising by 2% to $75.6 billion.
This still leaves the company with a particularly worrying debt to equity ratio of 265%. In addition, based on second quarter cash flows, Telefonica has a very low operational cash flow to debt ratio of 7%. This indicates that it has to finance its current and non-current liabilities from sources other than its operating cash flow. In the past this has been through either acquiring more debt or utilizing cash reserves, but in the future could include asset sales or the raising additional capital through a debt or equity issue.
Another concern, particularly with regard for the current financial environment in Europe, is that a significant portion of Telefonica's long-term debt is maturing over the next four years. This debt totals around $40 billion, and it is highly unlikely that Telefonica will be able to cost effectively refinance that debt.
Free cash flow needs to grow
For the second quarter the company's free cash flow, after capital expenditure but before dividends, grew more than tenfold to $2.1 billion, in line with its forecast. But after dividends, free cash flow fell 307% to minus $2.9 billion. This accounts in part for the significant fall in cash and cash equivalents.
As a means of managing its pressing debt issues and becoming free cash flow positive, Telefonica has announced a series of cost cutting measures and asset sales. This has included the cancellation of its 2012 dividend and share buyback program, which will save it around $8.8 billion over the next year. This will see the company become free cash flow positive and end the cash burn seen to date. This in conjunction with the asset sales will significantly assist the company in managing its current debt.
Asset sales are proceeding but at bottom of the market prices
An important part of Telefonica's debt management program is the sale of assets. To date those asset sales have realized a total of around $4 billion, with a further $842 million in the pipeline from the sale of its Atento call center unit. However, of concern is that these sales are occurring at bottom of the market prices as evidenced by the sale of the Atento call center business. Despite seeking around $1.5 billion for this business, Telefonica was only able to secure its sale for $846 million.
There are further asset sales slated, including the IPO of 20% of its German O2 business, which should realize the company around $1.2 billion, as well as additional assets located in Latin America. The bottom of the market prices can be attributed to a combination of the current global economic environment and growing concerns over geopolitical and regulatory risk in Latin America where many of the remaining assets to be sold are held.
Global economic headwinds affect earnings outlook
The current global economic environment combined with the significant reductions being experienced by the Spanish economy will have a significant impact on future earnings. No global region has proven immune to these headwinds, and the impact is now being felt across Latin America, which is Telefonica's largest contributor to growth.
Latin American outlook is gloomy
For the second quarter 2012, Latin American revenue fell 1% to $9.6 billion, but OIBDA increased by 4% to $3.5 billion. However, the result for Telefonica's largest Latin American market Brazil was poor, revenue fell 9% to $4.3 billion and OIBDA was flat at $1.6 billion. Furthermore, if capital expenditure hadn't been reduced by 10% to $591 million, OIBDA would have fallen.
The short to mid-term outlook for Latin America is also not looking particularly positive. Brazil, which contributes 23% of Telefonica's revenue, making it second to Spain, is experiencing its own sizeable economic slowdown. This has seen Brazilian economic growth fall to 1.89% for the first quarter and estimates that for the full year it will be less than 2%. This is despite the Brazilian government implementing an aggressive package to kick-start economic growth. I believe it is more than likely that Brazilian economic growth will remain constrained throughout 2013.
Furthermore, revenue growth in Latin America is subject to Telefonica continuing to make significant investments in the region through its capital expenditure program. But given the company's debt and cash flow issues, it is likely that capital expenditure for the short-term will be decreased causing a fall in revenue.
Latin America is a low value high volume growth strategy
Another issue impacting on Telefonica's growth in Latin America is that the majority of its connections are for low value, low margin and non-sticky prepaid mobile accesses. Currently 65% of its total connections in the region are for prepaid mobiles, with the remainder made up of contract mobiles, internet, pay TV and fixed line connections as the chart illustrates.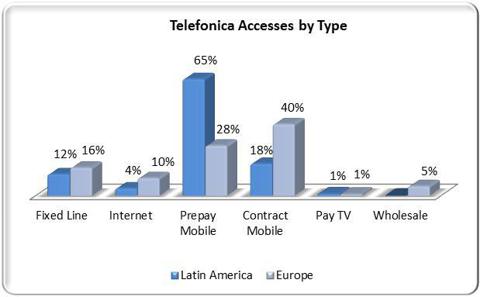 source data: Telefonica January to June 2012 Results
Whereas in Europe it is the opposite, with prepaid mobiles only making up 28% of total accesses and the majority being higher value accesses such as contract mobiles and smartphones with voice and data bundles.
The low value, low margin nature of Telefonica's business in Latin America, when compared to Europe becomes clear when the average revenue per unit (ARPU) is compared. In Latin America the average is $9.41, which is less than half of Europe's ARPU of $20.70. Furthermore, as the chart illustrates ARPU per handset in Brazil is less than half of Spain or the U.K.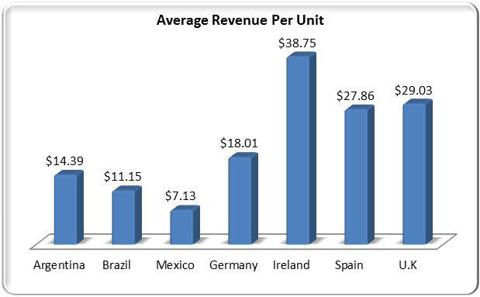 Source data: Telefonica January to June 2012 Results
Part of the higher ARPU in Europe can be attributed to the significantly higher rate of smartphone penetration. Many pundits also believe that Telefonica's profitability will grow in Latin America through an explosion in smartphone usage because of the bundled voice and data plans required to support their use.
However, I don't subscribe to this view because for the majority of the Latin American population smartphones are simply unaffordable. Latin America has considerably lower average incomes than the developed world and when this is considered in conjunction with the high cost of purchase and operation, most potential users simply do not have the income to purchase one.
As the chart illustrates the degree of smartphone penetration, except in the case of China, is commensurate with the countries average level of income. In the case of Brazil and Mexico, which have average incomes that are less than a fifth of the U.S, smartphone penetration is particularly low.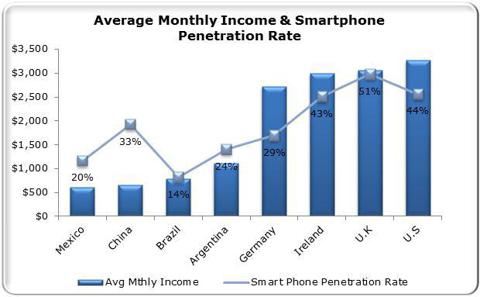 Source data: International Labor Organization, MobiThinking
European outlook
The outlook for Europe is also very uncertain at this time and with Spain's economic crisis deepening it is likely that revenue and OIBDA in Telefonica's most important single market will fall. This will have a significant impact on Telefonica's bottom line with Spain; accounting for 25% of the company's revenue, generating its third highest ARPU of $28 and having the highest OIBDA margin of all of Telefonica's markets at 45%. The economic outlook for the majority of Europe including the U.K is also less than sterling over the short to medium-term and this will obviously impact revenue over this period.
Bottom line
Telefonica is a heavily leveraged growth play on the telecommunications sector and Latin America's continuing economic expansion. But with global economic headwinds biting deep even in Latin America, and economic growth slowing, the profitability of Telefonica's key markets Spain and Brazil has been brought into question. This in conjunction with the need for high capital expenditure to grow revenue in Latin America, and the company's significant degree of leverage, has seen concerns grow regarding the company's viability.
This has resulted in Telefonica embarking on an aggressive deleveraging and cost cutting program with the sale of assets at 'bottom of the market' prices and the suspension of its shareholder remuneration plan. This I believe amounts to nothing more than an orderly destruction of shareholder value, which while ensuring the company's future, will prevent it from delivering value for shareholders for the foreseeable future.
Disclosure: I have no positions in any stocks mentioned, and no plans to initiate any positions within the next 72 hours.