The price of natural gas tumbled down yesterday below the $3 mark. What could have caused such a sudden shift in the natural gas market? Does this mean the recent rally of natural gas's price is over?
The price of the short term future Henry Hub tumbled down by 7.9% on the second day of August. The recent decline in natural gas comes after it had risen in the past several months: The Henry Hub (spot) rose by 40.6% (from June up to date); the future price (short term), by 25.3%; United States Natural Gas (UNG), by 23.6%.
There are many guesses running around the web trying to explain this recent fall: According to Bloomberg, the reason for the decline was due to higher than expected injection. Many analysts had anticipated the natural gas injection will be 21 Bcf while in fact it was 28 Bcf.
But even if many had predicted a lower injection it still doesn't change much the market fundamentals: the recent injection is still much lower than the five year average injections. It also doesn't change the estimation that the storage levels won't reach maximum capacity by winter time.
There are also those who explain this drop in price due to the updated outlook on the U.S weather: There are expectations that currently hotter than normal weather will subside and this will bring the demand for natural gas down. If this is true, then a change in the weather forecast for hotter weather could bring natural gas prices right back up.
According to the recent natural gas report, the storage levels have reached 3,217 Bcf. The EIA also reported a decline in demand and production during last week. So there wasn't a sharp shift in the fundamentals that could explain such a change in the direction of prices of natural gas.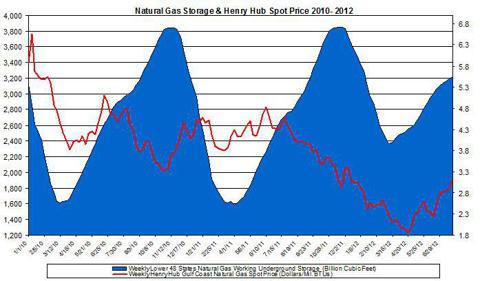 Click to enlarge
(Click to enlarge)
There are those who think this shift in prices was just another long squeeze.
I think there might be another thing to consider in analyzing the recent change in natural gas prices: it seems that the market has slowly shifted from being mostly in Contango to being in Backwardation. The chart below shows the changes in the Contango/ Backwardation of natural gas prices (future (short term) minus spot price). This might suggest that at least in the short run (next few weeks) the market estimates the price of natural gas won't rally.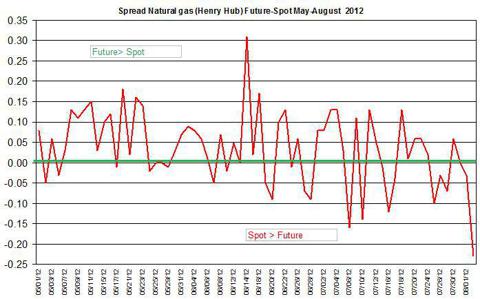 Click to enlarge
(Click to enlarge)
Keep in mind that even if the market predicts that, it doesn't necessarily means the market is right. But if the market will continue to be in Backwardation this could suggest the natural gas prices will not resume their rally.
For further reading: Will Natural Gas Resume Its Rally?
Disclosure: I have no positions in any stocks mentioned, and no plans to initiate any positions within the next 72 hours.