As with most companies headquartered in Spain, global telecom company Telefonica (NYSE:TEF) has seen its debt and equity sink as a result of the European financial crisis and its heavy debt load. As a result of the lower share price (down 35% year-to-date), many investors have been looking at the company as a value opportunity.
This article has been written in conjunction with fellow Seeking Alpha contributor Caiman Valores, with Caiman writing an overview of the company and equity factors and I will be addressing potential opportunities within the debt part of the capital structure.
Issuer Description:
Telefónica is one of the world's leading integrated operators in the telecommunication sector, providing communication, information and entertainment solutions, with presence in Europe and Latin America.
In Latin America, Telefónica gives service to more than 207.9 million customers as of the end of June 2012 becoming the leader operator in Brazil, Argentina, Chile and Peru and has substantial operations in Colombia, Costa Rica, Ecuador, El Salvador, Guatemala, Mexico, Nicaragua, Panama, Puerto Rico, Uruguay and Venezuela. In Europe, on top of the Spanish operations, the Company has operating companies in the United Kingdom, Ireland, Germany, Czech Republic and Slovakia, providing services to more than 103.1 million customers as of the end of June 2012.
First Half 2012 Review:
Revenues in the first half of 2012 rose 0.3% year-on-year to 30,980 million euros, driven by the (7.0% year-on-year) growth at Telefónica Latinoamérica, which more than made up for the (-6.1%) fall in revenues from the operations in Europe.
The company's push into the fast-growing mobile data business is behind the strong, sustained growth of mobile data revenues (+15.7% year-on-year). This business accounted for more than 34% of mobile service revenues in the period (vs. 30% in the first half of 2011). Non-SMS data revenue climbed 26.6% year-on-year, raising its share of total data revenue by 5 p.p. to over 56%.
Telefónica Latinoamérica accounted for 48% of consolidated revenue in the first half of 2012 (+3.0 p.p. year-on-year), making it the largest contributor to growth (+3.2 p.p. year-on-year). Meanwhile, Telefónica Europe accounted for 49% of consolidated revenues (-3.3 p.p. year-on-year), with Telefónica España's contribution falling by 3.4 p.p. to 25%.
During the first half of 2012, operating income before depreciation and amortisation (OIBDA) totaled 10,431 million euros in the period, leaving an OIBDA margin of 33.7%, with decreases of 7.7% and 2.9 p.p. year-on-year.
In the first half of the year operating cash flow amounted to 8,961 million euros (-6.3% year-on-year), as a result of a significant improvement of 5,005 million euros compared to the first quarter of the year.
With the aforementioned, the company´s free cash flow amounted to 1,727 million euros in the first half of the year (-44.9% year-on-year), an improvement of 1,645 million euros versus the first quarter of 2012, in line with the Company´s forecasts.
Much like other global companies headquartered in Spain, it is important to realize where the company actually derives its revenues from. Looking at OIBDA, we see that 50% of OIBDA comes from outside Europe:

Click to enlarge
Risks:
Before considering investing in the debt of Telefónica, one must recognize the risks in the company:
Significant debt.
Business risks.
Regulatory headwinds.
Debt:
Telefónica currently has approximately €69 billion in debt that it has accumulated throughout the years as it has expanded its operations globally. Debt is currently 3.3x OIBDA, which is high for the ratings and will be difficult to sustain if growth continues to slow and the business and regulatory risks stay in effect.
Regulatory Headwinds:
The group faces numerous regulatory headwinds that will continue to affect profitability and therefore free cash flow of the group.
In Europe, wholesale mobile network termination rates came down in 2011. There were considerable reductions in many of the countries where the Group operates, notably in the UK (with a final reduction scheduled for 2015 and a decrease in prices of over 83% compared to the end of 2010) and Germany (cuts of over 50% since December 2010). In Spain, the schedule for reducing mobile call termination rates came into play on April 16, 2012, and the target price (1.09 euros) will be attained in July 2013, with a decrease of close to 75% in wholesale prices.
In Latin America there is a move to review -- and reduce -- mobile network termination prices. For instance, reductions have been approved in Mexico and Chile of 61% and 60%, respectively. In Brazil, in October 2011, the regulator (Anatel) approved the fixed-mobile rate adjustment regulation, which entails a gradual reduction of these rates through to 2014 by applying a CPI- factor and implying a reduction of approximately 29% in 2012-2014.
Recent Events Significant to Debt:
On July 30th, Telefónica, S.A. announced that it has closed on its sale of China Unicom-Hong Kong (4.56% position) to China UNICOM for HK$ 10,748MM (approximately €1,142 million).
On July 25th, Telefónica announced that they were preemptively suspending the common dividend of the company for 2012 and it would not be reinstated until the second half of 2013. Importantly, and telling, the reasons given for this were: 1.) To further strengthen the balance sheet through retained earnings, deleveraging and increasing shareholder value, 2.) To substantially accelerate debt reduction in the short term and 3.) To immunize from debt markets liquidity conditions, by having debt maturities covered till the end of 2013. The temporary suspension of both the dividend and the share buyback program, together with the non strategic asset divestment program and the portfolio management will allow the company to reduce its total debt net below x2.35 OIBDA at the end of this year. The dividend suspension should save the company €2.7B in 2012 and €4.1B in 2013.
Financial factors:
The following table is a financial snapshot of Telefónica, S.A. as of June 30, 2012 (all data from financial filings compiled by author):

Click to enlarge
The following chart shows the evolution of the company's net financial debt (note: I do not calculate debt/OIBDA in the same manner, which adjusts OIBDA and debt, I use balance sheet figures):

Click to enlarge
Based on the way I calculate debt/OIBDA, the company continues to add leverage on both a multiple of OIBDA and as percent of capitalization basis. Debt is high, and over the next few years, OIBDA will not be able to cover debt maturities, which means the company will have to rely on asset sales (and IPOs of various subsidiaries) and bank lines to pay down debt.
Due to the uncertainty surrounding their business in the near to intermediate term, investors might be well advised to stay short in an investment in Telefónica's debt. Specifically, I believe it makes sense to focus on the 2013 debt, as the company has stated that 2013 debt is covered due to OIBDA generation and the suspension of the dividend. Looking at current debt, we see the following:
| | |
| --- | --- |
| Current Debt | €12,260 |
| Cash | € 4,003 |
| H2 FCF estimate | € 3,500 |
| Asset Sales | € 2,500 |
| Credit Line Plug | € 2,500 |
By my conservative estimates, Telefónica will be able to meet their near-term obligations with a margin of safety.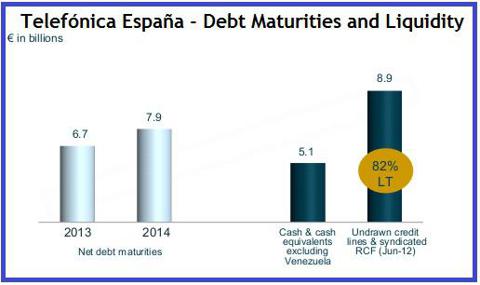 Click to enlarge
Given the short-term bias for Telefonica bonds, the following are candidates for investment:
| | | | | | |
| --- | --- | --- | --- | --- | --- |
| Issue | Size | Coupon | Price | Yield | CUSIP |
| TEFOF 5.855% 2/13 | $750MM | 5.855% | $101.75 | 2.255 | 87938WAF0 |
| TEFOF 2.582% 4/13 | $1.2B | 2.582% | $99.251 | 3.642 | 87938WAK9 |
| TEFOF 4.949% 1/15 | $1.25B | 4.949% | $98.45 | 5.636 | 87938WAJ2 |
As the 2015 debt is outside the range of my short-term estimates and has an increased risk profile, I would select the 2.582% 4/13, which yields 3.642%.
The debt matures in eight months, which means it is included under the umbrella of current asset sales, cash flow increase due to the suspended dividend (which is slated to be reinstated in H2 2013) and cash on hand. The duration risk is insignificant, and should the company lose their investment grade ratings, the effect will be minimal.
As the chart below (from FINRA) shows, the debt is near its one year price high, which is a little disconcerting.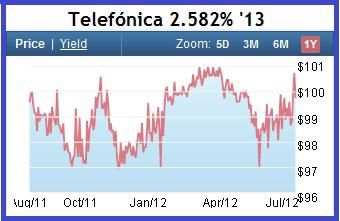 Price points of longer term debt:
| | | | | | |
| --- | --- | --- | --- | --- | --- |
| Issue | Size | Coupon | Price | Yield | CUSIP |
| TEFOF 5.462% 2/21 | $1.5B | 5.462% | $90.00 | 7.04% | 87938WAP8 |
| TEFOF 7.045% 6/36 | $2B | 7.045% | $91.47 | 7.839% | 87938WAC7 |
If I were going to get involved in their longer term debt, I would be a buyer of the ten year debt at +557/10yr whereas the long bond trades at +529/30yr and has a lower dollar price.
Equity Snapshot:
The equity performance, year-to-date, has been sub-par as the stock has fallen approximately 35%.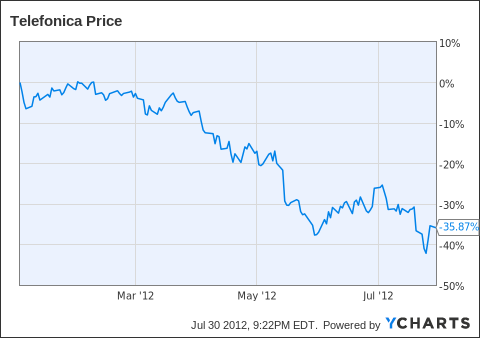 Bottom Line: Telefónica is a levered telecommunications company, whose investment grade status has been called into question due to the markets it operates in (especially Spain and Brazil) and its ability to fund upcoming maturities. As a result of both the business risks which will affect top line and cash flows and their sizable debt burden, I cannot recommend mid to longer term debt of the company at this juncture. While the company has recognized the issues they are dealing with and have begun to take appropriate measures to address them, a potential downgrade to high yield will impact the company's ability to economically finance their operations and will have a disproportionate impact on longer term bond prices. The bonds have begun to price these risks, but there could be more advantageous entry points in the coming months.
Disclosure: I have no positions in any stocks mentioned, and no plans to initiate any positions within the next 72 hours.
Additional disclosure: This article is for informational purposes only, it is not a recommendation to buy or sell any security and is strictly the opinion of Rubicon Associates LLC. Every investor is strongly encouraged to do their own research prior to investing.