When going long any stock in the portfolios that I run, I demand growth. Growth of everything that history has proven is needed for a stock to go on a huge monster run.
This weekend, I found many stocks that are full of high-growth characteristics and wanted to start with a gem from the computer-software-enterprise group, an industry that has caught fire the past few months.
Concur Technologies (NASDAQ:CNQR) recently showed up on my longs scans in my charting software and after doing some more in-depth research, I have found a stock that I like a lot.
The past eight quarters have been incredible for CNQR, with EPS growth of 100%, 14%, 40%, 14%, -17%, 88%, 71%, and 100% and sales growth of 44%, 40%, 52%, 31%, 24%, 30%, 61%, and 74%. Obviously, this stock is no slouch in the EPS and sales department.
Better yet, YOY EPS estimates for 2008 and 2009 are for growth of 20% and 37%, respectively. That kind of growth is the reason that mutual fund ownership has gone from 94 to 119 to 141 to 150 funds over the past four quarters. That gives mutual funds a 40% stake in the stock, along with management still owning 11%. This shows that the smart money is invested in this stock for the long haul. And I cannot blame them with that growth and only 2% of debt to shareholder equity.
The ROE is only 8% but the total SMR rating in Investors Business Daily is still a top A rating. That A rating goes along with its timeliness rating of A and Acc/Dis rating of B+.
Some might be worried about the P/E being at 72, but considering that the range is usually between 36 and 225, it is obviously near the lower end of the range. Also, an EPS growth rate of 63% indicates to me that the P/E is actually decently priced right here.
However, I never worry about the P/E ratio, as the only thing with a P and E in it that I am worried about is the EPS rating of Investors Business Daily. That EPS number is 99, which means this stock is in the top 1% of all stocks based on price performance. That, along with a stock composite rating of 97 from Investors Business Daily, gives another confirmation that we are dealing with a leading stock in this rapidly strengthening industry group.
While fundamentals make up 80% of the decision of what I go long, the final 20% is up to the chart. And right now we have a solid double-bottom pattern with a strong breakout. If CNQR can continue to base in this range and then breakout to a new 52-week high above the drawn trendline, then I would love to get VERY long. I would also get heavily long with a bounce off the 50 day moving average on very strong volume.
The good news is that the Relative Strength (bottom panel; white line) line is hitting a new high before price is. This is positive divergence and when you take the strong technicals with such great fundamentals, and a stock that has a 13.1 days short-interest, you get a wonderful potential future Monster Stock.
Going long on a market order would also be safe on the bounce or breakout as the stock averages 735,000 shares a day traded and is over $15 a share.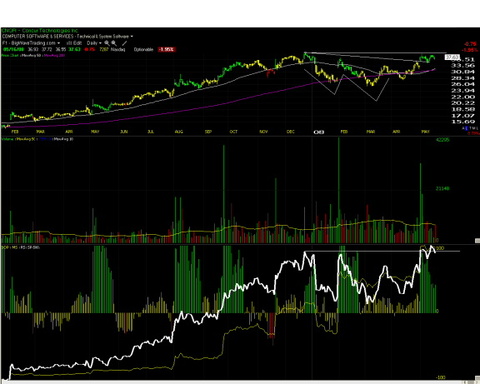 Disclosure: Joshua is not long CNQR but will be on a breakout to a new high or a bounce off the 50 DMA.