On Thursday, renewable oils innovator Solazyme (SZYM) released news that the company received a fuel registration from the U.S. Environmental Protection Agency [EPA] for its product SoladieselRD. To the company's best knowledge, the product remains the first 100% microbially-based fuel in history to gain such registration for use as an unblended product. With advanced biofuels holding the promise of accommodating the current infrastructure's demand for sustainable drop-in fuels, Solazyme's approval marks another progressive step in the challenge to meet this need.
In order to gain ongoing recognition of its fuel brands, Solazyme has been partnering with some of the most elite names in their respective industries. As a fuel product refiner and marketer, Chevron (CVX) is both an investor and research financier of the company. For its vehicular testing, Volkswagen (VLKPY.pk) entered into partnerships with Solazyme and Amyris (AMRS) in order to evaluate their fuel performance. Expressing confidence for Solazyme's fuel in the field of aviation, United Continental (UAL) both commercially used the company's fuel and subsequently signed a letter of intent to buy 20 million gallons a year. And as one of the most pressing advocates, the United States Navy has bared the brunt of increasing criticism as it aggressively makes plans to use Solazyme's fuel for its warships.
Yet for all the hoopla of an algae-derived fuel created in a controlled dark-fermentation process, it remains highly unlikely for the company to pursue the production of a 100% unblended commodity biofuel for some time. Rather the properties of the fuel itself make it both economical and ideal for Solazyme to instead produce advanced biofuel blends and additives that have much higher production value and profit margins. This is also more realistic in light of the numerous characteristic advantages provided by the unique fuel.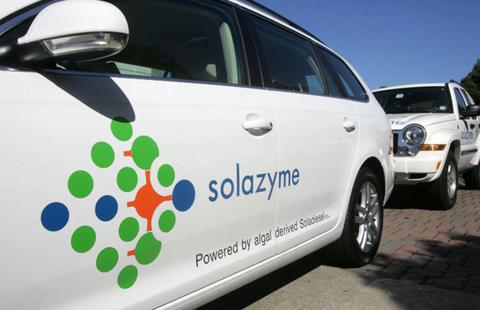 As it stands, the Cetane Number of SoladieselRD comes in at values that exceed 78, an overall 60% better rating than standard U.S. diesel fuel. Additionally, the fuel performs substantially similar to petroleum diesel and even reduces NOx emissions by 10%. According to Bob Ames in the company's promotional video found here, the fuel also reduces 96% particulate matter (the soot that comes out the back of the vehicle) and has an impressive 77% reduction in lifecycle greenhouse gas emissions. What could significantly help in the blend market as well is the fact that Solazyme's fuel has superior capabilities to operate in cold and harsh weather environments.
When it comes to the high Cetane Number, the company's fuel enjoys the benefits of a higher ignition quality. Additionally, the higher Cetane Number allows for better blends with lower quality diesel, which in itself offers an enhanced value proposition to refiners. The following performance advantages could also be obtained with the favorable rating:
Quicker starting.
Improved fuel efficiency.
Less wear and tear on parts such as the starter and batteries.
Less harmful emissions.
Less engine noise.
Increased flow of fluids used for protective lubrication.
Overall, the company starts off on the right foot with its recently certified fuel product. Nevertheless, fuels and fuel blends themselves are likely to play a backseat role for Solazyme who's progress in the field of renewable chemicals, food products, and cosmetics has rapidly accelerated in light of their novel innovations. In the struggle for bringing manufacturing capacity online to meet rising demand for algae-derived oils, slow construction time appears to be the company's only real nemesis in the present.
Currently, cosmetics making up the bulk of Solazyme's current product revenues due to the very small amount of manufacturing capacity needed. Yet significant growth has been evident. In the first quarter of 2011, Solazyme had $2.3 million in revenues with a gross margin of 71.7%. One year later, Solazyme has $4.0 million in revenues with a gross margin of 68.8%. While accounting for a small portion of the companies revenues, the initial progress lies promising in fulfilling the stated margin guidance found in the graph below. The most surprising fact should lie in the fact that the company was accomplishing these margins through the use of contract manufacturers in the absence of their own capacity.
With Solazyme's large production facilities now under construction, investors should continue to watch for progress on the 100,000 metric ton plant now being built in Brazil. The company's joint venture with Bunge (BG) will lead to the company's first large-scale facility used to address the global demand for fuel blends and additives. Ironically, the majority of the facility's capacity will also be used to fulfill the offtake agreement with Dow Chemical (DOW) for dielectric fluids. As stated before, fuels are likely to take a backseat towards a more niche and profitable market.
Though Solazyme's financials currently seem to indicate as if the company has little means of turning a profit on the horizon, investors would be fooled to believe such a notion. Company losses increased to $16.8 million last quarter and is likely to continue to increase in subsequent quarters due to capital expenditures. Yet with $218 million in cash & short-term investments on hand and significant production capability now being built, the company has more than enough to stay liquid barring large unforeseen cost overruns. Through the establishment of the Roquette joint venture facility (of which Solazyme gains 50% ownership at 0% cost) and the successful construction of the Bunge joint venture facility, the company is well on course to become profitable in late 2013 or towards the front end of 2014. And with progressive steps being made in each of its industries, there's no lack of demand that suggests growth is about to be stymied anytime soon.
Disclosure: I am long SZYM, BG.
Disclaimer: Please refer to my standard disclaimer found here.