Gap's (GPS) share price soared by 12%, following the news that it had beaten the July same store sales estimates by the largest margin among its peers. In our previous article, we highlighted a number of factors that were favoring Gap, at least for this period. Among them was the colored jeans trend that Gap was able to capitalize on, and use it to revamp its image. With healthy same store sales, 10% vs. an expected estimate of 3.8%, Gap can be expected to post robust earnings growth that might exceed analyst estimates.
Gap Same Store Sales:
Below is a graph showing quarterly same store sales history for Gap.
FY2012 was not a good year for the company, as Gap failed to attract customers, resulting in negative same store sales. Last year, the July sales were -5% for GPS. The current year has proved to be a good one for Gap. The stock is almost trading at its 52-week high value of $33.69.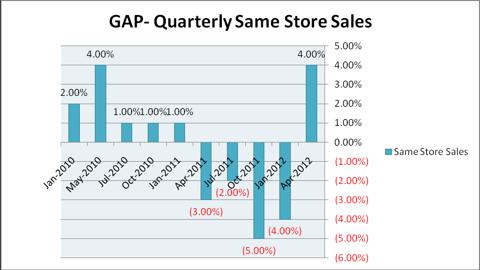 Click to enlarge
Below is a table of the same store sales break up for different brands/segments of Gap.
| | | |
| --- | --- | --- |
|   | Actual July 2012 | Actual July 2011 |
| Gap | 10% | -5% |
| Old Navy | 12% | -3% |
| Banana Republic | 8% | -4% |
| North America | 13% | -6% |
| International | 4% | -10% |
The main contributors to Gap's overwhelming result were its Old Navy brand and the North American region. International operations were the weakest, with a 4% increase. In June, the rise in same store sales from other segments was offset by international businesses' -14%.
Since the June 2012 same store sales for Gap were flat, the 10% for July came as a surprise. Comparing smart estimates for EPS with mean estimates, Thomson Reuters expects a 2.1% surprise for Q2 earnings. This seems likely after the latest same store sales performance. The company is reporting Q2 results on August 16, 2012.
Gap vs. Other Retailers:
It looks like aggressive promotions are paying off. Limited Brands (LTS), TJX Co. (TJX), Nordstrom (JWN) and Ross stores (ROST), in the apparel retail sector, all outperformed expectations. Overall, apparel retailers performed the best with regards to same store sales. Their result was 8.2% as compared to expectations of 4.4%, according to Thomson Reuters. Discount stores, led by Costco (COST), came in second with 4% same store sales (compared to expectations of 3.3%). Department stores like Macy's (M) posted 2.7% compared to estimates of 1.4%. The teen apparel sector, which includes Wet Seal (WTSLA), was the only underperformer, with a figure of -4.2% for July. This is lower than the -3.7% expected.
Among apparel retailers like Gap, some of the results are as follows:
| | | | |
| --- | --- | --- | --- |
|   | July 2012 | July 2012 estimates | July 2011 |
| Ross | 7% | 4.5% | 7% |
| Limited Brands | 12% | 6% | 6% |
| TJX | 7% | 5% | 4% |
| Nordstrom | 0.9% | -2.7% | 6.6% |
According to Thomson Reuters, 77% of retailers beat estimates, showing that consumers are spending despite the economic worries. This is also a good sign for the 'back to school' spending season, which is one of the most important for retailers, in addition to the fall season. The PriceGrabber survey from some months ago shows that 35% of customers planned to start 'back to school' shopping early in July, instead of August. This might explain the positive sales surprises of several retailers.
According to the National Retail Federation, 'back to school' and 'back to college' spending is expected to be more than last year (14% and 12% respectively). Furthermore, discount stores like Ross and TJX will continue to be popular with consumers, as 67% people plan to shop at the stores for the 'back to school' season. Retailers with an online presence will benefit as the trend of comparison chopping continues. Sale shopping is expected to increase by 1%.
Valuation:
We recommend buying ROST and TJX due to the consumer trend towards off-price retailers. Since our previous buy recommendation, ROST is up 6%, while YTD it is up 39%.
The forward P/E for GPS is 14x compared to LTD's 15x, ROST's 18x, TJX's 17x and JWN's 14x.
The long term growth rate for GPS is 10% compared to LTD's 12%, ROST's 13.5% and TJX's 12.5%. Gap is up 78% YTD.
We recommend buying Gap in view of its healthy expected earnings, going forward in the current year. However, in the longer term, we advise investors to be watchful of the changing fashion trends that Gap might not be able to capitalize on.
Disclosure: I have no positions in any stocks mentioned, and no plans to initiate any positions within the next 72 hours.