We continue to remain bullish about the housing sector's recovery amidst recent new developments, especially given the rise in homebuilder confidence and home prices, along with consistently low mortgage rates. Although new-home and existing-home sales have dropped in June, slow job growth and a foreclosure backlog are halting its recovery. The housing sector is set to rebound, but probably at a slower-than-expected pace. In addition, the recent quarterly results of most of the homebuilders beat consensus estimates amidst rising orders and backlogs, along with declining order cancellation rates. We continue to recommend Lennar Corp (LEN), D.R. Horton (DHI), KB Homes (KBH), and Toll Brothers (TOL) as potential buys, although they are currently trading expensively relative to the start of this year. Pulte Group Inc. (PHM) can also be a candidate for taking a long position in. One can short homebuilders' ETF, SPDR S&P Home Builders ETF (XHB), so as to hedge long positions in individual homebuilder stocks.
Recent Developments
The 20-city S&P/Case-Shiller Home Price Index, which is a leading measure of home prices in the U.S., has shown a month-over-month increase of 2.2% in May, relative to April, as according to a recent press release. On a seasonally-adjusted basis, the index grew by 0.9%, beating expectations by 0.4%.
In addition, homebuilder confidence increased by a huge margin, as measured by the National Association of Home Builders/Wells Fargo Housing Market Index (HMI), which showed a six-point gain in July. This increase is the "largest one-month gain recorded by the index in nearly a decade", and now the HMI is at its highest level since March 2007.
New home construction has also hit its highest levels since October 2008, while new single-family housing starts have also grown at their fastest rate since April 2010. Furthermore, 30-year fixed mortgage rates are hovering near record-low levels, touching 3.49% last week, the lowest level since 1972. The Mortgage Bankers Association (MBA) Purchase Applications Index gained 0.2% this week, while the refinance index has surged by 0.8% to move to its three-year high level. The new homes inventory surged by 0.7% in June, but is still floating around record low levels.
However, recently, new home sales and existing home sales have declined in June, which have slowed the rate of recovery of the housing sector. In addition, the high unemployment rates, harsh lending conditions, and foreclosure backlog are preventing the housing recovery from gaining traction.
Earnings Season
Recently, many homebuilders have released their quarterly earnings. Almost all of them showed an increase in the number of new orders and quarterly backlogs, along with a decrease in order cancellation rates. The average selling price was also up for almost all of them, leading them to post strong profits and beating expectations.
| | | | | | | | |
| --- | --- | --- | --- | --- | --- | --- | --- |
| | LEN | TOL | DHI | KBH | PHM | BZH | RYL |
| Increase in # of new orders (% YoY) | 40% | 47% | 25% | 3% | 32% | 29% | 41.60% |
| Increase in quarterly backlogs (% YoY) | 61% | 37% | 31% | 22% | 31% | 39.5% | 47% |
| Decrease in order cancellation rate (% QoQ) | 2% | 3.80% | -1% | 10% | 1% | -2.5% | -2% |
Let us analyze each of the major ones briefly:
The second-largest U.S. homebuilder, PHM, last Thursday, reported a profit of 11c per share relative to 15c per share loss that it posted in 2Q2011. Its revenue also jumped by 15%.
Ryland's net income was 14c per share this quarter, relative to the 24c per share loss last year. Still, it narrowly missed analyst expectations, despite optimistic results.
D.R. Horton, the largest U.S. homebuilder, was also able to post a significant per-share profit of $2.22, relative to 9c last year. The company is successfully executing its "long-term strategy of building speculative starter homes for first-time buyers".
Beazer Homes USA Inc. (BZH)
BZH has just released its quarterly earnings. Consensus expectations were $264 million revenues and 33c per share loss. However, the company missed both earnings and revenues, as it reported a 38c per share loss and $255 million revenues. Still, the revenues were up by 47% on a YoY basis, and the company's loss narrowed by 42c per share from its last-year level of 80c per share.
TOL is to release its 3Q2012 earnings on August 22. Its 2Q results were splendid, as was evident from its per-share profit of 10c relative to a year-ago loss of 12c.
Lennar's 2Q profit of 21c per share beat estimates of 17c per share. Revenue also increased by 22% to $930.2 million.
Please read our previous article for a detailed analysis of KBH's 2Q2012 results.
Stock Price Movements
Due to positive housing developments this year, especially low mortgage rates, rising house prices, an overall increase in new-home and existing-home sales, homebuilders gained by huge margins. The following chart shows the share price movements of major homebuilders this year.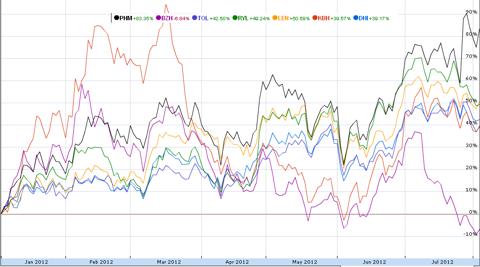 Source: Google Finance
Valuation
Homebuilders have appreciated significantly this year as a lot of players like KBH, PHM, and RYL have returned to profits after posting losses last year, and BZH has also reduced its losses by a significant margin, which is a healthy sign of the housing recovery.
For an investor who is bullish on the housing recovery, our favorite picks among homebuilders are LEN, DHI, KBH, TOL and PHM, in a decreasing order of preference. An appropriate way of hedging these long positions is by taking a short position in homebuilders' ETF, XHB.
| | | | | | | | |
| --- | --- | --- | --- | --- | --- | --- | --- |
| | LEN | TOL | DHI | KBH | PHM | BZH | RYL |
| P/E (TTM) | 11.71 | 69.62 | 6.62 | N/A | N/A | N/A | N/A |
| Forward P/E (1 year) | 21.29 | 30.31 | 18.87 | 187.6 | 13 | N/A | 14.17 |
| PEG Ratio (5 year expected) | 1.87 | 2.67 | 1.24 | -2.32 | 4.6 | -0.15 | 7.81 |
| Dividend Yield | 0.60% | N/A | 0.90% | 1.10% | N/A | N/A | 0.50% |
Disclosure: I have no positions in any stocks mentioned, and no plans to initiate any positions within the next 72 hours.