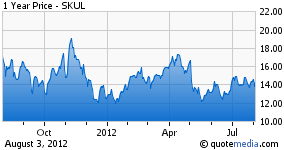 I can think of 72 million reasons (quarterly sales) why shorting 95% of the float of Skullcandy (SKUL) will prove to be a cataclysmic decision. Taking a page out of Nike's (NKE) 101 marketing, Scullcandy is executing their business plan to perfection. It's one thing to believe Scullcandy can't build a lifestyle brand, but it's ridiculous to bet 180 million dollars against it. After 5 straight quarters of beating the street estimates it might be time for the professional shorts to take their potential $100's of millions in losses, and go pick on some company that is clueless.
A Quarter to End all Speculation
"Net sales in the second quarter of 2012 increased 38.2% to $72.4 million from $52.4 million in the same quarter of the prior year. In the second quarter of 2012, domestic net sales increased 34.1% to $50.6 million, international net sales increased 59.9% to $16.5 million and online net sales increased 22.8% to $5.3 million.

Gross profit in the second quarter of 2012 increased 33.1% to $35.7 million from $26.8 million in the same quarter of the prior year. Gross profit as a percentage of net sales, or gross margin, was 49.2% in the second quarter of 2012 compared to 51.1% in the second quarter of 2011. The decrease in gross margin is mostly due to a shift in sales mix to higher price point products with lower gross margin structures."
Could be the Next
Here are a few other fads that did not pan out so well.
Nike was a company that had a lot of skeptical shorts early on. The shorts bet heavily against Nike's ability to compete with the established sport shoe brands. Phil Knight had a vision of co-branding through top athletes and sponsored sporting events. He understood the influence these idolized athletes had among the market he was trying to reach. Today Nike is worth $40 billion, and the shares have appreciated from $21.70 to the $92 NKE is trading at today.
Priceline (PCLN) was a fad that was supposed to die in the dot com bubble. Who could have guessed a reverse auction on the internet could transform the travel and Hotel industry. Only the people that needed to find discounts truly realized the value of Priceline. Today, Priceline is worth $37 billion, and the shares have appreciated from $54 to $756 in the last 5 years.
Lululemon Athletica (LULU) is a sports clothing brand that specializes in yoga clothing. The shorts failed to grasp how large the yoga market would become. The upscale demographics of the yoga clothing buyer destroyed the rationale for shorting this stock. To this day, shorts are still wondering who is buying these $60 t-shirts. Lululemon has branched into selling other product lines, and has become the highly valued brand it is today.
Monster Energy (MNST) has captured market share in the energy drink market. The shorts never believed Monster Drinks could compete and take market share from Red Bull. More importantly, how could any small company compete with Pepsi or Coca Cola? Monster developed a successful marketing campaign centered around sporting venues, and now all the major drink companies realize how big the energy drink market is.
A little about Skullcandy
Skullcandy is a lifestyle products company selling distinct audio branded headphones and other smartphone accessories. Skullcandy brings color, character, and performance to what has been a monochromatic space. Co-branding products with the NBA and other sporting venues. It also recently announced a line that links with runway model Kate Upton.
While the shorts have made a point of dismissing the value of their brand, I suggest they check out Nike and Lululemon Athletica. Neither company designs and manufactures a product that can't be copied and reproduced; however, each company is a master at marketing their product and placing it in the correct channels to maximize revenue. Skullcandy has the same type of branding appeal and with the massive short interest is poised for a classic short squeeze.
Here are the reasons why I believe Skullcandy is a great investment:
Skullcandy has 27 million shares outstanding, of which there are 11.61 million shares short. Institutions own 19.2 million shares, and major holders (Form 3 and Form 4 filers) own 10.2 million shares. This adds up to 41.31 million shares, 14.31 million shares more than what is currently outstanding. The short interest is approximately 76% of the float.
Skullcandy is followed by 11 analysts all having buy recommendations with a consensus price per share estimate of $22 and a high of $33.
The last three years' revenue was $118 million, $160.5 million, $232.4 million, and projected revenues for 2012 are $280 million.
There has been recent insider buying in the company's stock.
Skullcandy has beaten the consensus earnings estimate in the 5 quarters they have been public.
Earnings were $1.00 per share in 2011 and are projected between $1.15 and $1.20 a share in 2012. Earnings are projected at $1.43 in 2013.
The PEG ratio is .59
The Future
"For the full year 2012, the Company is reiterating its net sales and adjusted diluted earnings per share outlook of $280-$300 million and $1.10-$1.20, respectively. The adjusted diluted earnings per share outlook excludes $0.4 million of after-tax expenses related to the Monster litigation in the first quarter and assumes an effective tax rate of approximately 36.5% and diluted weighted average common shares outstanding of approximately 28.7 million."
Possible Valuations
Monster Energy, with similar projected growth rates, trades at about $64, with 2011 earnings of 1.54 per share. MSNT trades at 40 times this years earnings, 33 times next years projected earnings with a PEG ratio of 2.03.
Lululemon Athletica has a slightly faster growth rate. Its stock trades at about $54, with 2011 earnings of 1.26. LULU trades at 40 times this years earnings and 32 times 2012 projected earnings with a PEG ratio of 1.51.
Skullcandy trades at about $14.5, with 2011 earnings of 1.00 per share. SKUL trades at 14.5 times this years earnings, 12 times next years earnings with a PEG ratio of .59.
Conclusion
SKUL having similar growth rates to LULU and MNST trades at approximately one third of the PE of these trendy stocks. Without taking into effect the possible short squeeze, it is possible to place a $35 to $40 dollar valuation for Skullcandy's shares.
Now I know you can make headphones in you garage. I know you think headphones are a fad with no barriers to entry. But I have to ask, after 5 straight quarters of being wrong are you willing to double down?