The Archer Daniels Midland Company (NYSE: ADM) procures, stores, processes, merchandises, and transports agricultural commodities and products in six continents. It operates in three segments: Oilseeds Processing, Corn Processing, and Agricultural Services (Yahoo! Finance, 2008). ADM is a world leader in the production of soy meal and oil, corn for ethanol and sweeteners, wheat and cocoa.
Biofuels vs. Rising Food Prices Debate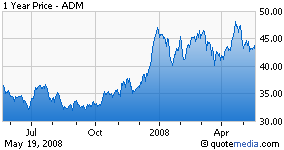 Since late April 08, ADM shares have retracted from a 52-week high of $49 to $43. The company has a significant exposure to biofuels production, being the largest ethanol producer in the US, and the largest biodiesel producer in Europe (ADM, 2007). And due to this exposure, the company has been the recipient of some recent unfair blame for rising food prices.
According to Andrew Jeffery (Minyanville.com, 2008), "Record fuel prices and soaring food costs have intensified the debate over the role of biofuels in U.S. energy policy. One camp claims dedicating farmland to fuel snatches food from the mouths of the world's hungry in favor of American gas tanks. Ethanol, they argue, uses more energy (in production) than it saves and only marginally reduces our dependence on foreign oil." Jeffery further adds that "in opposition are those that believe biofuels are just one of many factors contributing to the inflation of food prices. High energy costs and booming demand from China and India are the chief culprits, they argue, because oil touches every aspect of food production and plays a much greater role in determining retail food prices."
Consequently, Business Writer Matthew Perrone (Associated Press, 2008) reports that Senate Republicans have asked environmental regulators to use their power to halt the country's plans to expand ethanol production amid rising food prices. The article further reports that a spokesman for the Environmental Protection Agency said regulators will consider the economic impact of renewable-fuel requirements when deciding whether to suspend the rules. In a related story, Perrone also reported that the ethanol industry says ethanol and other biofuels account for just 4 percent of the price surge, while the Department of Agriculture says the figure is closer to 20 percent (Associated Press, 2008).
FY2008 Outlook and Valuation
In 2007, ADM revenues surpassed $44 billion, rising 20% YOY primarily on the strength of commodity pricing and on additional sales volumes (ADM, 2007). Net earnings for the year increased 65% over previous year's record performance, to a record $2.2 billion dollars, or $3.30 per share. However, special items were significant in the year-over-year increase. For FY08 (Ending June 30), revenues are expected to surpass $64 billion, representing a 47% YOY increase.
I am refraining from making a call on FY08 EPS estimates although I believe that ADM will post another year of record profits this year. It is hard to believe that a company with such a track record and outlook trades (ADM P/E ~12) at less than the current market multiple of 13. The mean-high price target projected by analysts who cover ADM is $51 - $60 (Yahoo! Finance, 2008).
Technical Analysis
On Friday, May 16, 2008, ADM closed at $43.35. In a nutshell, technical analysis of the 1-year chart of ADM bode favorably for a bullish call. Even though ADM price has fallen below it's 50-day moving average (~$44), it's 200-day moving average (~$41) lends a floor to support a falling stock price. The Williams indicator of 80+ indicates a short term oversold condition. Stochastic analysis also indicate a near term buying opportunity or entry point. With it's MFI below 50, ADM has seen money flow out of the stock since late April. However, if you view MFI but as a contrarian indicator, MFI has turned around after falling below 50.
Conclusions
ADM is the beneficiary of two critical trends impacting the global marketplace, namely, the need to feed a growing populace and the need to urgently meet the worldwide demand for transportation fuels with an alternative (and preferably renewable resource) in light of rapidly escalating crude, gasoline, and diesel prices. Whether the supply of alternative renewable fuels such as ethanol and biodiesel comes at the expense of rising food prices is debatable as many market skeptics have attributed the rise in food prices mainly to rising fuel costs.
In my opinion, a look at the supply chain of agricultural products from farm to end markets shows their dependency on multi-modal diesel-fueled equipment in every link (agricultural equipment, tractors, bulk trucks, rail cars, barges, ships, and other petroleum fuel burning sources). So a rise in fuel prices will inevitably impact food prices eventually. Moreover, we have mostly witnessed increases in food prices not accompanied by any reported shortages in production or market availability of food products.
ADM ($43) trades at a compelling valuation with very sound fundamentals and a great outlook. ADM chart technical indicators too indicate a favorable entry point. With the recent pullback in ADM shares, it may be an opportune moment to accumulate ADM at this price level.
Disclosure: Long ADM
References
1. Yahoo! Finance, 2008
2. ADM, Annual Report, 2007 [PDF file]
3. Jeffery, A., Biofuel Debate Rages On, Minyanville.com, May 7, 2008
4. Perrone, Matthew, Senators call for EPA to reconsider ethanol output mandate, Associated Press, May 5, 2008
5. Perrone, Matthew, Farmers say ethanol is not to blame for higher food prices, Associated Press, April 30, 2008
6. ADM, Annual Report, 2007 [PDF file]
7. Yahoo! Finance, 2008