I've been long on Armour Residential REIT (ARR) for about six months, with an entry point of 6.72, and a nice 10 cent per share monthly dividend arriving in my brokerage account.
The company has recently announced a 55 million share public offering, and we need to check to see whether this is going to hurt or help us.
Here is a summary calculation, based on the information in the most recent earnings announcement:
| | | |
| --- | --- | --- |
| New Shares Issued | 55,000,000 | |
| Share Price | 7.5 | |
| Proceeds from Sale | 412,500,000 | |
| ARR's leverage | 9.04 | Higher than AGNC's |
| Increased Portfolio | 3,729,000,000 | |
| Interest Rate Spread | 2.15% | Better than AGNC's |
| Interest Rate Spread/month | 0.001791667 | |
| Increased Interest Income/month | 6,681,125 | |
| Current Dividend/Share (month) | 0.1 | |
| Dividend Payout (Month) | 5,500,000 | |
The 55 million shares, at a current price of 7.50 per share, will raise $412M for the company to invest. ARR's current leverage is 9.0:1, and so they should be able to expand their portfolio by $3.7B with this new money.
Given the current average interest rate spread, which is 2.1% and nearly 50 basis points higher than AGNC, they should be able to increase their bottom line, incrementally, by $6.6M.
At the current dividend rate of .10 per share per month, the distribution on the 55 million shares will be only $5.5M per month.
So, incrementally, the company is bringing in more money on the issuance than it costs, assuming that the interest rate spreads stay somewhere close to where they are, and so there appears to be a benefit to the company and also to the rest of us stockholders.
Note: ARR has also recently begun issuing preferred stock. The giant companies in this industry, American Capital Agency (AGNC) and Annaly Capital Management (NLY), have also adopted this strategy as a way to raise money at lower cost. The preferred stock carries a lower yield, but conceptually, the preferred stockholders take precedence over the common shareholders for distributions. So, a prospective investor might be interested in a still-attractive but more secure dividend.
Here is the five-day stock chart: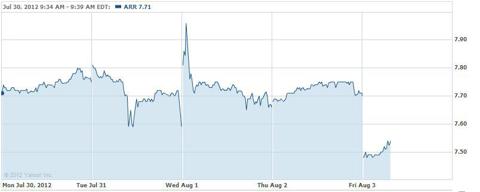 Exactly the same thing happened last February, and the stock recovered within a few days.
The world is full of chaos, and there are no guarantees on anything, but this looks like a chance to pick up a few shares at a discount from recent market pricing.
Disclosure: I am long ARR.