Beginning in February, Washington Mutual (NYSE:WM) unveiled its new "Whoo Hoo!" campaign which tries to capture how its customers feel about the company's brand (Figure 1). The bright magenta and blue ads are becoming a ubiquitous part of web navigation to some of the major portals. It appears that some of the buzz around the brand is infectious given the double digit uptick in search traffic to WaMu's checking pages since the campaign was launched (Figure 2).
Figure 1: WaMu Whoo Hoo! Creative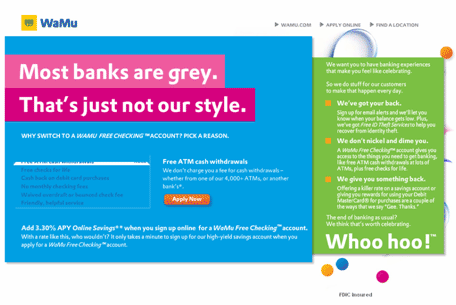 Visitors to the WaMu domain rose 5% from February to March. Following the start of the Whoo Hoo! campaign in February, search traffic surged with a 59% boost in consumer visits to WaMu's savings pages. In March there was a further increase of 55%. Yahoo! (NASDAQ:YHOO) search traffic to WaMu's checking pages grew by 69% from February to March. Google (NASDAQ:GOOG) traffic also climbed an additional 13% since February.
Figure 2: Top 10 Consumer Referral Sources to WaMu Checking Pages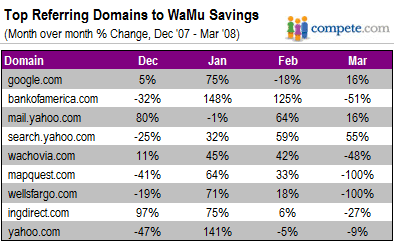 Taking a look at the sheer volume of search terms, the numbers are staggering. The term "wamu" appeared in searches over 1,000% more between January and March than in all of 2007. Clearly the constant presence of WaMu's ads have made an impact on consumers, as nearly 100% more search referrals came in for WaMu during the past three months.
It appears that the strategies of placement and even the core messaging behind WaMu's campaign are speaking to consumers who have been actively seeking out the bank. Compared to the traditional messaging from banks, it seems like making an emotional statement with a cute little bright blue and magenta banner is paying off for WaMu. Oh yeah, and "Whoo Hoo" is pretty catchy too.