From its spectacular climb to north of $100 a share in 2011 to its very public collapse to below $20 a share just recently, Green Mountain Coffee Roasters (GMCR) has been a stock that has had a very similar trajectory to some other recent high fliers turned disappointments. Namely, they have followed a similar path in terms of stock valuation as companies such as Netflix (NFLX) and Research in Motion (RIMM). However, although there are still certainly very big question marks for those companies, Green Mountain may finally be at an attractive price for investors again.
The Past
Green Mountain Coffee Roasters gained a lot of its attention from its revolutionary coffee product known as K-Cups. When these K-Cups are used in Keurig (a brand which Green Mountain wholly owns) coffee makers, they produce individual cups of coffee or other hot beverages that consumers can enjoy. Green Mountain had business deals with certain brands such as Newman's Coffee to sell their coffee in these K-Cup packages. Green Mountain also produced its own blinds to be made into K-Cups.
Since the company owned the Keurig brand, it was able to produce revenue from the selling of the machines and the K-Cups alike. Everything was looking up for the company for some time. The stock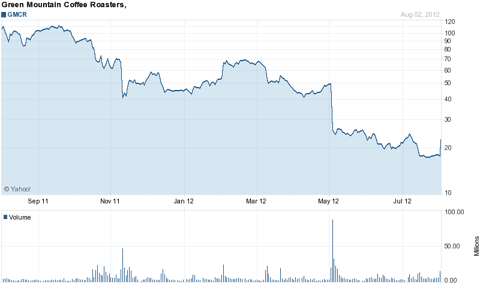 climbed to its then all time high on September 28, 2010. However, after the market closed that same day, the company announced that the SEC was going to begin an investigation into its revenue accounting practices. The investigation was into an account error from back in 2007 and the proper corrections were made by the company.
The string of bad news was not quite over for the company. The stock did take off from that point and hit a high of $115.98 a share on September 20, 2011 but that soon diminished as an earnings report on November 9th of the same year sent the stock tumbling 39% on that day alone after the company missed earnings by a penny a share and lowered its guidance. This was from an already diminished price of about $60 a share before the earnings report.
Since that time, the stock had continued to fall. The company saw a low of $17.11 just recently and as of the time of this writing closed at $22.66 a share after surging 26.5% today following yesterday's earnings report.
The Future
All of that information is just to show you the up and down path that this company has followed. A lot of it has very much been in the public spotlight, but just because it has had so many negative headlines in its past does not mean that this is what the future holds in store as well. As a matter of fact, when one looks at the whole picture of this company, the future for the stock can start to look rather rosy.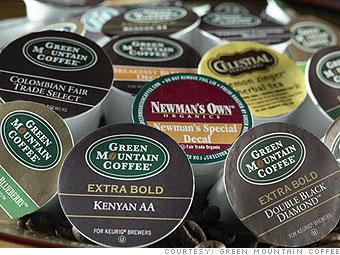 The first thing I like about this stock is that it is no longer a momentum play but rather a turnaround stock. The momentum plays rely so heavily on being in the stock until the last possible moment when it is no longer good to be in. In other words, it is like a game of financial musical chairs, and the results can be quite horrible for those who do not get out in time. With a turnaround play though, you are looking more at a stock that can quietly creep back up to regain at least some of its former glory.
Three fundamental figures that I like to look at to determine the value of a stock are its expected earnings for the next year, its current stock price, and its expected rate of growth annually for the next five years. This information is all available on financial websites and is there for anyone to see. It is also a good way to quickly determine what kind of forward PE the stock is being awarded in comparison to the annual growth percentage that analysts are projecting. A perfectly fair valued stock would ideally have those numbers be exactly the same. When the forward PE becomes much lower than the projected annual growth rate, there may be an opportunity to buy up a stock at a bargain.
Currently, GMCR trades at $22.66 while having projected earnings of $2.97 a share for 2013. That is a forward PE of 7.63. Meanwhile, the projected annual growth rate for the next five years is about 32.5%. These numbers are very much out of sync. Although it would probably be fair minded to bring those annual growth rate projections down a bit given current tough economic conditions, even at a 20% annual growth rate, a fair market price for the stock would be approximately $60 a share. That is up nearly threefold from its current price.
At this rate, Green Mountain is a screaming buy. The only thing that I feel could make this company not worth what it trades at now is if there ever was some type of huge accounting error or fraud of some kind. Since the SEC has already looked into this company in the past and they cleared up their previous error, I do not feel like this is a likely event to repeat itself.
Disclosure: I have no positions in any stocks mentioned, and no plans to initiate any positions within the next 72 hours.