I'm going to present two facts which, on their face, are seemingly unrelated. Individually, they're headlines that have been around for a long time. But in conjunction, they could be a major catalyst for Cisco (NASDAQ:CSCO) -- as well as an indicator of a long-term trend.
The first fact is that Cisco is pretty rich. With over $48B in cash and only $16B in long-term debt, Cisco has net cash holdings of over $30B -- good for roughly a third of current market cap.
(click image to enlarge)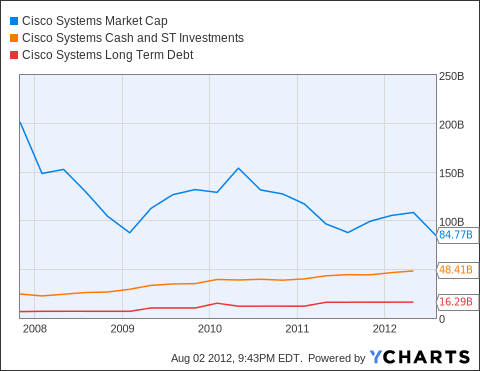 CSCO Market Cap data by YCharts
Here's the only unfortunate part: most of that cash hoard is overseas, which is part of a growing trend. Corporations, including Microsoft (NASDAQ:MSFT), Google (NASDAQ:GOOG), Apple (NASDAQ:AAPL), and Cisco have squirreled away over a trillion dollars in overseas accounts. Why overseas accounts? Because if they bring it back stateside, they have to pay repatriation taxes. This means that not all of the cash can be used for value-adding activities like buybacks and dividends, or even domestic investment. Such activities would trigger significant taxes, which is obviously not in the shareholders' best interests.
Enter exhibit #2, Cisco's $5 billion acquisition of NDS Group, which was just approved by European antitrust regulators. There are a lot of things to like about the agreement, which bolsters Cisco's efforts in the booming mobile video segment. The deal is expected to be accretive to non-GAAP EPS in the coming fiscal year.
But the one thing that's been underappreciated is just what the acquisition means in relation to Cisco's cash hoard. Props to Trefis for noticing the same thing I did:
Acquiring a U.K.-based company gives Cisco the opportunity to put its huge overseas cash hoard to use without having to pay taxes in the U.S. Plus, it gets to keep NDS's services-based business model that brings in steady, recession-proof revenues on a recurring basis with a strong presence in emerging markets.
Essentially, acquiring an over-the-pond company like NDS allows Cisco to maximize return on the cash because they can invest overseas without triggering U.S. taxes.
In previous years, Cisco has been blasted for mismanagement by analysts, resulting in a rapidly-declining share price and a massive turnaround program. I've been pleased by the progress, and the latest move gives me even more confidence that Cisco will utilize cash in a manner that maximizes shareholder value. I believe the Trefis price target of $23.40 is a fair estimation of Cisco's value, and I fully expect the market to realize this valuation sooner rather than later.
Beyond the positive implications of the NDS acquisition for Cisco, I believe this move portends a long-term trend for corporations. With so much cash overseas -- and far higher growth potential in emerging/developing markets -- I wouldn't be surprised to see companies like Google, Apple, Microsoft, and others start using their cash to snap up foreign businesses to avoid paying repatriation taxes. Coca-Cola (NYSE:KO) is thinking about such a move right now, considering a play for Singapore beverage maker Fraser and Neave.
It's always fun to have a large pile of cash. It's even more fun to invest without taxation, and that's pretty much what Cisco is doing by acquiring NDS.