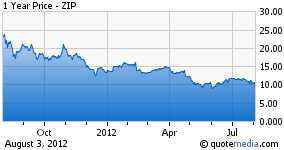 Zipcar, Inc. (ZIP) is currently down over 30% today. The stock price is down almost 50% from its close at the end of December 2011. While many are rushing to sell their shares, I contend that this is a buying opportunity.
So lets review Zipcar's business prospects and take a look at the competitive landscape by looking at what I would consider Zipcar's closest competitor, Hertz Global Holdings, Inc. (HTZ).
Recently, both Hertz and Zipcar announced their earnings for the second quarter this year. Hertz operates worldwide rental car and equipment rental services while Zipcar operates the world's leading car sharing network.
Zipcar Earnings Takeaways
Zipcar missed on both revenues and earnings. Estimates called for just over $73 million in revenues and flat earnings. Zipcar posted just under $71 million in revenues and a $422,000 loss on earnings.
During the earnings call, management explained that the primary reason for missing guidance was a result of a slowdown in anticipated member growth.
Ending members grew over 20% year-over-year to just over 731,000. Usage revenue per vehicle per day was flat. And cost per new account increased significantly to $89. Management stated that cost per new account would decrease over the next quarter and that the second quarter's increase was a result of higher expenses for radio advertising which did not yield anticipated member returns.
Hertz Earnings Takeaways
Hertz grew revenues over 7% to $2.2 billion year-over-year. They beat estimates by $.03 with just under $155 million adjusted net income.
The most important takeaway from the earnings call with Hertz was the mention of the performance of Hertz On Demand. Management stated that in the second quarter, global Hertz On Demand revenues was up 58% year-over-year, with global membership up 250%. Revenue per vehicle was up more than 46% worldwide on 50% more fleet.
During the quarter operations were expanded into Washington D.C., Miami Beach, and San Antonio. The fleet was increased by 80% in New York City. Refer to these links for a comparison of fleet coverage between Zipcar and Hertz On Demand in New York City.
Hertz plans to also enroll their gold members into the hourly rental program, of which there are currently more than 4 million worldwide.
Competition Heating Up?
Hertz is without question directly competing with Zipcar via Hertz On Demand. Enterprise Rent-A-Car also has a car sharing service via WeCar to consider. Avis Budget Group, Inc. (CAR) has the ability to compete, but at the moment is sticking to employment centers with their hourly services.
What is interesting to note is that while Hertz is touting strong growth in its hourly program, there is not any clear indication whether these are existing Hertz customers switching to the service. Hertz states they are looking to enroll 4 million existing members worldwide into the program.
WeCar's locations are not easily discernible. However it appears that they are having some success at the university level. See following articles - college deals with Duke University, Lehigh University, and Radford University.
Conclusion
Zipcar is in a transition stage with respect to its two previous acquisitions. These include a majority stake in Spain's Avancar and a complete acquisition of Denzel Mobility CarSharing GmbH in Austria.
Additionally the United Kingdom has been facing a serious recession and this has impacted Zipcar's operations in London. The Olympics have included challenges as many streets have been shut down and traffic has increased.
International revenue should pick up next year with the UK, Spain, and Austria. Spain and Austria are still in an integration phase and the UK will hopefully have recovered economically to some extent. We could see a pickup in London sooner if economic conditions improve. According to research by Frost and Sullivan, the market for car sharing in Europe is expected to reach 5.5 million members and has the potential to reach Euro 2.6 billion in revenue.
Given time, Zipcar still has potential to significantly grow their market share leading position and fend off competitors. Zipcar is going to consider multiple member strategies to maximize benefits to further its reach with existing and potential customers. This will include pricing strategies for existing and new customers.
Zipcar's member retention rate remains solid at roughly 98% displaying that existing members are not leaving the company for other services. Zipcar has become more diversified through its acquisition of major a stake in the peer-to-peer car sharing company Wheelz and its expansion of the Zipvan service. Zipcar has partnered with major automobile manufacturers including Ford Motor Co. (F) and Honda Motor Co., Ltd. (HMC) to supply vehicles to college campuses and provide sustainable transportation alternatives to city residents.
Zipcar is continuing to see double-digit growth (roughly 16%) in established market revenue and income before tax. Research by Frost and Sullivan also states revenue from North America has the potential to reach $3.3 billion.
The growth in car sharing has taken off to include peer-to-peer, business-to-consumer, and not-for-profit or co-op. Growth in car sharing members and vehicles has increased 70% and 53% respectively per year in North America from 2000 to 2010.
At today's current sell-off, investors could be zipping to another tune in the near future and long-term. Although there are risks that remain, Zipcar offers the best investment from a growth perspective when compared to Hertz and Avis.
As an aggressive growth investor, I am adding to my position today.
Disclosure: I am long ZIP.