CVS Caremark Corporation (CVS) is scheduled to report its Q2 2012 results on August 7, 2012, before market opens. The street expects EPS and revenue of $0.79 and $30.98B, respectively.
In this article I will recap the historical results of the company, its latest EPS estimates vs. surprises, the latest news from CVS and the news from its closest competitors.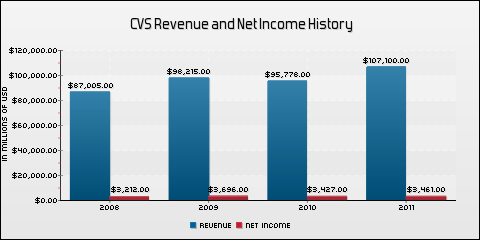 Recent EPS Actuals vs. Estimates
The company has met or beaten analysts' estimates in the last four quarters. In the last quarter it reported $0.65 EPS, beating analyst estimates of $0.63.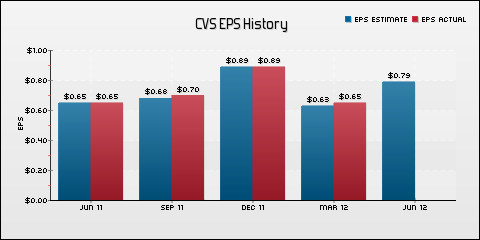 The consensus EPS estimate is $0.79 based on 18 analysts' estimates, up from $0.65 a year ago. Revenue estimates are $30.98B, up from $26.63B a year ago. The median target price by analysts for the stock is $51.00.
Average recommendation: Buy
Source: Marketwatch
Analyst Upgrades and Downgrades
On May 3, 2012, UBS reiterated Buy rating for the company.
On May 3, 2012, Mizuho reiterated Buy rating for the company.
On February 9, 2012, RBC Capital Mkts reiterated Outperform rating for the company.
On February 9, 2012, Mizuho reiterated Buy rating for the company.
Latest News
Competitors
Express Scripts Holding Company (ESRX), Rite Aid (RAD), Walgreen (WAG), and Wal-Mart Stores (WMT) are considered competitors for CVS and the table below provides the key metrics for these companies and the industry.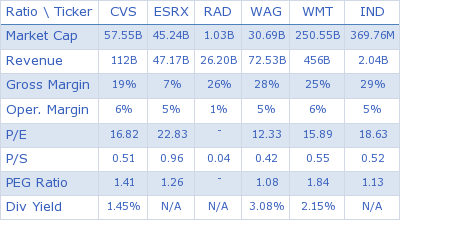 The chart below compares the stock price changes as a percentage for the selected companies and S&P 500 index for the last one year period.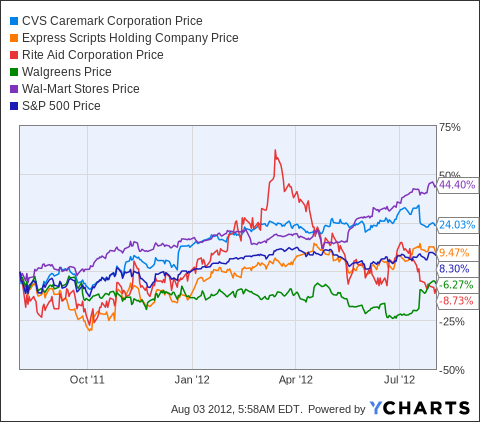 Competitors' Latest Development
On July 19, 2012, Express Scripts Holding Co and Walgreen Co announced the companies have reached a multi-year pharmacy network agreement that includes rates and terms under which

Walgreen will participate in the broadest Express Scripts retail pharmacy network available to new and existing clients.

On July 12, 2012, Walgreen Co announced consistent with its Board of Directors succession and rotational planning process, the appointment of James A. Skinner, Walgreen Board member since 2005 and recently retired McDonalds Chief Executive Officer, as the new non-Executive Chairman of the Board of

Walgreen.

On July 6, 2012, Reuters reported that Five big U.S. retailers filed an antitrust lawsuit against Pfizer Inc and India's Ranbaxy Laboratories Ltd, accusing them of conspiring to delay sales of generic versions of Lipitor.
On July 5, 2012, Walgreen Co announced that it has entered into an agreement to purchase a regional drugstore chain in the mid-South region of the United States from Stephen L. LaFrance Holdings, Inc. and members of the LaFrance family.
On June 21, 2012, Rite Aid Corporation updated fiscal 2013 guidance and expects sales expected to be between $25.3 billion and $25.7 billion and same store sales to range from a decrease of 0.5% to an increase of 1.0% over fiscal 2012.
On June 19, 2012, Rite Aid Corporation and its subsidiaries and plaintiffs' counsel in fifteen wage and hour collective and class action lawsuits announced that they have reached a global settlement in these lawsuits which involve the alleged misclassification of Rite Aid's salaried assistant store managers and co-managers and seek overtime pay for hours worked in excess of 40 hours per week.
On June 19, 2012, Walgreen Co and Alliance Boots GmbH, announced that they have entered into a strategic transaction designed to bring together the strengths of both companies to create the global pharmacy-led, health and wellbeing enterprise.
On June 19, 2012, Walgreen Co announced an increase in the quarterly dividend of 22.2% to $0.275 per share from the previous rate of $0.225 per share. The dividend declared by the Board is payable September 12, 2012, to shareholders of record August 17, 2012.
On June 13, 2012, Reuters reported that CVS Caremark Corporation and Rite Aid Corporation filed an antitrust lawsuit accusing Pfizer Inc and Teva Pharmaceutical Industries Ltd of conspiring to keep generic versions of antidepressant Effexor XR off store shelves.
On June 12, 2012, The Economic Times reported that Wal-Mart Stores, Inc. plans to snap ties with companies that supply products to its stores if they are involved in any kind of corrupt practices, making it the first retail company to undertake such a stringent initiative in India.
On June 11, 2012, Reuters reported that New York City's pension funds became the latest group to file a derivative lawsuit against Wal-Mart Stores Inc based on reported allegations of bribery in Mexico and a possible cover-up by Wal-Mart officials.
On June 4, 2012, Walgreen announced an extended, multi-year agreement in which

Walgreen will build on its strategic partnership with OptumRx, one of the pharmacy benefit managers in the United States.

On May 30, 2012, Walgreen Co's Take Care Health Systems and The Valley Health System announced a new relationship that will facilitate greater clinical coordination and enhance access to convenient and affordable health care options available at Take Care Clinics in Southern Nevada.
On May 25, 2012, Rite Aid Corporation announced that its Board of Directors has elected John T. Standley, who is currently President, Chief Executive Officer (CEO) and a member of the Company's Board of Directors, to the additional position of Chairman of the Board, effective June 21, 2012 at the Company's annual stockholder meeting.
On May 17, 2012, Wal-Mart Stores Inc announced that for second quarter of 2013, it expects diluted earnings per share from continuing operations to range between $1.13 and $1.18. According to I/B/E/S Estimates, analysts are expecting the Company to report EPS of $1.16 for second quarter of 2013.
On May 15, 2012, Rite Aid Corporation announced that it has closed its previously announced offering of an additional $421.0 million aggregate principal amount of 9.25% Senior Notes due 2020 (the "New Notes").
On May 8, 2012, Robbins Geller Rudman & Dowd LLP announced that a class action has been commenced on behalf of an institutional investor in the United States District Court for the Middle District of Tennessee on behalf of purchasers of Wal-Mart Stores, Inc. common stock during the period between December 8, 2011 and April 20, 2012.
On May 7, 2012, Walgreen Co announced that it has completed its acquisition of certain assets of BioScrip, Inc.'s community specialty pharmacies and centralized specialty and mail service pharmacy businesses.
On May 4, 2012, Rite Aid Corporation announced the pricing of an offering of an additional $421.0 million aggregate principal amount of 9.25% senior notes due 2020 (the "Notes") at a price of 101.25% which will result in total proceeds of approximately $426.3 million.
Technical Overview
The stock has a market capitalization of $57.55B and is currently trading at $44.91 with a 52 week range of $31.30 - $48.69. The stock's year-to-date performance has been 11.33%. It is currently trading above 200 SMA, but below 20 and 50 SMA.
Sources: Yahoo Finance, Google Finance, Marketwatch, Finviz, Reuters.
Disclosure: I have no positions in any stocks mentioned, and no plans to initiate any positions within the next 72 hours.