The market shot up big time today, sending the VIX down about 10.5% and the iPath VIX Short-Term ETN (VXX) along with it -- this time to new all-time lows. The VXX closed at 12.15, which is more than 3% below its previous all-time closing low of 12.55 set on July 19.
Here's a chart of the VXX, along with the VIX plotted below.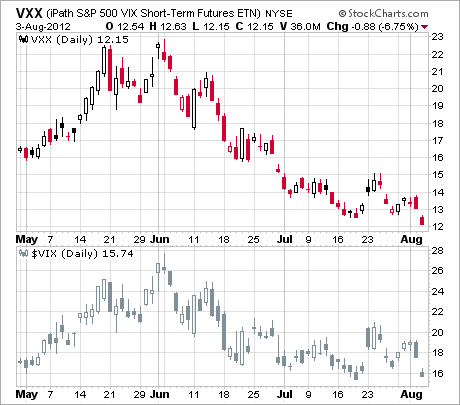 The reason for the drop? The usual -- a fairly significant contango in the market for VIX futures, as you can see here: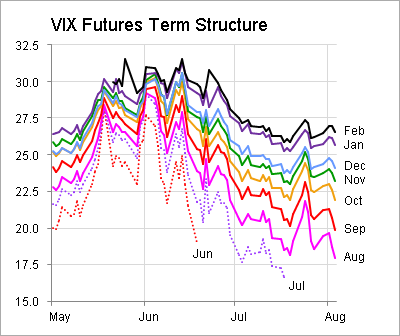 The chart shows each VIX contract month (with the dotted lines showing already expired June and July contracts just for reference). If you compare this chart to the one above it, you can see that as long as the near-term contracts trade at significant discounts to the longer-dated contracts, the VXX is destined to continue lower.
Could the VXX recover any of its losses over the past few months? Well, probably some of them, but the VXX will only soar if the contango narrows a lot, like we saw in May. It could double or perhaps triple if we see the kind of backwardation we saw about a year ago, but even a double only takes the VXX back to 25 or so. This would take a fairly significant level of panic, which is always hard to predict, and the S&P 500 seems to be trading in a pretty narrow range lately: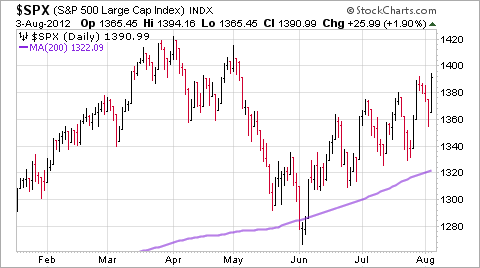 I'm no technical analyst, but I'd say we need to see the S&P 500 to fall below its 200-day moving average near 1322 for volatility to rise significantly. Otherwise, there's really not all that much to panic about, and thus the VXX is likely to trade lower and lower.
Time for a Reverse Split?
The VXX is down nearly 97% since it was first introduced. The last time the fund announced a reverse split (one-for-four announced back in October 2010), the VXX had traded as low as a nominal level of 12.35, so I expect we may see another split soon.
Disclosure: I have no positions in any stocks mentioned, and no plans to initiate any positions within the next 72 hours.