Most of my recent posts have been a bit on the boring side- (closed end funds and solid blue chip companies) so I thought I would write about a more speculative China stock today, similar to my SSRX post of a few months ago.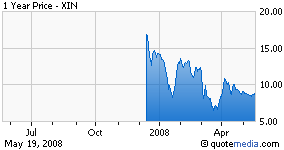 Xinyuan Real Estate (NYSE:XIN) is a residential real estate developer that focuses on building large scale quality residential projects for the middle class. It typically builds multi-layer apartment buildings together with auxiliary services and amenities, such as retail outlets, leisure and health facilities, kindergartens and schools.
Here are some of the reasons I like XIN as a longer term investment:
The stock seems pretty cheap. The forward PE ratio is only five times earnings. The 5 year PEG ratio is only 0.12, but this is only based on one analyst.
The upcoming Expo 2010 Worlds Fair in Shanghai should be bullish for China stocks in general, and should help companies like XIN. I was fortunate to attend the 1964 NY World Fair as a child and it left a lasting impression on me. I checked the returns of the Dow Jones Averages for 1963 and 1964:


1963: +17%
1964: +14.6% (not bad)

Many China stocks are coming off a sharp correction early this year and may be poised for another bull run heading into the 2008 Olympic Games followed by the Shanghai World's Fair in 2010.
The recent earthquake in China has created more of a need for real estate construction companies.
XIN reported strong growth in the first quarter and will be reporting its second quarter results on June 3. I expect the stock to do well heading into the earnings announcement.
Full Disclosure: I have a small starter position in XIN and plan to add more shares on price dips.