"Many shall be restored that are now fallen, and many shall fall that are now in honor."
Horace's quotation from over 2,000 years ago could just as well have been made today in regards to American International Group Inc. (NYSE:AIG), which we profiled earlier in the year. AIG is probably one of our two or three highest-conviction investment ideas and is a large component of my personal portfolio, in addition to those of my clients. There are so many factors aside from business performance that have impacted AIG's stock, that it makes for one of the most extreme valuation disconnects that we have ever seen.
First of all, AIG brings about traumatic memories from the drama of late 2008 to early 2009, when our financial world changed on a scale unlike anything seen since the Great Depression. Few companies have ever fallen so deeply in stature in such a short amount of time. Secondly AIG is still majority owned by the federal government who has made clear that it is going to be a massive seller of stock as quickly as possible, assuming it can get out with a profit, which thus far it has been able to do.
This technical overhang has nothing to do with fundamentals, but market participants understand that it likely will affect stock price in the short-term so there is reason to hold off on buying AIG. Lastly financial stocks in general are out of favor to an extent not seen in my lifetime. Extremely profitable franchises are earning billions of dollars, with credit metrics that are improving, and expenses declining, but still manage to trade at 50% of liquidation value.
This confluence of circumstances has enabled deep value investors not constrained by day to day performance worries, to build large positions in businesses with the potential to double or triple in price, while increasing dividend payments many times over the next decade.
On August 2nd AIG posted 2nd quarter net income of $2.33 billion or $1.33 per diluted share, up 27% YoY. After-tax operating income was $1.06 up 56% YoY, and book value grew to $60.58, up 32%. Book value excluding accumulated other comprehensive income was $56.07 on June 30, 2012, up 36% YoY. AIG under the leadership of Robert Benmosche has drastically improved its core business fundamentals, which should lead to sustained profitable growth moving forward.
Click to enlarge.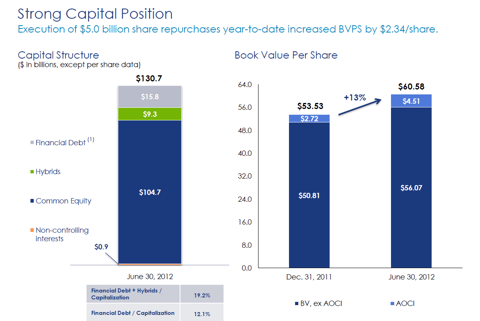 Click to enlarge
The P&C business, Chartis posted pre-tax earnings of $936MM in the 2nd quarter of 2012, up from $783MM the prior year. The company saw improvement in the loss ratio, and the combined ratio dropped to 102%, from 104% the prior year. This performance was very strong considering the company, consistent with the overall industry, took $328MM of global catastrophe losses largely from storm activity in the United States and Japan, and flooding in the U.K. Many analysts and market participants rightfully point out AIG's checkered past in regards to reserving, but these problems occurred prior to this management team taking over.
In the 2nd quarter several third-party studies using diverse methods confirmed that Chartis' reserves are reasonable. Adjustments are bound to happen as it is impossible to accurately forecast long-tail results, but I see no incentive for the company to not use its best judgment, when the current management team has the ability to blame the problems of the past on AIG's prior management team, that wrote whatever problematic deals the company might have.
Consumer insurance is where most of the growth is for Chartis and it now represents 40% of total net premiums year-to date. Commercial rates in the U.S. improved 8%, while in Europe rates were up only 1% reflecting difficult macro-economic conditions across the pond. While AIG has sold many of its largest foreign businesses, Chartis still wrote 48% of premiums outside of the United States and Canada, including 10% of total premiums in emerging markets. Moving forward management forecasts a continued improvement in the loss ratio, and a gradual decline in the expense ratio through the end of 2013.
SunAmerica is AIG's retirement planning unit, and the company reported 2nd quarter pre-tax earnings of $933MM, up from $723MM YoY. Base yields and net investment spreads improved, offset partially by weaker returns from hedge fund investments. SunAmerica is benefitting from a light exposure to variable annuities going into this year, which has enabled the company to pick up market share at attractive pricing as other competitors are forced to retrench.
Individual variable annuities with living benefit guarantees represent just 6% of total SunAmerica assets under management, and new variable sales of $1.3 billion were up 20% sequentially, and 51% YoY. Net flows were positive for the 6th consecutive quarter, but growth is slowing due to low rates. SunAmerica is focusing on increasing distribution and marketing to continue to grow market share. Retail life sales increased 3% YoY and 14% sequentially outpacing the industry. Also SunAmerica recently purchased Woodbury Financial from Hartford Financial Services Group Inc. (NYSE:HIG), which will add approximately 1,400 advisors to help increase distribution. Once again AIG's scale and strong competitive position enables it to produce stable and growing profits in a lucrative industry, particularly with baby boomers focusing on finding adequate retirement solutions.
AIG's mortgage guaranty business, United Guaranty, is performing exceptionally well as the most financially secure company in the industry. Net insurance written in the quarter was $1.9 billion and pre-tax earnings were $43MM, up from $12MM YoY. The delinquency ratio was down 110 bps sequentially to 10.3%. United Guaranty has really been able to cherry pick the business that it has wanted, and premium rates are up significantly setting the stage for what is likely to be the most profitable vintages of business ever written. Below are some tables highlighting credit quality and new business trends.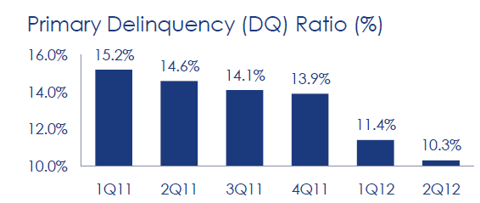 Click to enlarge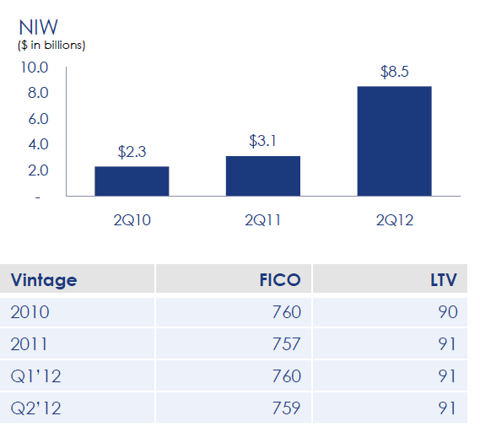 Click to enlarge
Year-to-date AIG's insurance businesses have distributed $3.9 billion, and are expected to pay out $4.5 billion for the year. Parental Liquidity is $7.3 billion, and in addition the company has recently received $6.1 billion in proceeds from Maiden Lane III. The company expects another roughly $1.9 billion by mid-August, and then another roughly $0.5 billion at some point in the future. AIG has used some of this excess liquidity to purchase about $7.1 billion in recent auctions of Maiden Lane III assets, with an average yield of 9.7%.
While some might rightfully worry about credit quality, it is important to understand that nobody knows these assets better than AIG, and interest rate and duration risks are extremely important considerations for insurers right now. Earlier in the year AIG bought residential mortgage-backed securities with a market value of $2.8 billion from the New York Fed. Those bonds yield an average of 10.4% and were part of Maiden Lane II.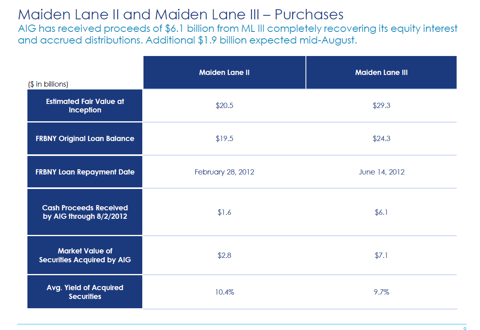 Click to enlarge
AIG has made clear its intentions to IPO its aircraft leasing business when market conditions are favorable. In the 2nd quarter the unit posted net income of $88MM up from $86MM YoY. This unit should bring in between $7-$10 billion in an IPO. The other non-core asset is AIG's 19% stake in AIA, which caused ($493)MM in losses in the quarter, as opposed to $1.521 billion in profits a year ago.
One of the great things Robert Benmosche did when he took over as CEO of AIG was that he showed backbone by not bowing to pressure to divest assets as quickly as possible, but instead he decided to stay price disciplined, as he knew that this would be the best course for taxpayers to be paid back. AIA is a great business that AIG never would have sold if it didn't have to, so with AIG stock trading at 50% of book value it does make sense to unload it when market conditions are favorable to buy back stock, but holding on to the stake isn't the worst thing in the world either.
In the 2nd quarter AIG repurchased $2.0 billion worth of stock, and thus far this year the company has bought back $5 billion. After AIG reported earnings this morning, the U.S. treasury announced that they are selling $4.5 billion worth of AIG stock, and that AIG is buying back another $3.0 billion of it. AIG remains committed to $25-30 billion for capital management, and it doesn't take a genius to figure out that most of that should be piled towards buying back stock at 50% of book.
Because arguably the largest overhang on the stock is government ownership, I could easily see AIG announcing an $8-10 billion buyback at a slight premium from the U.S. Treasury to drastically cut down ownership, even after today's announcement. Every dollar of buybacks at these prices is creating at minimum $2 of shareholder value, and thankfully Robert Benmosche has proven himself to be smart enough to take advantage of this opportunity while it exists.

Click to enlarge
The company has a reasonable debt to capital ratio of 19%, and in the 2nd quarter the company took advantage of record low interest rates to issue debt. Through asset dispositions AIG is generating way more cash than it can redeploy into its core business operations, therefore the only way to utilize the cash on a large level is to buy back stock. I would not be surprised to see more tuck-in acquisitions like the Woodbury Financial purchase.
AIG's core businesses are likely to produce $6-10 billion in pre-tax earnings even with interest rates being exceptionally low. The market cap of AIG is about $55.7 billion versus shareholder equity of $104.7 billion. If AIG is as aggressive as we believe that they can be, book value could grow to $70-$75 per share by the end of this year through buybacks and retained earnings.
This opportunity will not last long, and downside is very low due to the ridiculously cheap entry point. 3-5 years from now investors will be wishing that they would have bought more of this fallen angel, and the million reasons not to take the plunge now will have been largely forgotten.
Disclosure: I am long AIG.