Commercial real estate prices as measured by Moody's/REAL Commercial Property Price Indices [CPPI] decreased 2.3% in March, the largest one month decline since the inception of the index. The March decline leaves the Moody's/REAL CPPI at a level 2.6% below its peak in October 2007.
The March decrease still makes for a year-over-year increase in prices through March of 0.9%. The two-year increase in prices is 10.5%.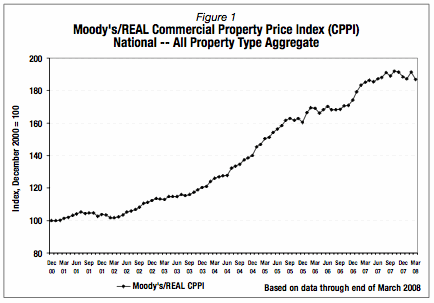 Quarterly data on the index's four property types show all products off their peak prices for 2007. Retail is off the most, down -5.7, while apartments are down -3.4%. Offices, down -2.0%, and industrial, down -2.3, show the least declines.
The West had the dubious distinction of being home to the worst performing asset in the report - offices in the region - where prices dropped by 5.1% from the previous quarter, much steeper than the decline in the national office sector (-1.2%) or in the Top Ten cities (-0.6%).
Moody's notes that monthly transaction volume in March was down from the monthly average of last year. The decline was about one-third as measured by number, or about one-half as measured by dollar volume. Nonetheless, sales levels are still more than eleven times the level needed for the CPPI's statistical accuracy.
In aggregate, the distribution of transactions over the last year has drifted towards lower priced assets. During March, 62.9% of all sales were for under $7.5 million, compared with under half a year ago.
Full details area available from Moody's/REAL Commercial Property Price Indices.